We've all had moments when we look at another person's creative efforts and thought, "Hey, I had the same exact idea!"
Renowned video game developer Hideo Kojima was in a similar situation while watching Amazon Prime Video's gruesome superhero series, The Boys. Occasionally reviewing films and TV shows on Twitter, Kojima explained why The Boys wasn't his cup of tea at first.
The Death Stranding creator said that he "quit" watching the show after just three episodes because it had too many similarities to a project that he was planning to start.
Hideo Kojima wanted to produce a film just like The Boys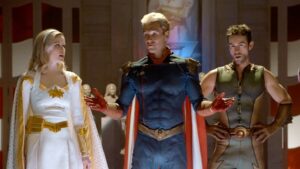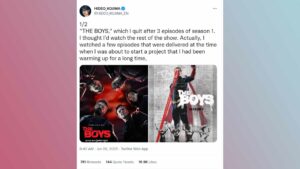 Kojima was about to work on the unnamed project right when the show's episodes were being released. Since the concept was very much like The Boys, he decided to put it on hold.
"Today, when superheroes continue to be mass-produced in the entertainment industry, this drama was to be a radical hard-boiled action film," said Kojima in a follow-up tweet.
It also featured a male and female buddy duo just like Starlight and Hughie, and a detective squad that took on legendary heroes. He was planning on getting Death Stranding actor and close friend Mads Mikkelsen for the lead role.
In terms of the project's progress, Kojima confirmed that he only thought about it, and had not executed anything yet.
---
---
Showrunner and Homelander want to work with the game developer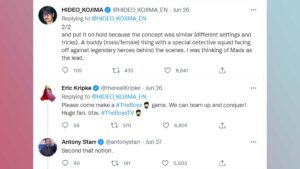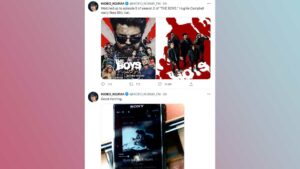 Kojima's initial tweet went viral with 16,400 likes and 766 retweets in two days, and was even seen by the people behind the series.
The Boys showrunner and Kojima fan Eric Kripke replied with good intentions, asking the developer if they could work together for a video game adaptation. Antony Starr, who portrays Homelander, backed Kripke, saying that he seconds the notion.
Kojima has yet to reply to the offer, but it looks like he's becoming an actual fanboy of The Boys.
In his most recent tweet, the developer said he's already halfway through the second season, and commented on Hughie's love for music artist Billy Joel. He also posted a photo of his Sony Walkman playing "She's Always a Woman" by the same artist.
We're waiting for your next move, Kojima.
Follow ONE Esports on Facebook and Twitter for more gaming culture news and stories.
READ MORE: PewDiePie: 'Kojima-san, please collaborate with me'