The Grand Final of EACC Spring 2022 featured an intense all-Thai showdown between FaZe Clan and GRATZ. The two squads entered the tournament seeded number one and number two in their region respectively, but FaZe had to fight their way out of the Lower Bracket to reach the Grand Final.
Despite having their backs against the wall in the lower bracket, FaZe Clan eliminated China's Manchester City Esports Team, Vietnam's Tony Tonyy, and Korea's PSMGaming to secure a Grand Final appearance.
FaZe Clan equalize game four with the perfect through pass
Building off the momentum of their 3-0 win over PSMGaming in the Lower Bracket Final, FaZe Clan dominated the first two games against GRATZ. FaZe members Michael04 and JUBJUB scored 5 goals in total and only conceded one goal.
Entering the third and potentially final game of the championship series, GRATZ brought in TANTAY as their last hope. While GRATZ's teammates struggled on offense, TANTAY had no such problems, and went all-out with ICON striker Samuel Eto'o, scoring two goals to secure GRATZ's first win of the series.
Game four was an incredible display of skill from both sides. TANTAY put his team up 2-1 with a goal early in the second half, but FaZE's JUBJUB piled on the pressure looking for the equalizer.
Claiming possession off a deflected pass, JUBJUB made his way through the midfield and initiated an incredible through pass to star forward, Ruud Gullit. Using as much pace as possible, the FaZe player managed to pass GRATZ's defenders right inside the penalty box and score the equalizing goal at 79 minutes.
---
---
---
JUBJUB makes an incredible save in the final EACC Spring 2022 penalty shootout
With the second half and extra time seeing no goals from either sides, game four went to a nail-biting penalty shootout.
JUBJUB was dominating in both roles of shooting and goalkeeping, and managed a miraculous save on GRATZ's third shot. The FaZe player played mind games with his opponent throughout the shootout, aiming almost all of his shots right down the middle.
It wasn't until his fifth attempt, with the entire tournament on the line that JUBJUB opted for a strong kick into the top left corner, securing the game, and the match with a 3-1 victory for FaZe Clan.
---
---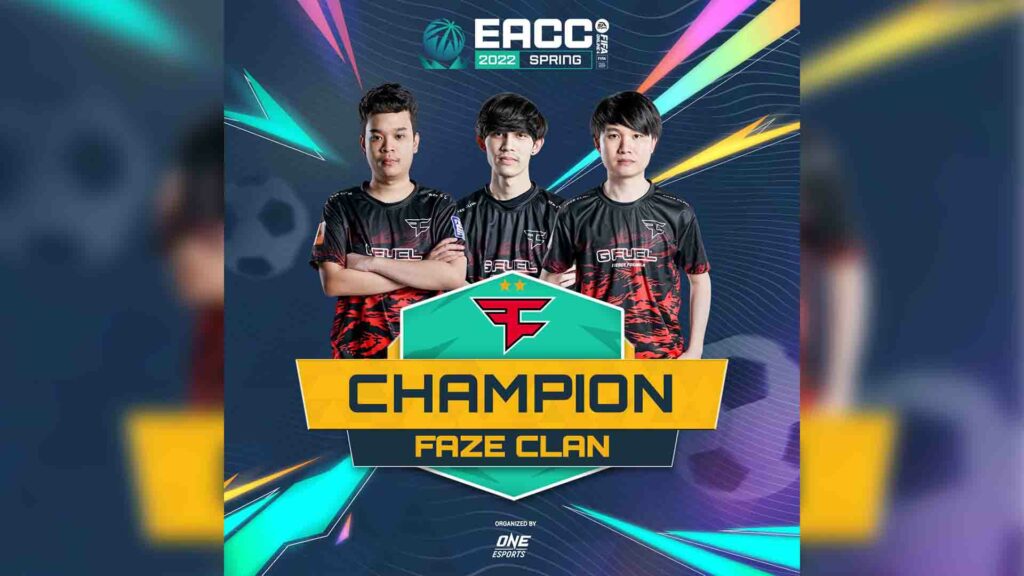 As the champions of the EACC Spring 2022, FaZe Clan takes home a cash prize of US$35,000. This will be the team's second championship trophy in 2022, further cementing their status as a world-class FIFA Online 4 team.
Follow ONE Esports on Facebook and Twitter for more FIFA news and highlights.
READ MORE: EACC Spring 2022 recap: Fierce competition among all four regions