The Doc is now on the pitch!
While he's known for dominating every FPS game he touches, streamer Dr DisRespect veered away from his usual gun-toting content and flexed his virtual soccer skills in FIFA 22.
The streamer mentioned that he's played FIFA his whole life, and chose Manchester United as his go-to team because of legendary footballer Cristiano Ronaldo.
Streamer Dr DisRespect becomes a soccer god with Manchester United's Cristiano Ronaldo in FIFA 22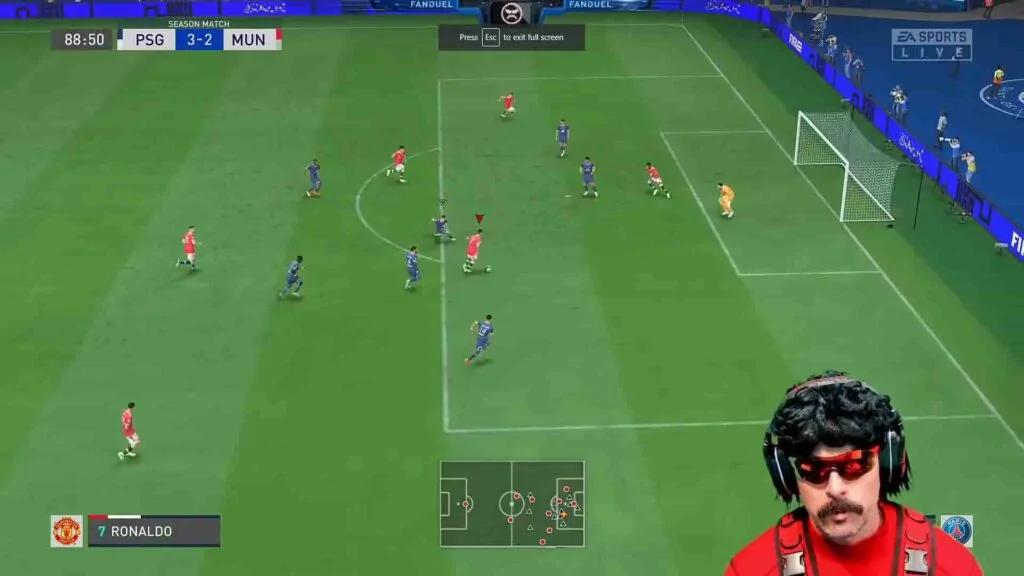 Though it's been a few months since he's last played FIFA, Doc was a natural at the soccer game, running down the sides for a quick cross and expressing disbelief whenever the referee would call an offside.
The streamer put on his game face when his Manchester United squad faced a stacked PSG team that fielded soccer superstars Lionel Messi, Kylian Mbappe, and Neymar.
The match featured an arduous back-and-forth in goals, but Dr DisRespect equalized the score 3-3 when Cristiano Ronaldo secured a hat trick in extra time.
---
---
The streamer showcased more of his FIFA 22 finesse on Cristiano Ronaldo during his fifth and final match against France.
While France started out strong with a 2-0 lead, Doc shredded through the national team's defense with five pinpoint goals, three of which were from the Portuguese striker's hat trick.
Dr DisRespect ended his FIFA 22 run with three wins and two draws, further proving that defeat is not part of his vocabulary.
You can watch Doc's incredible hat tricks in the video down below:
Follow ONE Esports on Facebook for more Culture news, guides, and highlights.
READ MORE: Dr DisRespect launches his own AAA game studio, Midnight Society