After three days of intense competition, EACC Spring 2022 has determined its top eight FIFA Online 4 teams for the rest of the tournament.
All four regions of China, Korea, Thailand, and Vietnam still have representatives in the tournament, and the remaining teams are now one step closer to the prestigious EACC Cup and a lion's share of the US$100,000 prize pool.
Here's a quick recap of the first three days of EACC Spring 2022 and a preview of the tournament's upcoming matches.
Top 8 teams of EACC Spring 2022
GRATZ (Thailand)
Tony Tonyy (Vietnam)
GZC Ronly (China)
PSMGaming (Korea)
Manchester City Esports Team (China)
FaZe Clan (Thailand)
MS Chonburi (Thailand)
DIH Esports (Vietnam)
Upper bracket of EACC Spring 2022 Top 8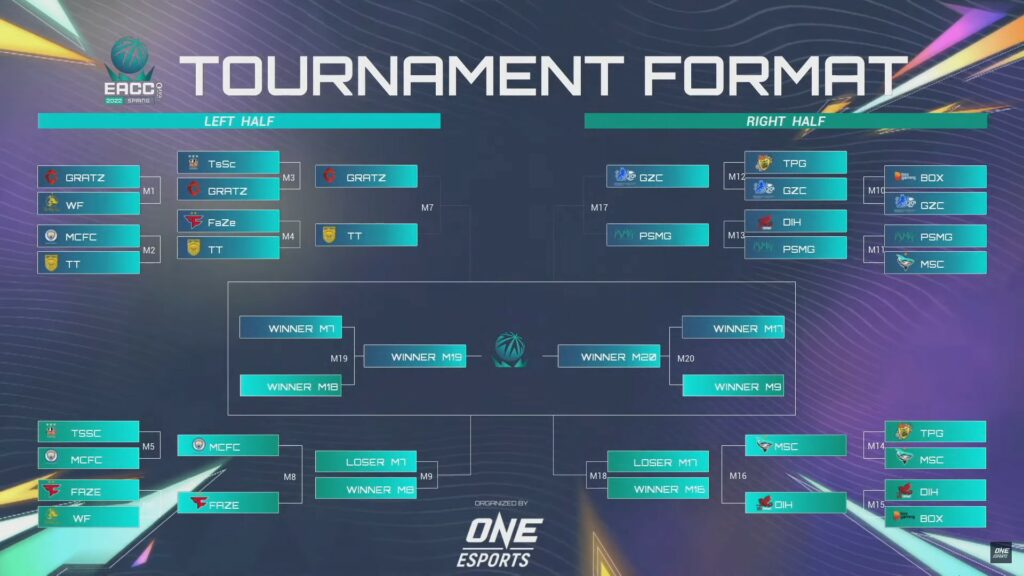 Left half: GRATZ (Thailand) vs Tony Tonyy (Vietnam)
Tony Tonyy had a strong day one showing with two back-to-back wins. The Vietnamese representative showcased their clutch skills with an incredible overtime goal against China's Manchester City and a miraculous 3-2 reverse sweep against FaZe Clan from Thailand.
GRATZ looks to be a formidable opponent against TT in the upper bracket. After a stunning 3-2 win against WhizFox from Korea, the Thai team went on to secure a 3-0 sweep against China's Taishan SC.
This showdown in the upper bracket will definitely be a must-see match in the second phase of EACC Spring 2022.
Right half: GZC Ronly (China) vs PSMGaming (Korea)
Despite being China's third seed, GZC Ronly has impressed as the underdogs of EACC Spring 2022. The team surprised both Vietnam's Box Gaming and Korea's TEAMPLAYxGaming with clean sweeps, proving that tournament seeding is just a number.
As Korea's last team in the running, PSMGaming is ready to go toe to toe with GZC Ronly. The squad managed to send Vietnam champion DIH Esports down to the lower bracket, and is ready to take that momentum into the second tournament phase.
---
---
Lower bracket of EACC Spring 2022 Top 8
Left half: Manchester City (China) vs FaZe Clan (Thailand)
In the lower bracket, MCFC shocked spectators with an upset over top-seeded Chinese squad Taishan SC. The team is now set to lock horns with FaZe Clan, who earned their spot in the Top 8 with a convincing 3-0 win over WhizFox, with the final game of the series ending in a thrilling penalty shootout.
Right half: MS Chonburi (Thailand) vs DIH Esports (Vietnam)
MS Chonburi kept their guard up against Korean champs TEAMPLAYxGaming. Despite strong formations and attacks from TPG, MSC stood their guard and won the match in extra time.
DIH Esports had an interesting FVPL final match against BOX Gaming. While Vietnamese fans were excited to see the two trade goals on the same pitch, DIH Esports had the upper hand throughout the entire match. Players Maestroz, Mesut, and LeeHariii had exceptional performances to claim the series as a sweep.
Analysis of the first three days of EACC Spring 2022
The sudden rise of teams like GZC Ronly and Tony Tonyy shows that they know how to adapt and develop new playstyles. With new rules in the competition format and balance in in-game attack options, these underdog teams are creating a new meta that even the four regional champions can't go up against.
While the players listed on every team are quite diverse, there are still undeniable similarities in key players. A handful of squads are fielding the likes of Ruud Gullit and Kevin De Bruyne.
The 4-4-2 formation has also become a favorite for attack-heavy playstyles that use Icon strikers like Thierry Henry, Cristiano Ronaldo, and Samuel Eto'o. Upper bracket teams have also been experimenting on midfield control with 4-5-1 and 4-2-3-1 formations.
You can check out more details about the EACC Spring 2022 here.
Follow ONE Esports on Facebook for more FIFA news, guides and highlights.
READ MORE: ONE Esports is the official tournament organizer for EACC 2022