Talon Esports is changing up its Dota 2 roster after a disappointing season in the Dota Pro Circuit Southeast Asia (DPC SEA).
Captain Tal "Fly" Aizik and hard carry Kim "Gabbi" Villafuerte have mutually parted ways with the organization after just two months, and "will be allowed to seek new teams, effective immediately".
"Given how COVID-19 has already affected the competitive scene, we believe both players and management should share the same mindset and values to navigate through the remainder of this year," Talon wrote in its announcement. "The ever-changing circumstances hasn't allowed all parties to align optimally, thus Fly and Gabbi have safely returned home."
---
---
Talon Esports mutually part ways with Gabbi and Fly after DPC season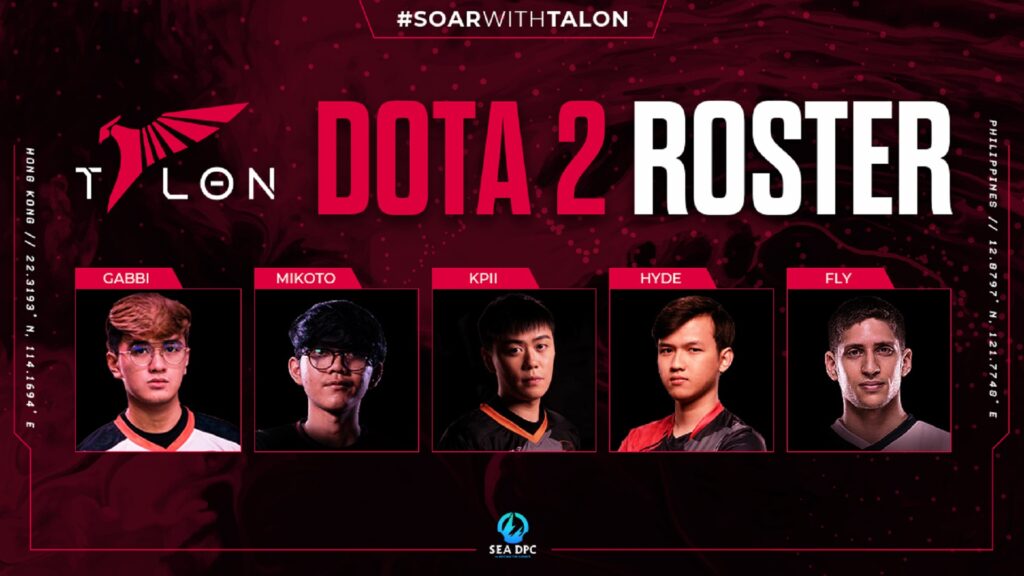 The announcement comes after the Talon Dota 2 roster endured a disappointing season in the DPC SEA Division II Tour 1. While many expected the team to breeze through the lower division, the team almost failed to qualify for it altogether after a defeat to Ragdoll.
Talon entered Division I on the second try, but the team ended the season with a 3-4 record, just enough to survive elimination from Div II.
Talon Dota 2 roster for DPC 2021/2022 SEA Division II
TBA
Rafli Fathur "Mikoto" Rahman
Damien "kpii" Chok
Brizio Adi "Hyde" Putra Budiana
TBA
(To be updated)
READ MORE: Watch PSG.LGD XinQ's Tusk outpunch Faceless Void to lead huge comeback