With the 2021 Dota Pro Circuit coming up, T1 has finally completed its Dota 2 lineup, which may look quite familiar to fans. That's because four of T1's current members previously competed for Malaysia-based organization Geek Fam, until the latter disbanded in September 2020.
As revealed through the DPC team registry, Matthew "Whitemon" Filemon and Carlo "Kuku" Palad are T1's newest players. They join their former teammates, Karl "Karl" Baldovino and Kenny "Xepher" Deo, who were signed in the last quarter of 2020, as well as rising Lao carry Souliya "JaCkky" Khoomphetsavong.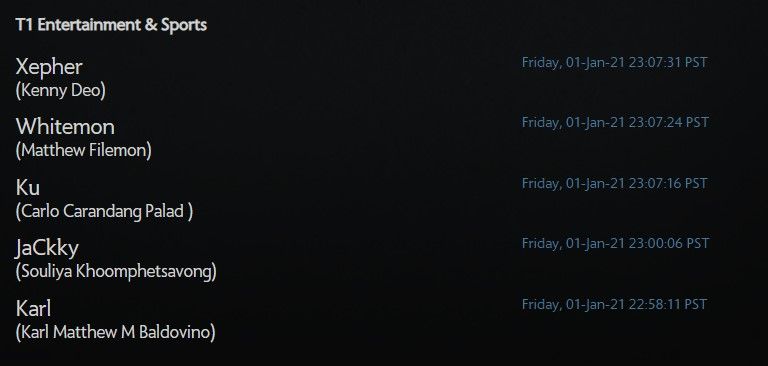 While there has been no official announcement of Whitemon's and Kuku's signings yet, T1 disclosed through a tweet that it had parted ways with Samson "Sam_H" Hidalgo and Wilson "poloson" Kho at the end of last year.
---
---
T1 has earned notably mixed results since its Dota 2 division was formed in August 2019. And, with this updated roster, it looks like the organization has its sights set on qualifying for TI10.
T1's Dota 2 roster:
(1) Souliya "JaCkky" Khoomphetsavong
(2) Karl "Karl" Baldovino
(3) Carlo "Kuku" Palad
(4) Kenny "Xepher" Deo
(5) Matthew "Whitemon" Filemon
Marc "Raven" Fausto, Geek Fam's fifth player, on the other hand, was the only missing member from the previous Geek Fam roster that won back-to-back online leagues in the BTS Pro Series Season 2 SEA and the ONE Esports Dota 2 SEA League. Instead, Raven joined another top-tier squad in Fnatic.
Having been two of four teams to receive direct invites to the DPC's SEA Regional League, T1 and Fnatic alike will be meeting in its Upper Division, where a second reunion of sorts may take place. They will be competing alongside TNC Predator and BOOM Esports.
Fans can tune in to check out the Regional League which begins on January 18 and runs for six weeks.
READ MORE: Everything you need to know about the revamped Dota Pro Circuit 2021