Royal Never Give Up (RNG) is the last team standing after China's regional qualifier for the International 9 ended yesterday.
RNG narrowly edged out CDEC with a grand final score of 3 – 2, and now they're set to join Na'Vi, Mineski, and Infamous, who have all won their own regional qualifiers, at TI9.
RNG and CDEC opened up the series by handing each other one-sided beatings. During game three, RNG's Sniper draft strategy worked like a charm, as they kited CDEC's core heroes to win another convincing match. CDEC was able to extend the series to a final match, thanks to Guo "Eve" Yuhang's Morphling, who dominated the late game.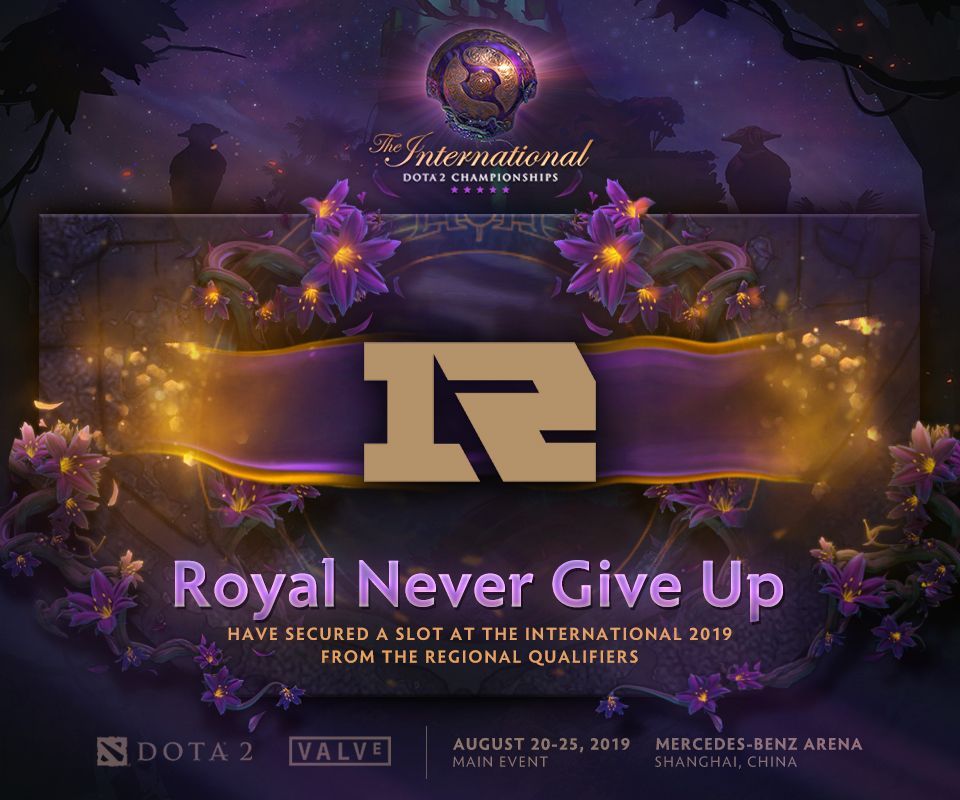 CDEC hoped to end the final game in the early stages, as they drafted an Ursa and Razor, which dominated the early game. With RNG forced to be on the defensive, CDEC decided to try and end the game at the 33-minute mark.
Eve saw RNG's heroes huddled up at the Dire Tier 4 towers and decided to jump in. Shen "123" Chao cast his Stampede ultimate and followed in, which was a monumental mistake. CDEC realized they were in way too deep and decided to retreat, but RNG chased them down and one by one, the Radiant heroes fell.
After CDEC's disastrous dive into the enemy base, RNG quickly gained the lead which eventually gave them the win.
The Chinese TI9 qualifier was definitely the most stacked out of all the other regions, with teams like EHOME, Newbee, Invictus Gaming, Team Sirius, and Team Aster. RNG proved that they are TI9 ready.
RNG's TI9 bound line-up consists of the following players:
Du "Monet" Peng
Gao "Setsu" Zhenxiong
Su "Flyby" Lei
"Zhang "Lanm" Zhicheng
Tue Soon "ah fu" Chuan
READ ALSO: Mineski wins the SEA qualifier and is going to the International 2019