The South American squad Infamous has emerged as the best team in the region and has secured their own slot for the International 2019 in Shanghai.
Infamous was able to avenge their winners final loss to Brazilian powerhouse team, Pain Gaming, during the grand finals with a 3-0 score.
It was a rough start for Pain Gaming in game one, as their mid-lane Ember Spirit made some questionable jumps into the enemy team. Each time Ember Spirit tried to make a play, Steven "Stinger" Vargas's Grimstroke would be in position to cast Phantom's Embrace, which basically forced the Radiant mid-laner to address the Phantom attacking him or pay the damage penalty after five seconds has passed.
This and more made Pain Gaming have a terrible first game, but they faced even more problems in game two. Infamous chose Grimstroke again, and thanks to the hero's continuous casting of Ink Swell on Bristleback, Infamous was able to pick off key Radiant heroes easily and for the eventua win.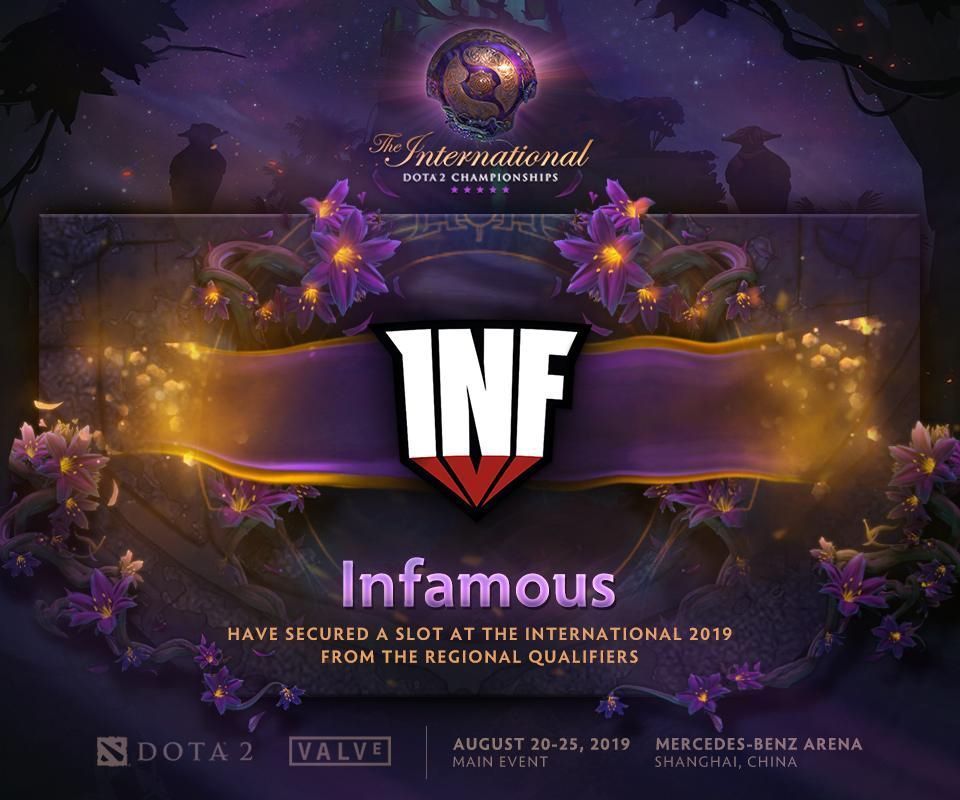 The final game ended when both teams met at the middle lane, and Elvis "Scofield" Peña was able to make a clutch play. He saved his Chaos Knight carry by casting Spiked Carapace right when the enemy Sven's Storm Hammer hit to stun the other team. With Pain Gaming down a few heroes, Infamous then charged in the Dire base and finished the series.
Infamous' road to TI9 hasn't been without hiccups. Their previous Dota 2 squad, which consisted of European players like Dominik "Black" Reitmeier, had disbanded on June 27.
After their disappointing exit from the Epicenter Major, the organization decided to look for new players, and they decided to pick up Team Anvorgesa, who performed well during the Starladder Season 2 Minor.
Infamous's TI9 bound line-up consists of the following players:
Hector "K1" Rodriguez
Jean Pierre "Chris Brown" Gonzales
Adrian "Wisper" Dobles
Elvis "Scofield" Peña
Steven "Stinger" Vargas
SEE ALSO: Na'Vi secures a spot for this year's TI9 by dominating the CIS Qualifiers