Only eight teams remain in the ONE Esports Singapore Major as we continue today with Day 3 of the Playoffs.
If you've been playing ONE Esports Fantasy, that means it's time to make a new set of picks. And if you haven't there's still time to join the fun, and get a chance to win US$1,000 in Steam vouchers and a Tumi Finch backpack worth S$690.
For the Playoffs, only four games are played each day, so we have to make every pick count. This is the part of the competition where you're going to need every bit of information on the teams in your head-to-head picks. The Playoffs also mean you're going to have to pick a winner, no more down the middle draws.
Advice in this article is based on each team's performance in the Wild Card, Group Stage, DPC upper division, and previous tournaments.
---
Evil Geniuses vs Invictus Gaming
The ONE Esports Singapore Major has reminded all of us just how intense and taxing a Dota 2 international tournament can be. We've seen top-ranked teams come in and underperform. However, this was not the case for Evil Geniuses and Invictus Gaming.
Evil Geniuses was touted as the best team from the Americas region. We didn't see much action from the North American squad in 2020 because of their international roster being separated due to the COVID-19 pandemic. But we saw glimpses of their full potential when they defeated Fnatic on Day 1 of the Playoffs.
Meanwhile, Invictus Gaming came into the Singapore Major regarded as the best team from China after securing a first-place finish in their region's DPC upper division. IG proved they proved this yet again when they knocked down Vici Gaming to the lower bracket in Day 1 of the playoffs.
Prediction: Evil Geniuses
The last time these two teams faced each other was Dream League Season 13. Evil Geniuses eliminated Invictus Gaming when they defeated them 2-1 in the lower bracket quarterfinal of the Leipzig Major. During that match, EG's midlaner Abed "Abed" Yusop popped off and played a perfect game using Outworld Devourer and finished with an 11/0/2 KDA. He followed that up with another series-winning performance on his Storm Spirit tallying a 15/3/11 KDA record against IG.
Now that Abed is playing with his former Fnatic teammate Daryl "iceiceice" Koh instead of Roman "RAMZES666" Kushnarev, Abed could have an even better performance.
---
Team Secret vs PSG.LGD
We've seen plenty from PSG.LGD in the Singapore Major not to underestimate them in the slightest. They have been the most consistent team in the Singapore Major thus far. They've now played a total of 26 games in the Major and earned a 19-7 game record with a 73.08% win rate. PSG.LGD has also shown us different hero drafts throughout the tournament, including an Io hard carry pick Wang "Ame" Chunyu that they could use in the tournament. 
However, they are going up against tournament favorites and top-ranked squad Team Secret. The European kings are widely regarded as the best Dota 2 team in the world today.
Prediction: Team Secret
As the lone European team left in the Major, Team Secret is playing with the expectations of their region, and the pressure of being the favorites in all of their matches. But after witnessing Team Secret's incredible win over the red hot Thunder Predator squad in the upper bracket, we just can't find an argument on how PSG.LGD could knock them down the lower bracket.
After their win against Thunder Predator, Team Secret's captain Clement "Puppey" Ivanov shared that their strategy against the Peruvian squad was to disrupt their hero picks and prevent them from playing their game. This shows that Team Secret is always one step ahead of their opponents, even before the matches start. Unless PSG.LGD have a pocket strategy for Team Secret, their chances of winning are slim to none.
---
---
Vici Gaming vs OB Esports x Neon
Similar to PSG.LGD, Vici Gaming is another team that started the Singapore Major from the Wild Card. They've played 27 times and currently have a game record of 16-11 with a 59.26% win rate. Despite that, Vici Gaming is still poised to make a deep run in the Singapore Major's lower division after their impressive showing against Team Liquid in their elimination match yesterday.
Meanwhile, OB Esports x Neon shocked fans and experts alike when they eliminated rival SEA squad Fnatic from the competition yesterday. Despite playing with a stand-in they've never competed with before, Neon have shown that they belong in the Singapore Major with big wins over Alliance, Team Aster, and even Thunder Predator in the Group Stage.
Prediction: Vici Gaming
OB Esports x Neon does have a legitimate shot at defeating Vici Gaming because the Chinese team has not exhibited the same level of consistency in their play. We've seen better performances from VG, particularly when they won the ONE Esports Dota 2 World Pro Invitational.
However, Vici Gaming's playstyle is the worst matchup for OB Esports Neon. Vici Gaming likes to play a slow, safe, and secure manner by securing farm on their core heroes while only taking team fights they know they can win. OB Esports Neon shines in scramble situations, and they also rely on catching their opponents by surprise.
---
Thunder Predator vs Virtus.pro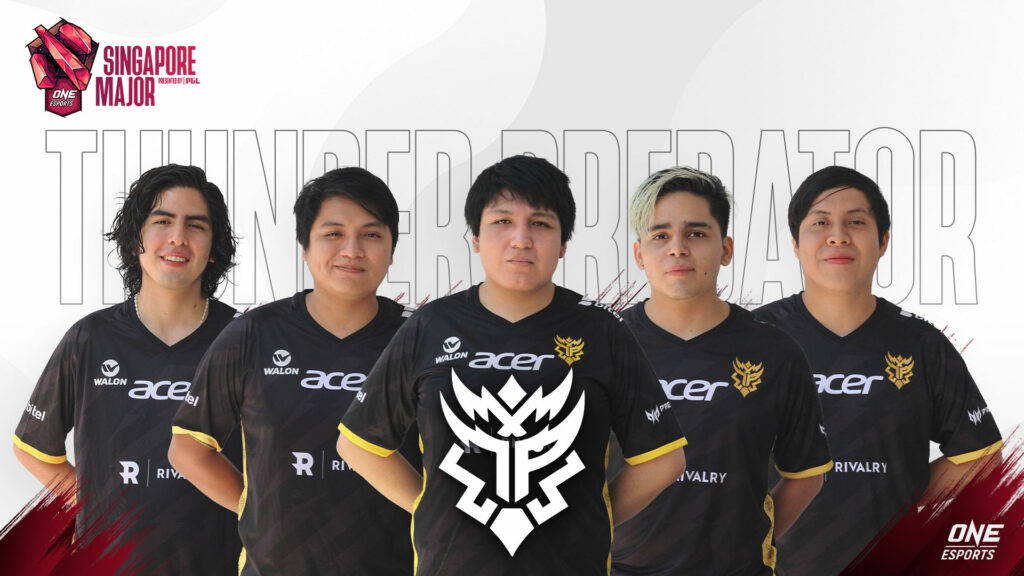 In just four days at the Singapore Major, Thunder Predator transformed from being long-shot underdogs to top-tier tournament contenders before our very eyes. After losing to the best team in the world in Team Secret during the first day of the Playoffs, TP bounced back by defeating the second-best team from the DPC China upper division.
Meanwhile, Virtus.pro has shown inconsistencies in their play when they debuted against PSG.LGD in the Major. VP came into the Singapore Major with the best DPC upper division game record at 14-1. The lone CIS representatives showed glimpses of their dominant play when they eliminated Quincy Crew yesterday in a lower bracket elimination match.
Prediction: Thunder Predator
Thunder Predator and Virtus.pro have never faced each other before.  But based on what both teams have shown us in the Major thus far, the clear choice is Thunder Predator. After watching Thunder Predator play against the best Dota 2 teams in the world, they're always looking for ways to get ahead. The South American team has shown incredible team coordination, and they always pressure their opponents in every phase of the game.
Virtus.pro, on the other hand, had games where they looked completely lost. In Game 1 of their elimination match against Quincy Crew, they drafted heroes that favored them in the early game. But VP chose to shy away from team fights and tried to outfarm their opponents instead. If this same VP squad shows up against Thunder Predator, it will be a quick 2-0 in favor of the Peruvians.
READ MORE: Singapore Major Playoffs Day 2 recap: OB.Neon is the last SEA team standing