Legendary carry player OG ana may have retired from competitive Dota 2, but we will always remember him for starting new non-meta strategies (yes, we're talking about his Io carry), performing 2000 IQ plays, trolling and having fun with OG Esports, and overall just showing what beautiful Dota is all about.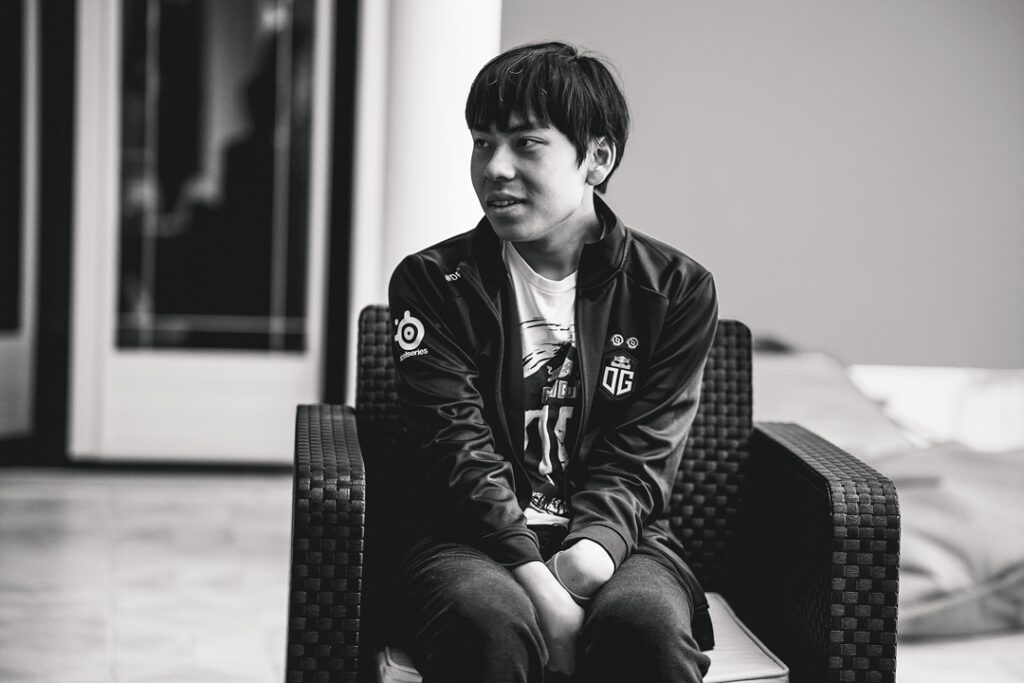 Here are Anathan "ana" Pham's most unforgettable plays.
---
5. Phantom Lancer fountain-farming — DreamLeague Season 15
ana's comeback match two months ago showed a solid performance despite being inactive from the Dota 2 competitive scene for a year.
He showed no mercy against European team Brame using one of his signature heroes, Phantom Lancer. By the end of the game, ana was literally unkillable and was just having the time of his life fountain-farming enemies.
---
4. This Alchemist did not come to play — The International 2019
OG ana's ability to turn teamfights around is just mind-blowing, or as Filpino shoutcasters Marlon "Lon" Marcelo and Aldrin "Dunoo" Pangan would say, it's "the next level play."
With a commanding 11,000 gold lead in favor of OG, ana charged into the Radiant base where he was a few steps away from the enemy Fountain. PSG.LGD threw everything they had at ana, but his Alchemist managed to survive. While chasing down ana, PSG.LGD's Chalice was taken down in response.
---
3. OG ana's 1 HP TP — The International 2018
We were all definitely on the edge of our seats during The International 2018 when OG faced Chinese terrors PSG.LGD at the best-of-five (BO5) grand finals. However, during this specific teamfight, we all held our breaths as ana teleported back to the fountain going as low as 1 HP left on his health bar due to the Arcane Curse from Jian "xNova" Yap's Silencer.
ana successfully made it back to his team's base and regained health just a few milliseconds faster than xNova's killer curse. Now that's clutch!
---
---
2. OG ana's Io carry — The International 2019
Who says the wisp can only be played as a support hero? Ana's killer Io carry made headlines during The International 2019 against Ninjas in Pyjamas (NIP) when he picked Io and debuted a new Dota 2 strategy. His Io carry grew terrifying during the late game — getting into the best positions because of its mobility, regenerating health almost instantaneously, and dealing massive damage to the enemy team.
OG fashionably ended the best-of-two series with a smashing 2-0 against Ninjas in Pyjamas.
ana's Io carry reemerged on the next games and matches, and then finally made a bang at the TI9 grand finals series against Team Liquid. The audience saw a ridiculous Gyrocopter-Io carry combo from OG ana and Topias "Topson" Taavitsainen on the last match to claim their second consecutive TI title.
---
The most admirable thing about OG ana's playstyle is his finger-fast reactions and godlike plays. However, the top clip on this list doesn't include flashy plays, three-man Chronospheres, or the start of a new Dota 2 meta.
We're talking about the smallest big play in the history of Dota 2.
Upon realizing that he was about to be killed by PSG.LGD during Game 4 of TI 8's grand finals, OG ana goes for the enemy-side bounty rune and sells two of the items in his backpack — the Talisman of Evasion and the Ring of Aquila. These small actions secured ana's buyback money, which would later become a monumental move in preventing PSG.LGD from claiming the Aegis of Champions.
PSG.LGD was already looking to finish the game by the 41-minute mark, but ana bought back just in time to take down Wang "Ame" Chunyu's Morphling and Lu "Somnus丶M" Yao's Bloodseeker which forced the Chinese team to back off.
OG turned the tides around to their favor and took Game 4. They would also later on dominate Game 5 and go home with US$11 million.
---
Bonus: Ana trolls n0tail
We all know OG's Dota 2 roster is a fun bunch. Some of the players even bring out their hilarious side in serious tournaments, just like Ana during The International 2019.
During the OG vs Newbee best-of-three series in the Main Event Upper Bracket, ana's Juggernaut effortlessly kills Johan "pieliedie" Åström's Shadow Demon. N0tail's Grimstroke arrives to help him, and just as the two were running away from pieliedies's illusions, ana blocks N0tail's path and lets him die an unnecessary death.
ana sent out a sarcastic "My bad" chatwheel to let his team captain know that he was just trolling.
READ MORE: OG Ana retires from Dota, says he's 'ready to move on to a new chapter'