OG's path to the championship at The International 2018 (TI8) was paved with some of the biggest and most skilled plays in the history of the game.
From their epic comeback against rivals Evil Geniuses in game three of the Upper Bracket Finals to the 'Ceeeeeb!' play in game four of the Grand Finals against PSG.LGD, the legendary championship run was fueled by equally legendary plays.
But there is one play that has gone mostly unnoticed in the eyes of many, despite arguably being the most pivotal in OG's championship run.
Without it, OG would not have won the grand finals.
Without it, the greatest Cinderella run in esports history would not have happened.
Without it, OG would not have become the first team to raise the Aegis of Champions twice in a row.
There's a reason why no one remembers it. It's not a five-man Black Hole or Echo Slam that we would usually associate with a big play. Rather, it's a 'small play' that arguably had the biggest effects on the game.
It's the smallest big play in the history of Dota 2:
---
What exactly happened here? To understand, first, some context.
The International 8, Vancouver, Canada – August 26, 2018
It is 39 minutes into game four of the Grand Finals and OG are in trouble. PSG.LGD, who are already holding a commanding 2-1 series lead, are in control of the map and possess a 7,000 gold lead. OG carry Anathan "ana" Pham's Phantom Lancer is the most farmed hero on the map, but PSG.LGD's carry duo of Morphling for Wang "Ame" Chunyu and Bloodseeker for Lu "Somnus丶M" Yao are nipping at his heels.
With PSG.LGD controlling the map, only ana's Phantom Lancer felt safe enough to farm outside of their base. Well, safe being a relative term here as he promptly gets ganked by all five PSG.LGD heroes and dies. But, it's what ana did in the seconds before his death that make this play.
First, upon realizing that he is about to be killed and that he will not have enough gold for buyback afterward, ana heads straight for the Bounty Rune spawn area in front of the Dire Secret Shop. He then perfectly times his Doppelganger ability so that he can pick up the Bounty Rune just as it spawns at the 40-minute mark, and before Xu "fy" Linsen's Tusk could snatch it away. Just before he gets taken down, ana also sells the two items in his backpack, a Talisman of Evasion and Ring of Basilius.
All of this ensures that ana has just enough gold to buy back later on.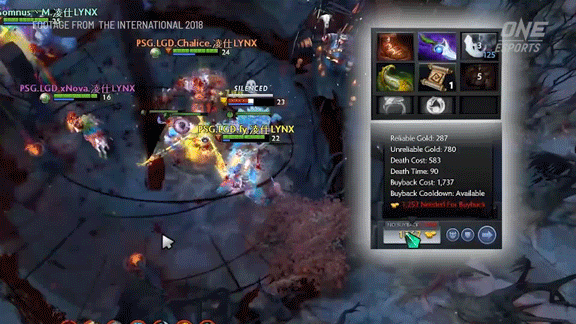 While all of this may not seem like much at first glance, ana had the presence of mind to do all of that in a split-second while being ganked by the entire enemy team. Most players would just take their hands away from their mouse and keyboard when that happens, as there's absolutely no way you're going to get out of a five-on-one gank.
Now think of the pressure weighing down on ana's shoulders during that moment.
He's playing in a stadium full of thousands of people — with millions more watching from home — with over US$11 million on the line.
It's a do-or-die game four in that best-of-five Grand Finals.
If he died without buyback there then OG would have surely lost the ensuing base defense, the game, and their shot at the Aegis of Champions.
But then ana pulled off this play, and later uses that buy back to help his team defend their base where this happened:
---
---
If ana didn't have buyback there, then PSG.LGD would have surely taken two lanes of barracks and cruised to the championship. Instead, ana bought back and helped his team take down both Ame and Somnus to delay the game further, which sparked OG's comeback.
Of course, that led to the legendary "Ceeeeeeeeeeb!" play:
And OG defeating PSG.LGD in Game 5 to raise their first Aegis of Champions:
Then becoming the first team in the history of Dota 2 to become back-to-back TI champions after defeating Team Liquid in the TI9 Grand Finals:
All of that wouldn't have happened without ana's play.
And that's why it's the smallest big play in Dota history.
READ MORE: The TI10 Battle Pass brings new Arcanas, Hero Personas, Guilds, and more