One of the most beloved Twitch streamers, Imane "Pokimane" Anys, recently had dental work done that will see her taking some time off.
The popular creator took to her second, more personal, Twitter account to reveal the news to her fans on March 28.
---
---
Pokimane will be taking time off to recover from dental surgery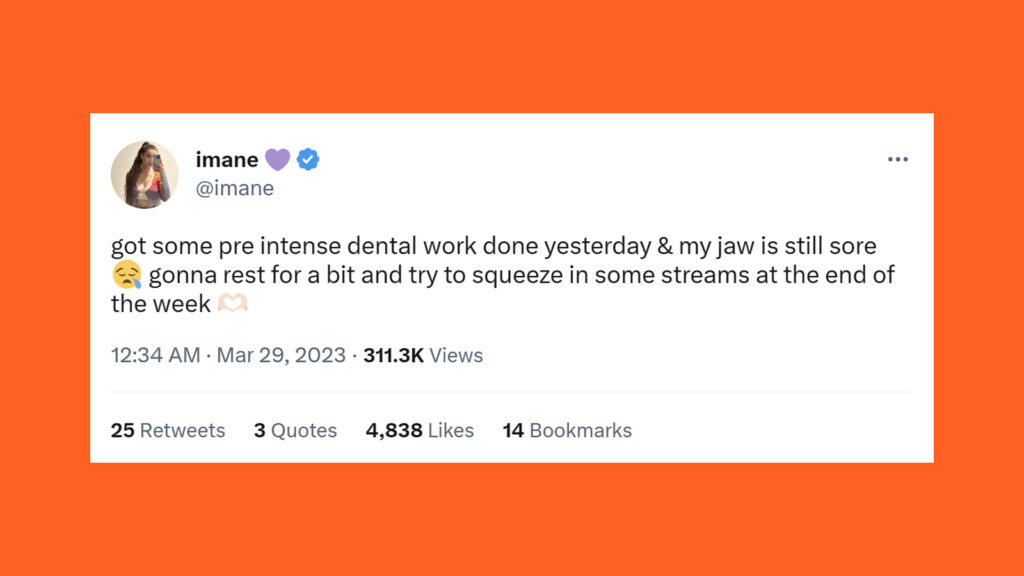 "Got some pre[tty] intense dental work done yesterday and my jaw is still sore," she shared. "Gonna rest for a bit and try to squeeze in some streams at the end of the week."
Unfortunately, this isn't Pokimane's first time dealing with health issues since entering the spotlight. During a video from October 2022, she shared details regarding a ringing in her ears caused by the tinnitus and swollen jaw she'd been suffering from.
It seems this is another step being taken to help improve Anys' quality of life, even if it means some time away from the stream.
Overall the replies to her tweet have been supportive with many users telling her to take as much time as she needs.
The Twitch celebrity recently served as an award host at the Streamer Awards where she announced the streamer of the year winner.
READ MORE: Top 10 Twitch streamers: Most followers, games played, and where to watch