It wouldn't be a launch without a little error to stir things up.
With the Modern Warfare 3 Season 1 launch and the update to Warzone, it seems fans are experiencing the Niamey Logan error informing them at their data is corrupt.
Fixes for the Niamey Logan "Your Data is Corrupt" error
Quite a few players around the globe downloaded the season one update only to be hit with: "ERROR: Your date is corrupt or didn't download properly. You must reset your rank and unlocks to continue. [Reason: NIAMEY – LOGAN]. Yes or No?"
While this, of course, caused immediate panic in many, we want to provide some solutions to ease your concern and get you into the new and exciting season.
So first off, you can click "Yes." It's safe to do so and all of your stuff will still be there.
The developers have even put out a post on X (formerly Twitter) explaining that players can rest assure "that your rank, unlocks, and purchases are not lost, although loadouts, customization, and certain settings may be reset."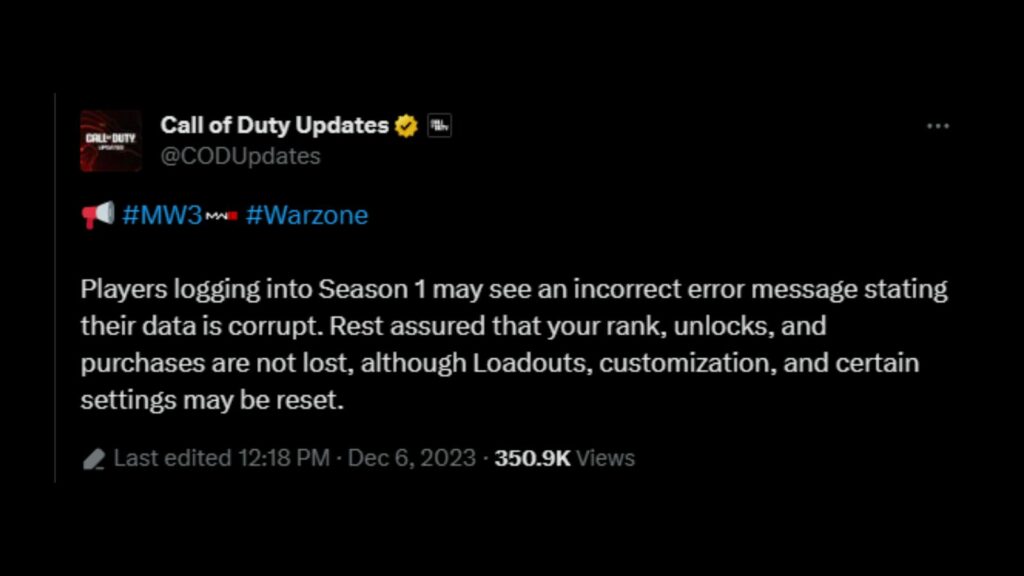 Since then, they've also deployed a minor update targeting "an issue causing player's being unable to acquire the correct Custom Loadout Weapons."
If you're getting the error though, the main thing to know is that it's safe to click yes and Activision is aware and working on addressing the issue.
READ MORE: How to install Modern Warfare 3 on PC: File size and system requirements