With the new Call of Duty Modern Warfare 2 and Warzone 2 Season 3 update upon us, the FJX Imperium is officially here.
The new, and yet not-so-new, sniper has fans excited to try it out. If you're wanting to make sure it's in the best state possible when you drop in, then you want to use this FJX Imperium loadout from Call of Duty expert WhosImmortal.
---
---
The right FJX Imperium loadout takes it from slow to deadly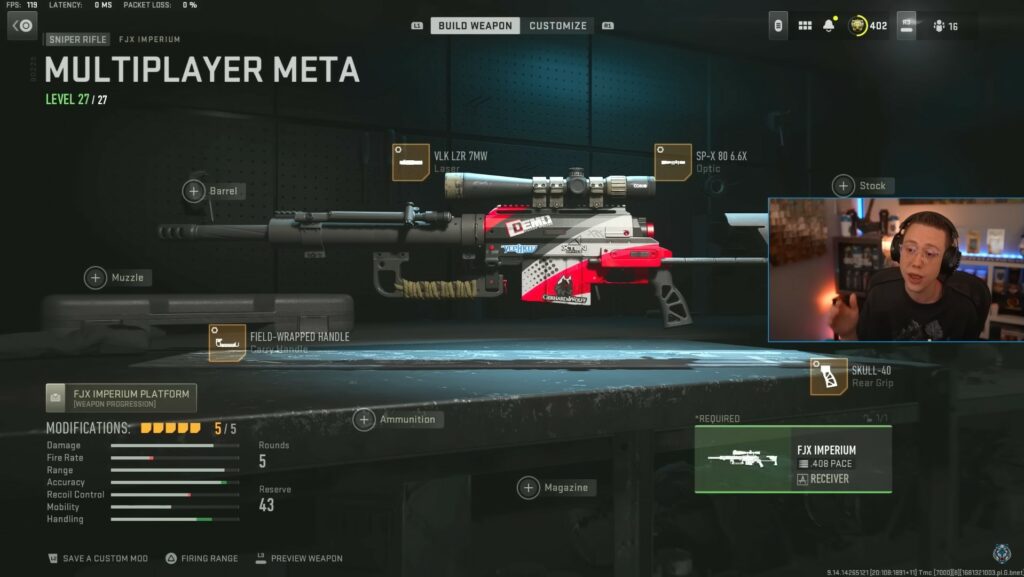 WhosImmortal explains that the weapon requires you to level it up quite a bit to get it to a "solid point." However, once you do, this weapon can be everything you want and more.
For the build, everything outside of the optic is focused on improving the "mobility and speed" on the sniper.
For the optic, WhosImmortal selects the SP-X 90 6.6x for the ability to toggle between a medium-range and long-range. This is key when playing in Warzone and taking some long-range engagements.
In terms of the laser, he opts for the VLK LZR 7MW. This laser provides faster aim-down-sight speed, aiming stability, and improved sprint-to-fire speed. Again, it's all about speed and mobility.
The Field-Wrapped handle is chosen in the carry handle slot, helping to improve your crouch movement speed along with another bump to aim-down-sight speed.
Moving to the rear grip, WhosImmortal chooses the Skull-40 thanks to its sprint-to-fire and aim-down-sight speed buffs. See the theme here?
And finally, he adds on the FJX H-Bolt for the rechambering accuracy it provides.
| | | |
| --- | --- | --- |
| SLOT | ATTACHMENT | TUNING (VERTICAL, HORIZONTAL) |
| Laser | VLK LZR 7MW | -0.27, -24.68 |
| Carry Handle | Field-Wrapped Handle | -0.46, +0.35 |
| Optic | SP-X 90 6.6x | -1.26, -0.75 |
| Rear Grip | Skull-40 | -0.45, -0.22 |
| Bolt | FJX H-Bolt | N/A |
---
---
READ MORE: The best sniper scope for Warzone 2.0 and Modern Warfare 2