Introduced as part of Call of Duty Modern Warfare 2 and Warzone 2 Season 3 is the BlackCell Battle Pass.
According to Activision Blizzard, "BlackCell is a premium offering that provides incredible value — over 7,000* COD Points in value — to be used across both games."
Want to know exactly what it is you get for the additional money? Then keep reading.
---
---
The BlackCell Battle Pass provides a whole new set of premium rewards for a price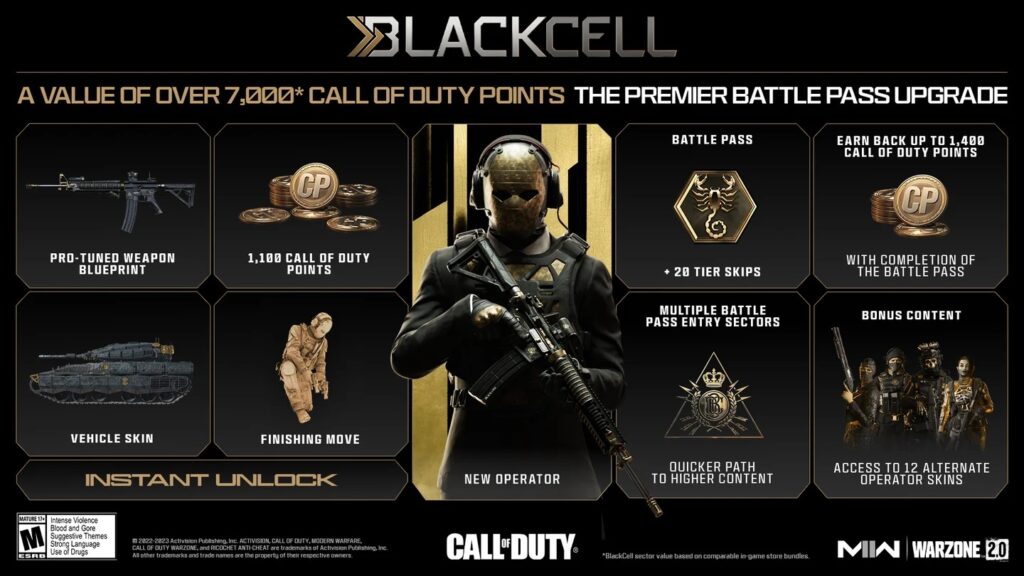 Fans interested in grabbing the BlackCell Battle Pass can grab it for US$29.99. Players can still get the normal Battle Pass, and if they choose to upgrade, they'll receive the 1,100 CP they spent back to their account.
The pass will allow you to "unlock higher value items (higher tiered Battle Pass items) more quickly" and grants you some of the benefits right away.
The following list includes the items you get immediately after purchasing the pass.
BlackCell's operator, Atom
Singulatirty assault rifle pro-tuned blueprint
Heavy tank vehicle skin
A new finishing move
In addition, the BlackCell Battle Pass comes with 20 battle token tier skips, allowing you to "immediately unlock one of the two free functional weapons" from the Battle Pass. If you're on PlayStation, you'll receive an additional five tokens.
Then, of course, as you progress through the pass you'll be able to unlock even more items only available if you've upgraded to it. There will be XP boosts, double Battle Pass XP tokens, a calling card, an emblem, and more.
If you add up the total number of COD Points from the Battle Pass, how much battle token tier skips cost, and the ones earned via the BlackCell sector, you can get a value of over 7,000 COD Points.
READ MORE: Microsoft and Activision 'confident' Call of Duty can be optimized on Nintendo Switch