The highly anticipated Demon Slayer Season 3 finally has an official release date.
Fans worldwide have been eagerly awaiting news of the anime's release date since the announcement that the manga's Swordsmith Village Arc would be adapted in the show's third season.
Demon Slayer's Twitter stated that the new season starts on April 9, 11:15 a.m. JST | 10:15 a.m. GMT+8 | 2:15 a.m. GMT | April 8, 6:15 p.m. PT.
---
---
Demon Slayer Season 3 will air early next month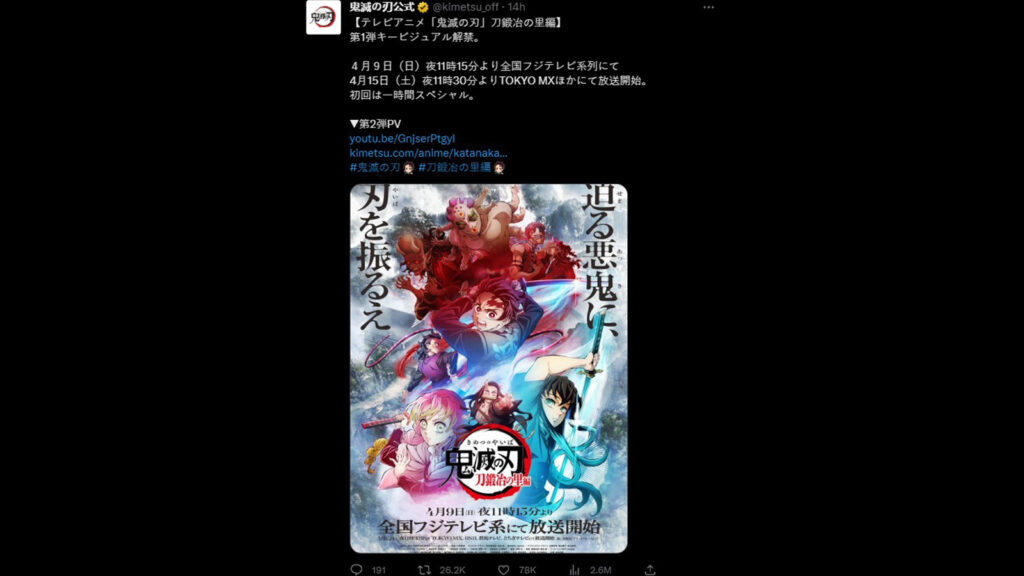 The first episode of the new season will feature a one-hour special. The anime will continue right where Season 2's Entertainment Arc District left off, as Tanjiro Kamado and his friends continue their fight against Muzan Kibutsuji and his Upper Demon Moons.
Demon Slayer's new poster features the main protagonists in the new season, including two new Hashira who will aid Tanjiro in his upcoming battles.
The Mist Hashira Muichiro Tokito and the Love Hashira Mitsuri Kanroji will be key characters in the Swordsmith Village Arc, along with the mysterious Demon Slayer Genya Shinazugawa.
Japanese animation studio ufotable has yet to announce which streaming platforms will air Season 3, which begins on April 9.
The first two seasons of Demon Slayer are currently available on Crunchyroll and Netflix.
READ MORE: This Demon Slayer Daki cosplay will have you begging to be devoured