Buriram United's Soragit "Whatthejes" Buranathanasin put up impressive numbers on an unlikely champion during BRU's lower bracket quarterfinals at the Wild Rift Champions Southeast Asia 2022 (WCS Finals 2022).
In the support role as Yuumi, BRU Whatthejes proved that the Magical Cat can dish out tons of damage during their second game against Cerberus Esports, if you play her right.
---
---
BRU Whatthejes pounces on Cerberus Esports at the WCS Finals 2022
Whatthejes was a star initiator for Buriram United, utilizing Yuumi's Final Chapter ultimate as their go-to initiating play. At the five-minute mark, the Yuumi player attached himself to Metis "NoeL" Wongchoosee's Garen and immediately popped Yuumi's ultimate to spearhead a mid lane engage.
With the BRU baron laner flashing into the enemy team, Final Chapter managed to root Trần "Genza" Hồng Phúc's Kai'Sa inside the line bush. NoeL used Decisive Strike and Demacian Justice to take out the ADC, dealing a significant blow to CES' damage output.
---
---
Now with a man advantage, BRU jungler Pongsatorn "Coldenfeet" Kornrat's Rengar utilized the Thrill of the Hunt ultimate to chase and eliminate Bùi "BMM" Minh Mạnh's Jayce in their top jungle.
Though Coldenfeet eventually met his demise at the hands of the remaining CES players, the entire Buriram squad was close behind as the cleanup crew, grabbing two more kills and handing four well-deserved assists to Whatthejes.
Later in the game, Coldenfeet and Whatthejes formed an exceedingly dangerous duo against lone opponents in the jungle. Once the support player scouted out a target with Yuumi's Prowling Projectile, Coldenfeet closed the distance with the leap from Thrill of the Hunt.
To drive home their advantage, Whatthejes then piled on the pressure with Final Chapter's crowd control and damage.
---
---
Whatthejes' item build was key to the magic damage mayhem. Instead of using standard support items that simply increase Yuumi's healing capabilities, such as Ardent Censer and Redeeming Enchant, the BRU support prioritized ability power items that maximized her damage output, like Rabadon's Deathcap and Luden's Echo.
---
The Thai support player took Player of the Game for most damage dealt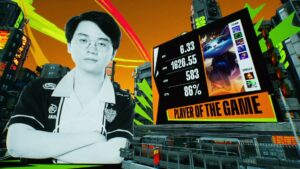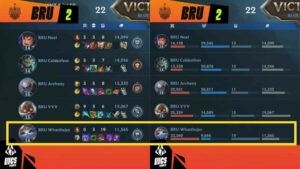 With BRU winning Game Two, Whatthejes claimed the Player of the Game Award with standout statistics. The Yuumi specialist racked up 19 assists and dealt a whopping 32,260 total damage, proving that even support champions can hard carry.
Buriram United went on to sweep Cerberus Esports 3-0 and advance to the lower bracket semifinals, where they will face Filipino representatives Rex Regum Qeon (RRQ) on May 6.
Catch the WCS Finals broadcast live on Wild Rift Esports' Twitch and YouTube channels.
READ MORE: Buriram United Esports upset favorites to qualify for LB semifinals at WCS 2022