The last time XERXIA Esports and OpTic Gaming met was during Valorant Champions 2021 last year, when they were both playing under different banners.
In Group A, the then X10 Crit players surprised with a 2-1 upset against Team Envy to qualify for the playoffs, eliminating the last North American representative from Champions contention.
Unfortunately for Pujan "FNS" Mehta and his team, history often repeats itself. When the two teams met again at VCT Stage 1 Masters Reykjavik 2022, this time without Patiphan "Patiphan" Chaiwong, XERXIA Esports once again swept OpTic Gaming 2-0.
The Southeast Asian representatives edged out their rivals 13-10 on Icebox and Ascent, proving that their victory last year was no fluke.
Throughout the series, XERXIA appeared to always have OpTic's number. On Icebox, XERXIA's map pick, controller Nutchaphon "sScary" Matarat deployed a brilliant Viper's Pit ultimate while defending A site, completely halting OpTic Gaming in their tracks.
---
---
XERXIA sScary shows how to deny an Icebox A push with this strategic Viper's Pit ultimate
XERXIA Esports was up 9-8 on defense, holding on to a slim one-round lead. With just one minute and 15 seconds left on the clock, OpTic Gaming had to make their move.
Itthirit "foxz" Ngamsaard's Sova was holding A site with sScary when OpTic gathered for a push. When it became clear that the North Americans were committing to the site, sScary immediately cast Viper's ultimate while standing on rafters.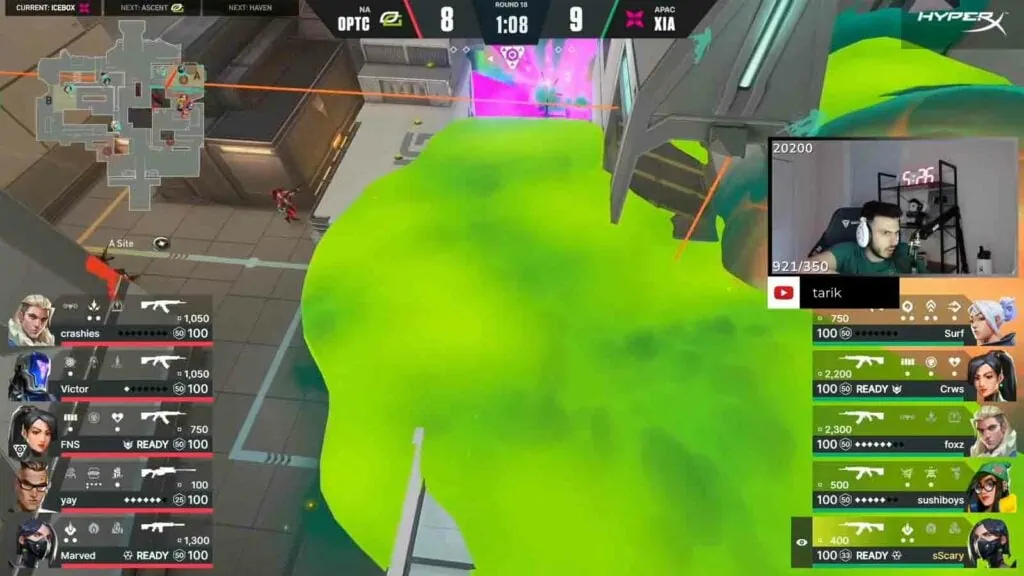 From the elevated ground on rafters, he aimed the ultimate indicator left toward A default, which allowed Viper's Pit to engulf the entire site, including rafters. He then held his ground behind top site's wall cover.
At the same time, Thanamethk "Crws" Mahatthananuyut's Sage put up a wall at Maze that would force the entire OpTic team to walk through the Viper's Pit to get onto site.
This made it very risky for OpTic to plant, because the team would be more vulnerable insider Viper's ultimate while covering whoever was planting the spike. Plus, they would not have any vision of sScary from rafters.
With just 15 seconds left, OpTic's Jimmy "Marved" Nguyen committed his own Viper's Pit that overlapped with sScary's, but it was too late. His teammates in the pit got picked off one by one, before Thanachart "Surf" Rungapajaratkul's Jett finished him off.
Pulling ahead to 10-8, XERXIA went on to win the map 13-10, and again on Ascent to complete the sweep.
Calling it a "round breakthrough", the analyst desk praised XERXIA's set plays and preparation coming into this matchup. They successfully funnelled OpTic into A site, where sScary was waiting with his ultimate.
On his watch party stream, former CS:GO pro turned Valorant streamer Tarik "tarik" Celik also lauded sScary's ultimate.
"Not only does it get the entire site, he's playing on the rafter behind the site wall," tarik commented. "Every Viper, take that. I don't even play Viper and I'm popping that ult!"
With this win, XERXIA Esports will go up against Team Liquid in the winner's match on April 12, 3:30 a.m. GMT+8 | April 11, 12:30 p.m. PDT | April 11, 7:30 p.m. GMT, while OpTic Gaming takes on KRU Esports in the elimination match on April 13, 2:00 a.m. GMT+8 | April 12, 11:00 a.m. PDT | April 12, 6:00 p.m. GMT.
The match schedule for VCT Stage 1 Masters Reykjavik 2022 can be found here. All matches will be broadcast live on the official Valorant Twitch and YouTube channels.
READ MORE: OpTic Yay believes in NA's advantage: 'Chamber is underrated by other regions'