The opening day for the Valorant esports 2023 season was a big one as day one of VCT Lock In viewership brought in massive numbers. The event peaked at nearly 540,000 concurrent viewers and averaged a whopping 369,011 according to Esports Charts.
In total, there were 2,218,972 hours of Valorant esports watched on the opening day of VCT Lock In.
These numbers do include everything, ranging from the official Valorant streams on Twitch and YouTube to the watch parties of personalities like Tarik, Kyedae, Disguised Toast, and more.
---
---
VCT Lock In viewership had a strong first day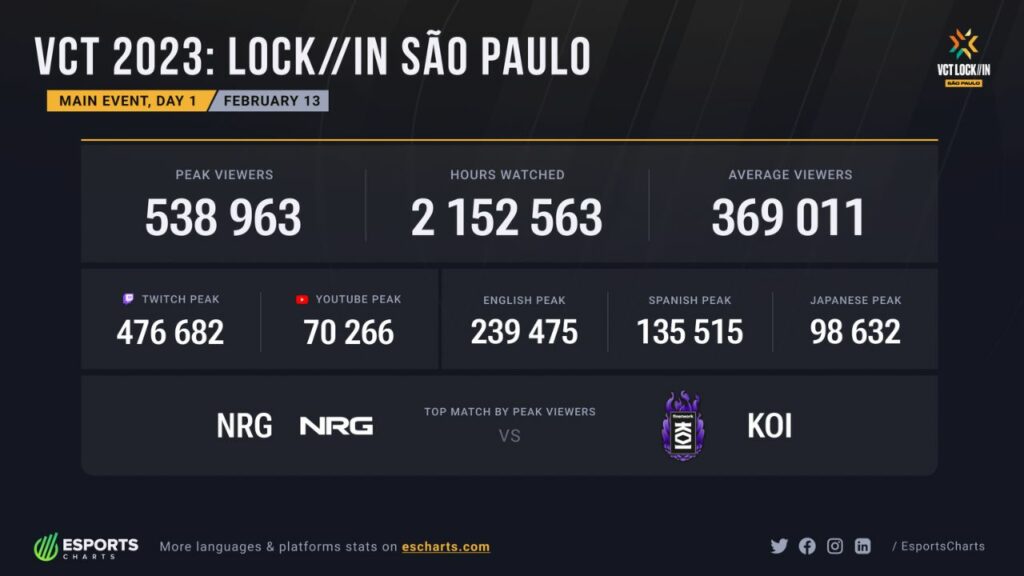 Twitch was the largest portion of the VCT Lock In viewership, netting a peak of 476,682 while YouTube came in with a peak of 70,266. In total, the English stream peak was roughly 240,000 with the Spanish community making up the next highest at around 135,000.
In what should come as a surprise to no one, the NRG vs. KOI match was the top match of the day and the one where the 540,000 viewers peak took place. Bringing in the core of the former OpTic roster as the opening match of the entire VCT Lock In event was definitely a smart move by Riot Games.
---
The debut of NRG certainly helped VCT Lock In viewership numbers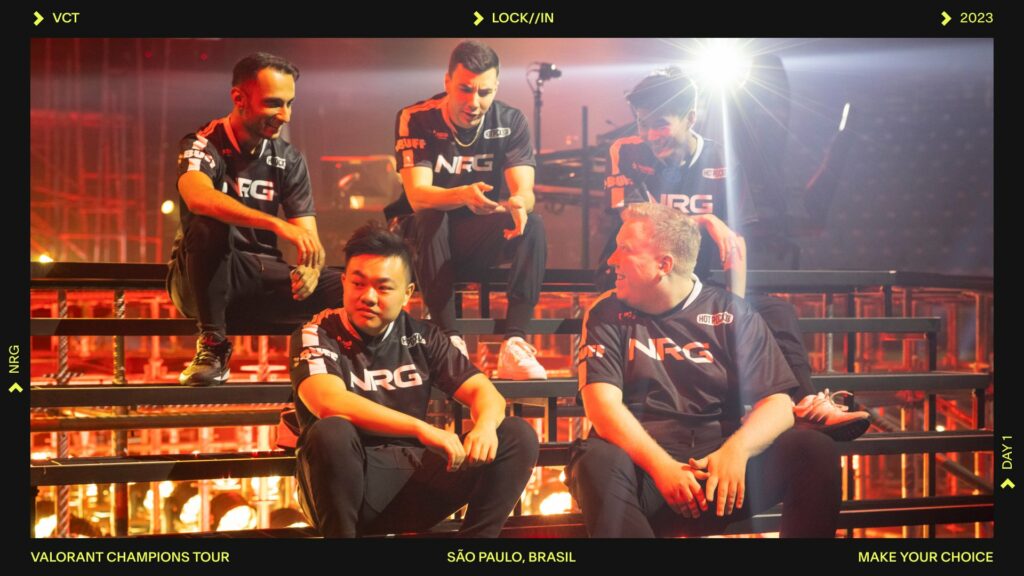 ---
The later match between Giants Gaming and Detonation FocusMe dropped off to around 377,000 peak viewers, which is still plenty respectable for day one of a single-elimination tournament not featuring the biggest global organizations.
When compared against previous Valorant esports events, the VCT Lock In viewership ranks at number four in terms of both peak day one viewership as well as average viewership. Valorant Champions 2022 and 2021 top the charts at 807,007 and 690,930 peak respectively, while VCT 2021 Masters Reykjavík fills in spot number three with 605,623.
This is a good omen for the rest of the event when teams like Sentinels, Cloud9, Fnatic, and more have yet to take the stage. It's very possible we'll see viewership ascend even further before the champion is crowned in Brazil.
READ MORE: The top 10 highest earning Valorant players of all time list dominated by one region