Riot Games announced the full list of streamers who will be hosting their own official VCT Lock In watch party streams.
The first international Valorant LAN event this year features a wide variety of streamers across all regions. The biggest names on the list are North American talents Tarik "Tarik" Celik, Kyedae "Kyedae Shymko, and Valorant esports team owner Jeremy "Disguised Toast" Wang.
VCT Lock In will host a whopping 32 teams — 30 partnered organizations and two invited representatives from China. This means popular pros like Sentinels' Tyson "TenZ" Ngo and Team Heretics' Óscar "mixwell" Colocho will not be hosting their own watch parties while their VCT-partnered teams are still in the tournament.
Co-streaming helps esports events ride on the popularity of big streamers to expand their reach. Most Valorant streamers have cultivated their fanbase by giving their viewers a unique perspective on the game and lively discussions about each match.
Watch parties also help community building for Valorant fans around the world. These streamers from different VCT regions make watching the tournament more exciting as they cheer their teams on together.
Here's a list of every official VCT Lock In watch party stream.
---
---
VCT Lock In watch party list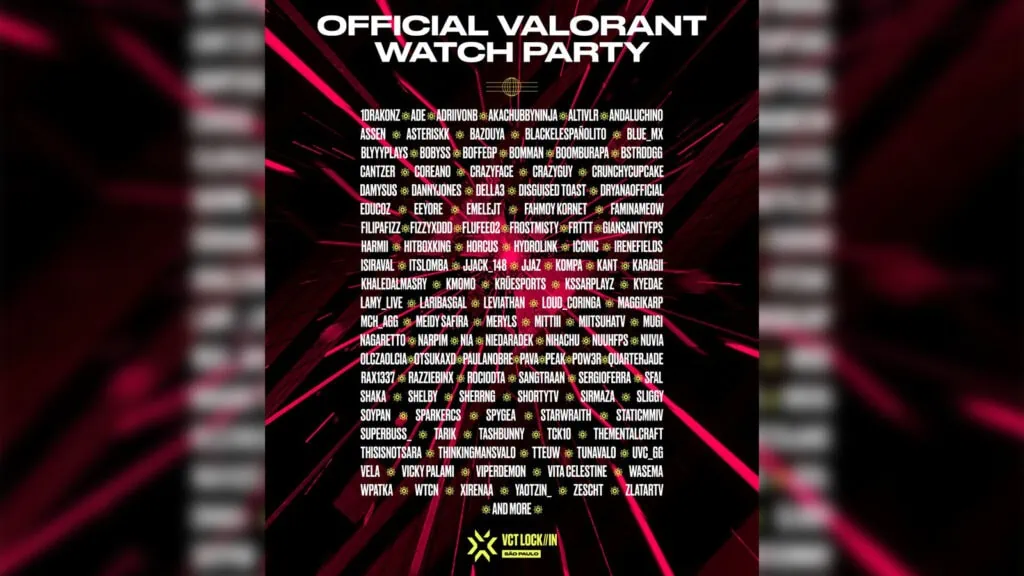 There is a total of 120 co-streams fans can choose from. There are even popular streamers like DRX's Jakub "Lothar" Szygulski who wasn't included in the list but was granted co-streaming access by Riot Games.
Alternatively, you can catch all VCT Lock In matches on the official Valorant Twitch and YouTube channels when the tournament's playoffs kick off on February 13.
For more information on the match schedule and format, you can check our full VCT Lock In explainer.
READ MORE: A new league to debut Valorant in China is coming — and much sooner than you think