North American superstar or not, Jaccob "yay" Whiteaker is not immune to the woes that come with playing Valorant's ranked matchmaking.
Even in Brazil, yay had the unfortunate luck of being on the losing side of what appears to be a clean sweep.
In an image shared on Twitter, Cloud9's poster boy can be seen taking a 12-0 beating in his foray into ranked in Brazil. Alongside the image is the Portuguese text for "Brazilian ranked does not forgive."
No, it appears it most certainly does not.
---
---
Yay will not want to see this scoreline during the VCT Lock In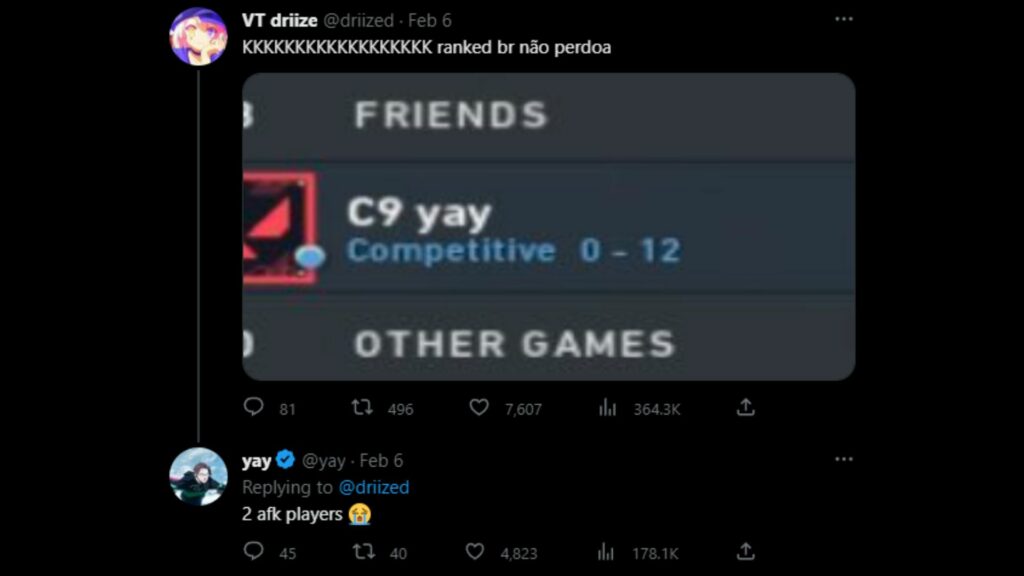 Yay took it in stride though, and explained that his team's brutal beating was courtesy of not one, but two AFK players. It seems being an esports celebrity doesn't help in encouraging people to stick around and give it their all.
The 24-year-old is currently in Brazil as Cloud9 awaits the start of the VCT Lock In in São Paulo where he will compete for the lion's share of the $500,000 prize purse.
This will be his first international event since departing from OpTic Gaming where he had a stellar 2022, earning himself the title of esports player of the year courtesy of the Esports Awards.
The Lock In event is the first major event for the esports title in 2023 and will showcase the 30 partnered teams for the first time since the program began in 2022. Joining the partnered teams will be Edward Gaming and FPX from China to round out the 32-team single-elimination bracket.
Want to see OpTic in action and get exclusive drops? Check out the link below.
READ MORE: How to get new VCT Lock In drops: Exclusive title and gun buddy