T1 are out of the VCT 2022 season, after losses to Soniqs and VIRTUOSO in the second and final VCT NA Stage 2 Challengers open qualifier.
The dismal result caps off a short VCT 2022 run for T1 Valorant, where the team failed to find its footing even against less established tier two teams competing in the open qualifiers.
That disappointment was keenly felt by its players. Zander "thwifo" Kim, who plays Sova for the team, has announced that he is taking a "short break" from the game.
The 19-year-old player also said that he was not sure what the future holds for him with T1, seemingly suggesting that the organization may be exploring further roster changes.
T1 parted ways with Johann "seven" Hernandez in March, bringing on 17-year-old dynamic as a replacement. However, the organization has yet to formally announce his signing.
---
---
Thwifo is taking a short break from T1 Valorant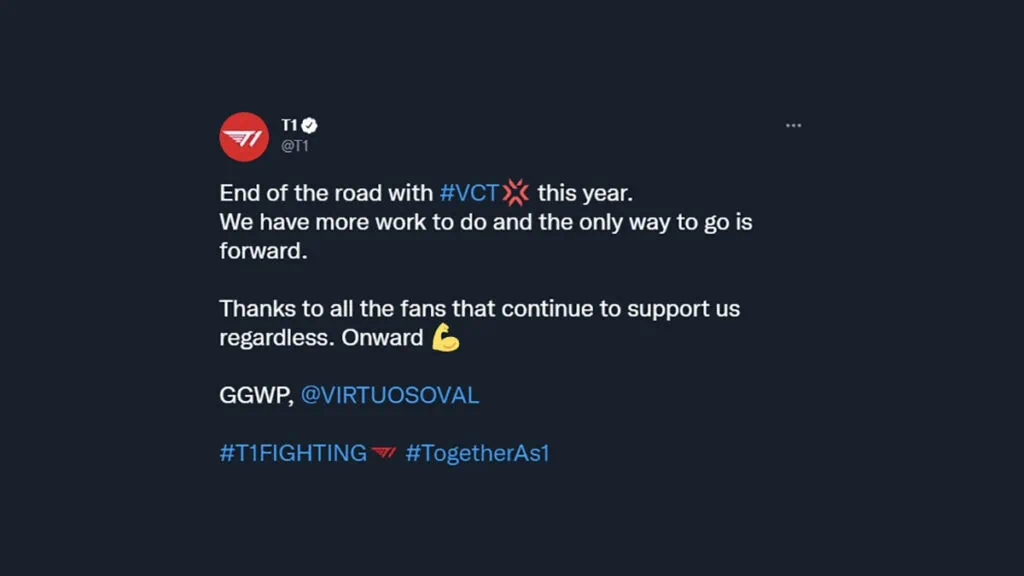 Thwifo said that he had been suffering from depression in a Twitlonger post, which in turn resulted in "poor play".
"The last few months have been the most stressful and confusing times of my life. I have never put in so much hard work in my life to achieve absolutely nothing and it's been destroying me from the inside out," he shared candidly.
He had also stopped doing things he enjoyed outside the game and began to question himself as a player.
In order to get himself back on the right track, thwifo said that he would be taking a break so he could "do things right this time around".
The team has not earned any VCT circuit points, which means that it cannot attend the Last Chance Qualifier at the year's end to attempt to qualify for Champions. T1's next chance in the VCT will come in 2023, when Riot Games plans to roll out its new partnership model and international leagues.
It's a long time to spend sitting on the sidelines, and many have begun to question the format of the 2022 VCT NA season.
Should T1 decide to make additional changes, its new roster will only get to play in smaller, open tournaments in the region.
READ MORE: Jett mains, please stop buying the Operator on attack