Shopify Rebellion has been denied VCT 2023 partnership status, the organization announced on Twitter today.
Riot Games informed Rebellion that they would not be moving forward with their application in the Valorant partnership program, a blow to the team's hopes of continuing to compete at the highest tier of pro Valorant.
The VCT 2023 circuit is expected to feature three international leagues, each with a limited number of partnered teams that will compete to advance to international events like Masters.
Riot's decision comes just weeks after Rebellion picked up the former Luminosity Gaming roster, after Luminosity announced their exit from Valorant.
---
---
Shopify Rebellion will continue to support its team for VCT NA LCQ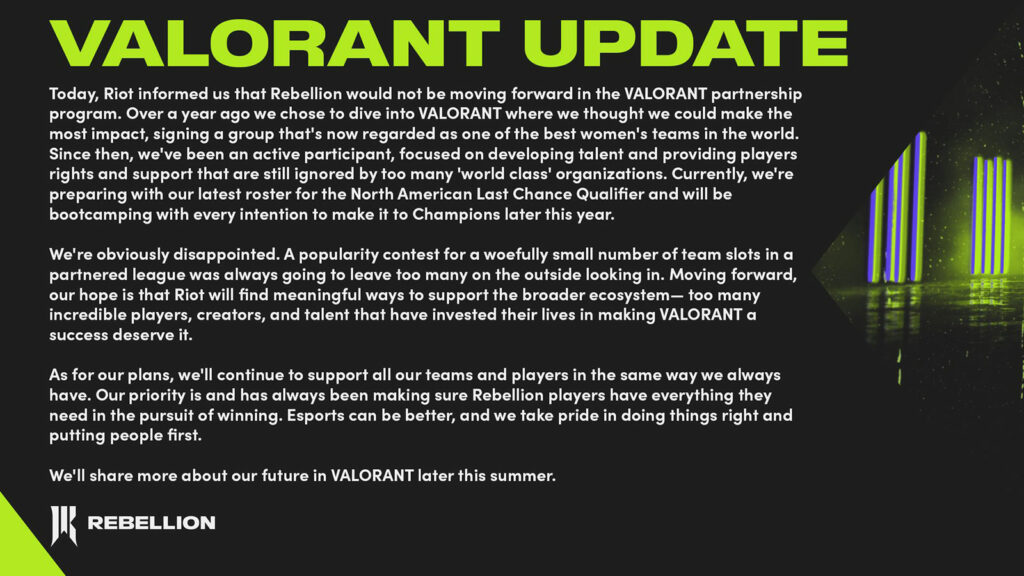 Riot's Americas league is expected to feature just eight to 10 teams, which means that several organizations will inevitably be left on the sidelines.
Rebellion blasted the new model as a "popularity contest for a woefully small number of team slots." While the former Luminosity roster has been one of the most consistent teams in North American Valorant, they have not found the same fan base as teams like Sentinels.
The organization said that it intended to continue to support all its teams and players "in the same way we always have," and that it would share more about its future in Valorant later this summer.
Teams that do not get accepted into the international leagues can still compete in domestic leagues similar to the existing Challengers tournaments, but they will not have a direct path to international LAN events.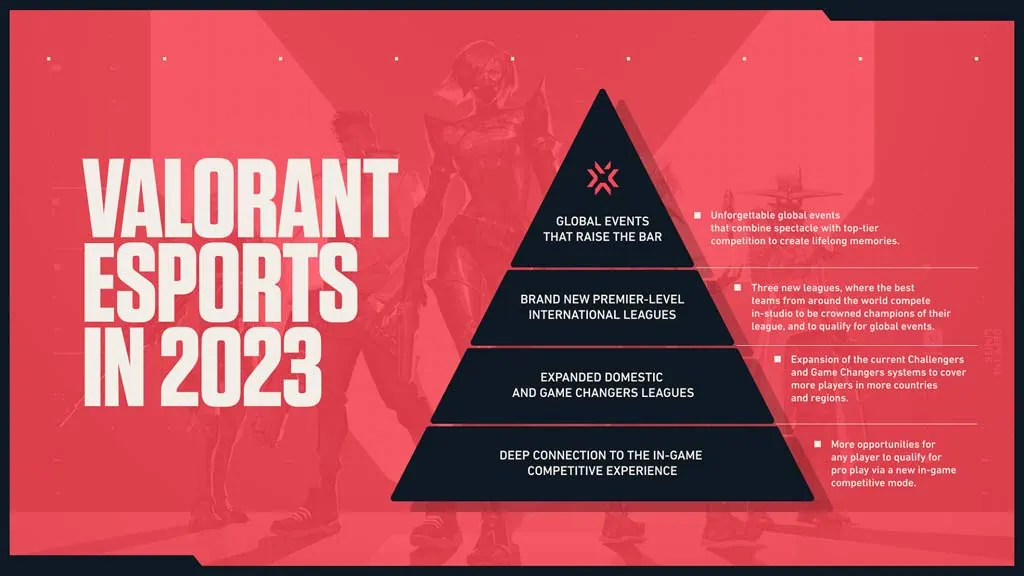 According to an earlier report by blix.gg, the pseudo-franchising system would operate differently from Riot's existing franchises in League of Legends. While teams in leagues like the League Championship Series (LCS) own their spots, Riot would be the one managing these spots in the VCT.
Partnered organizations will reportedly be offered four-year contracts to compete in the leagues, and Riot can decide at the end of this period whether to renew the partnership or add new teams.
Shopify Rebellion are currently slated to compete in the VCT NA LCQ in August, where they have a chance to qualify for Valorant Champions.
"No partnership for SR is all good. It won't stop us from trying our best in LCQ," said Brandon Michael "bdog" Sanders on Twitter.
Rebellion also called on Riot to find "meaningful ways to support the broader ecosystem." The new partnership system risks having a chilling effect on teams and talent in the so-called Tier 2 scene. Over the past year, organizations like Rise, Dignitas, and beastcoast have already left Valorant.
Earlier today, SoaR — a team that has previously fielded players like Matthew "Cryocells" Panganiban, Brenden "stellar" McGrath, and Alexander "Zander" Dituri — became the latest organization to exit competitive Valorant.
READ MORE: KAY/O's buffed molly now destroys Killjoy's Lockdown ultimate through walls