Fresh off their sweeping win in the Masters Copenhagen upper bracket quarterfinals, Singapore-based esports organization Paper Rex announced that another player, Khalish "d4v41" Rusyaidee, has tested positive for the coronavirus.
He is the second member on their team to have had a run-in with the coronavirus, as star player Jason "f0rsakeN" Susanto returned a positive result preceding their match against Guild Esports.
---
---
Paper Rex's d4v41 and f0rsakeN will compete while in isolation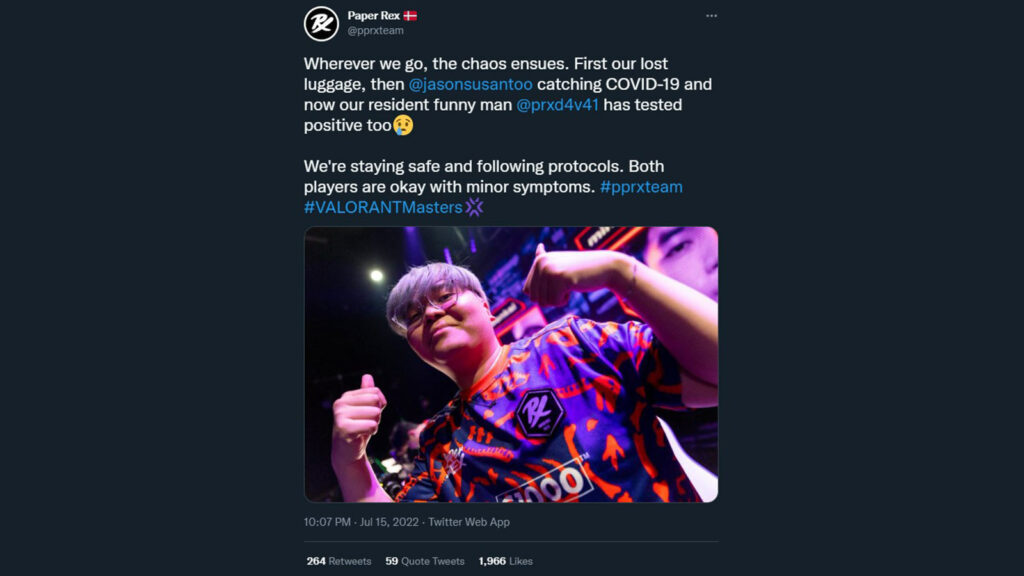 PRX reported that both players have exhibited minor symptoms so far. The team will be following safety protocols stipulated by Riot Games.
"Wherever we go, the chaos ensues," the organization reflected on Twitter. "First our lost luggage, then f0rsakeN catching COVID-19, and now our resident funny man d4v41 has tested positive too."
Similar to f0rsakeN's case, the affected player will be allowed to compete from an isolated room if they feel well enough, while their teammates and opponents play from the venue.
In the post-game press conference hosted by Riot Games, PRX's coach Alexandre "alecks" Sallé added that there is a chance that more of their players and staff could test positive for the coronavirus in the next few days of the tournament.
Similar to f0rsaken, d4v41 will also be isolated from the rest of the team. If PRX's players feel well enough to play, they will continue with their scheduled matches.
The Southeast Asian squad is set to face Fnatic next in the upper bracket semifinals on July 17, 11:00 p.m. GMT+8 | 8:00 a.m. PT | 3:00 p.m. GMT.
The match schedule for VCT Stage 2 Masters can be found here. All matches will be broadcast live on the official Valorant Twitch and YouTube channels.
READ MORE: OpTic Marved after monster MVP performance: 'I was just trying to style on KRU'