In a surprise announcement, Luminosity Gaming has said that it is leaving competitive Valorant. Its exit comes in the middle of the VCT NA Stage 2 Challengers group stage.
The Luminosity team is currently 2-1 in Group B and will continue to play the rest of Stage 2 under the Canadian organization's banner for the remainder of VCT NA Stage 2.
In the meantime, Luminosity will be trying to find a new home for its roster. All Valorant players and staff, including head coach Jared "mac" Schneider, are also considered restricted free agents.
---
---
All Luminosity Gaming players are looking for a new organization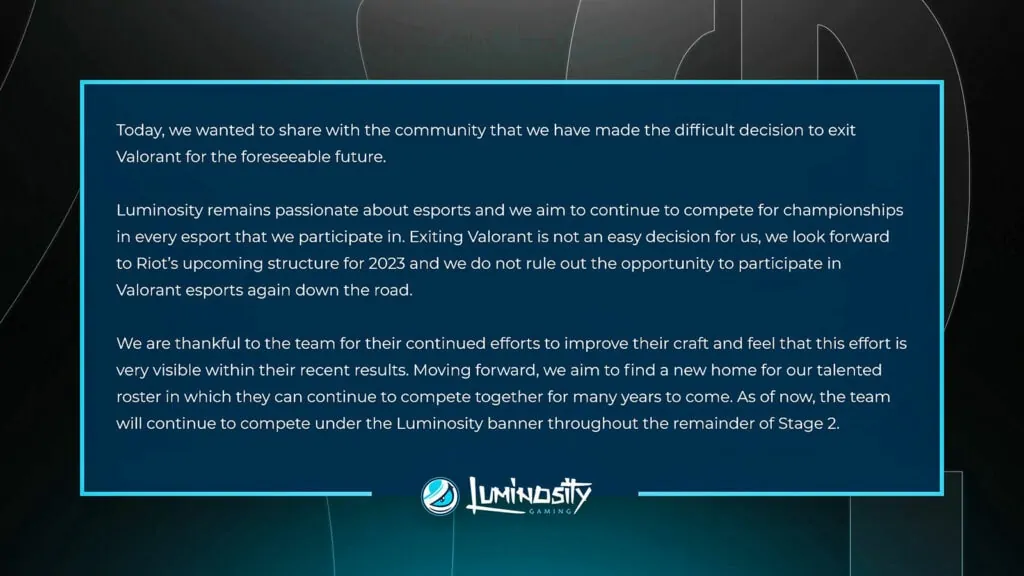 However, Luminosity stopped short of completely excluding a return to Valorant in the future. It said that it was leaving for the "foreseeable future," but would not "rule out the opportunity to participate in Valorant esports again down the road."
"Exiting Valorant is not an easy decision for us. We look forward to Riot's upcoming structure for 2023," it said.
Riot's new partnership model in 2023 is currently rumored to feature eight to 10 slots for teams in the new North American, Brazilian, and Latin American international league, according to Dot Esports' George Geddes.
The Luminosity roster has impressed so far in VCT NA Stage 2. They qualified in the first open qualifier, and then took down FaZe Clan and Sentinels in the group stage. Featuring Brandon Michael "bdog" Sanders, Kaleb "moose" Jayne, Will "dazzLe" Loafman, Tanner "TiGG" Spanu, and Adam "mada" Pampuch, the team are currently in the top three in Group B and are in a strong position to qualify for the playoffs.
The top four teams from each group will advance to the playoffs, where they will compete for North America's two spots at Stage 2 Masters Copenhagen.
In posts on Twitter, several players stressed the importance of partnering with an organization that would keep both the roster and staff together, describing it as "vital to the long-term success" of the team.
READ MORE: How to get the free 2022 Pride bundle in Valorant