Tyson "TenZ" Ngo had a big slip up while he and his team were preparing for the upcoming VCT North America Last Chance Qualifier in August.
The 21-year-old accidentally live streamed Sentinels' scrim against FaZe Clan for a few minutes without him realizing it, giving away both team's agent compositions on Split.
The stream lasted for only three rounds, but it was enough to get fans excited about the new agent TenZ appears to be playing for the NA LCQ.
---
---
TenZ accidentally streams Sentinels' scrim against FaZe Clan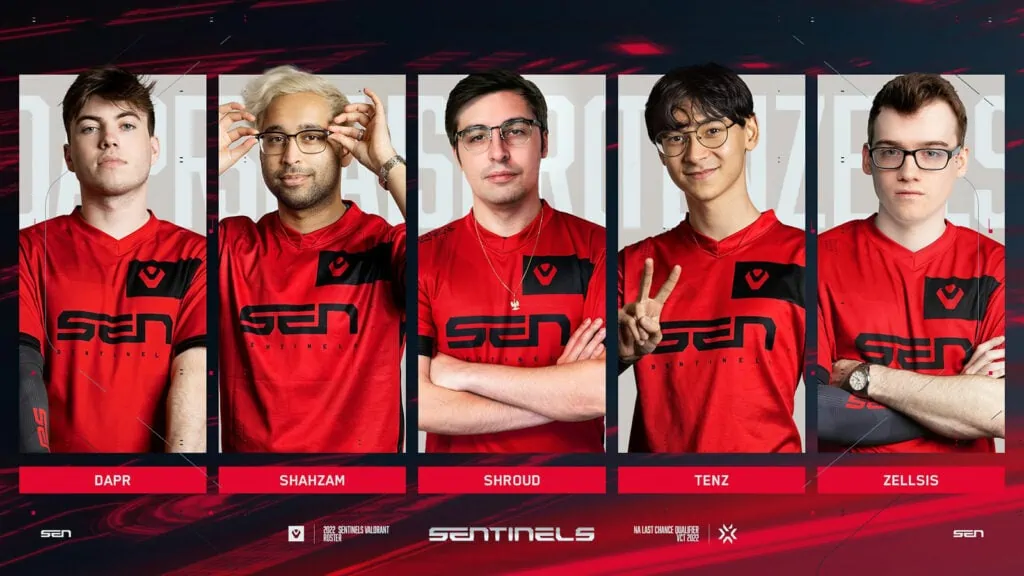 It is common practice for teams and players to record their scrims so that they can review them later on. However, TenZ made a mistake and hit stream instead of record on his broadcast software.
The leaked stream started right after the pistol round concluded. Both teams were running the same agent composition on Split, with Michael "Shroud" Grzesiek on Astra, Michael "dapr" Gulino on Fade, Jordan "Zellsis" Montemurro on Raze, and Shahzeb "ShahZaM" Khan on KAY/O.
On TenZ's end, he was playing Chamber, an agent he has said that he wanted to play in the VCT NA Stage 2 Challengers. The Sentinels star has played mostly Jett for the majority of his pro career, even as other Jett mains like OpTic Gaming's Jaccob "yay" Whiteaker have found huge success on the French agent.
Chamber is one of the strongest agents in the current Valorant meta. The dapper weapons expert had the highest pick rate at Masters Copenhagen at 77%, despite the recent nerf to his Trademark traps.
---
---
The new agent composition marks a huge shift for the team. TenZ has always been their primary duelist on Jett, sometimes flexing onto Raze on maps like Split. However, he has not always found the same impact on the Brazilian duelist — he has a 0.97 K/D on Raze compared to 1.32 on Jett over the past 90 days — and has appeared significantly less comfortable at times.
The addition of Zellsis may have opened up more opportunities for them. He was the main Raze player on Version1 and has a lot more experience on the agent in pro play, which may help Sentinels adapt better to the current Raze and Chamber meta.
TenZ immediately ended the broadcast after realizing that his stream was live. He also apologized to FaZe Clan, saying that he didn't mean to leak their agent compositions.
The boys in red are looking to redeem themselves after struggling in the VCT 2022 season. While the team managed to qualify for both Stage 1 and 2 Challengers Main Events, they still missed out on both Masters tournaments this year.
The North American squad also barely squeaked into the VCT NA LCQ in 10th place in terms of VCT circuit points, where they will compete for the last slot at Valorant Champions Istanbul.
Fans can watch the full leaked stream here.
READ MORE: Valorant dev shuts down Shroud's loser's queue theory: 'We do not manipulate the queue'