Mobile Legends: Bang Bang Professional League Philippines (MPL PH) has confirmed that Smart Omega's Duane "Kelra" Pillas has been suspended and fined.
Kelra will miss the first two weeks of MPL PH after he violated MPL PH's sexual harassment, discrimination, and denigration rules that are strictly imposed by the league.
Smart Omega Kelra made inappropriate remarks about OhMyV33nus, Wise, and Ramella
During a livestream, which has since been deleted, Kelra was heard making homophobic remarks about Blacklist International's Johnmar "OhMyV33nus" Villaluna and Danerie James "Wise" Del Rosario.
Another video of him also surfaced, where he made an inappropriate comment about IDONOTSLEEP's Chareeny "Ramella" Ramella.
---
---
MPL PH issued a statement on Kelra's suspension and imposed fine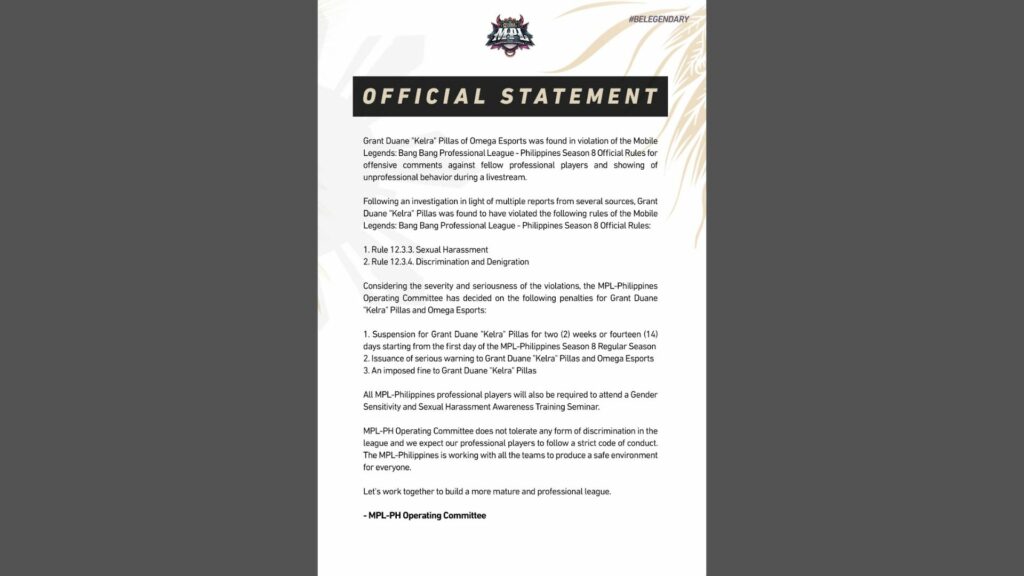 MPL PH responded yesterday on their official Facebook page. The league imposed a two-week MPL PH suspension on Kelra, and an undisclosed fine.
"MPL PH Operating Committee does not tolerate any form of discrimination in the league and we expect our professional players to follow a strict code of conduct," wrote Moonton.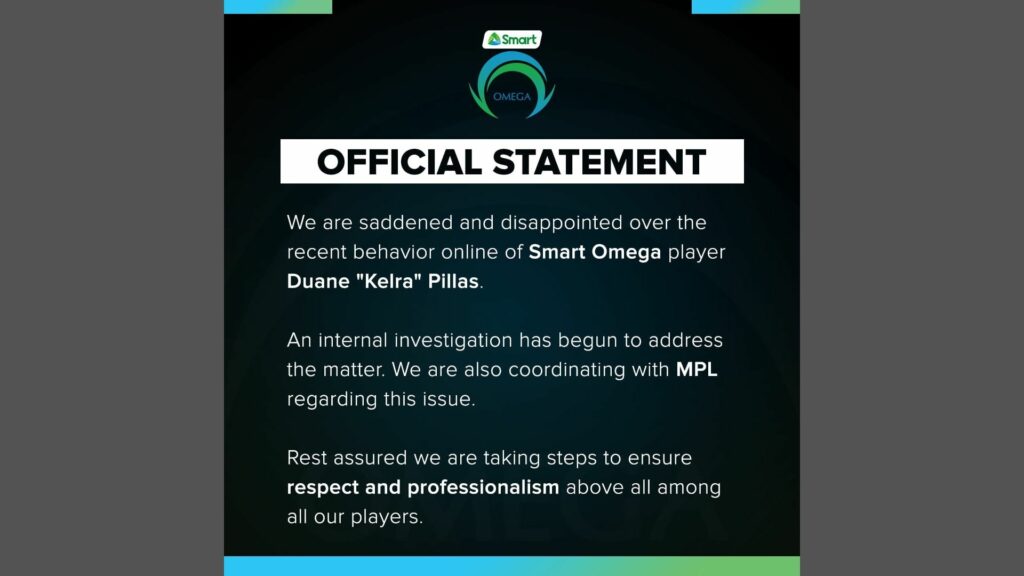 Smart Omega also released a statement, saying they are working closely with the league to form their own investigation into the matter.
Kelra's public apology
On his Facebook page, the MSC 2021 MVP has released a statement asking forgiveness to the community for his actions.
"I admit that I have made a mistake and I didn't think about the repercussions. I was immature and responsible," he wrote.
He also mentioned that he has personally messaged OhMyV33nus and Wise to offer his apologies.
"I promise to be a better person and to try my best to become a role model as a professional player," he added.
IDONOTSLEEP and Ramella's official statement about Kelra's remarks
Thai esports organization IDONOTSLEEP Esports also released a statement, condemning Kelra's action against one of their players.
"This behavior should not be tolerated. Doesn't matter what kind of upbringing one has, it is never an excuse," IDNS wrote on their official Facebook page.
They also added the organization's female esports team will stop participating in any esports events in the country until further notice.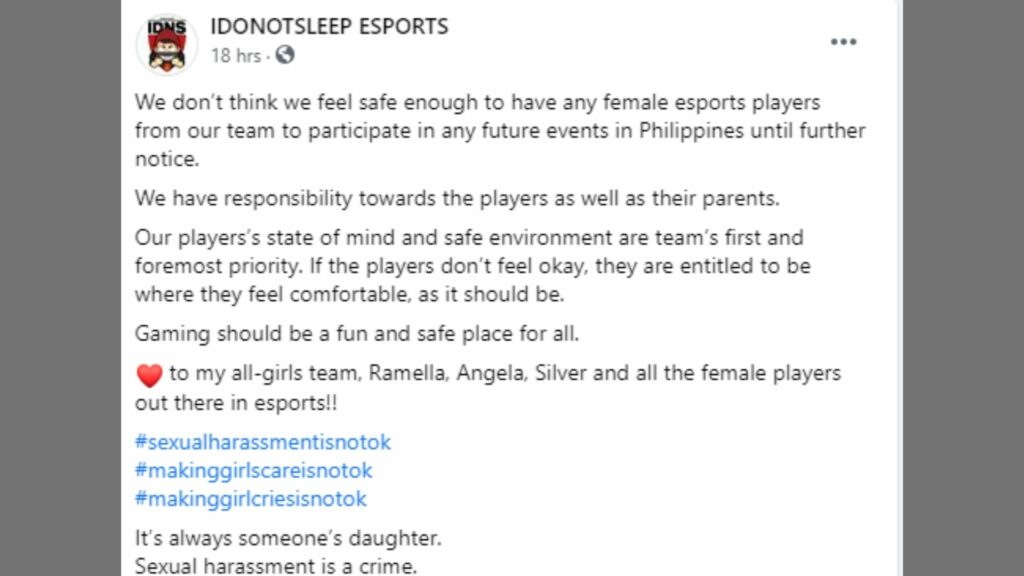 Ramella also released a statement on her official Facebook page, saying that she will be taking a break from competitive MLBB as both she and the organization agree that the space is not safe for female esports players.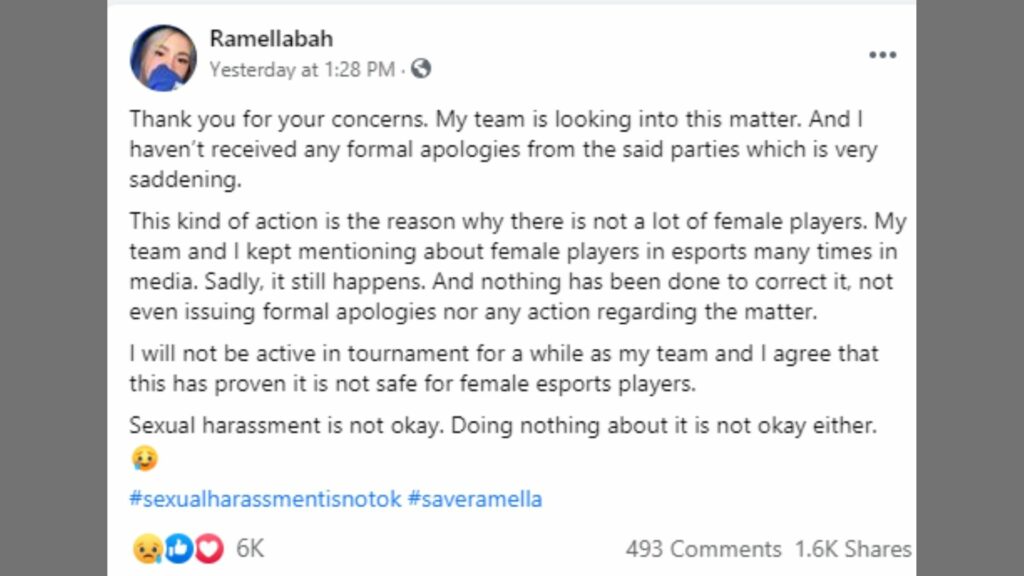 "Sexual harassment is not okay. Doing nothing about it is not okay either," she wrote.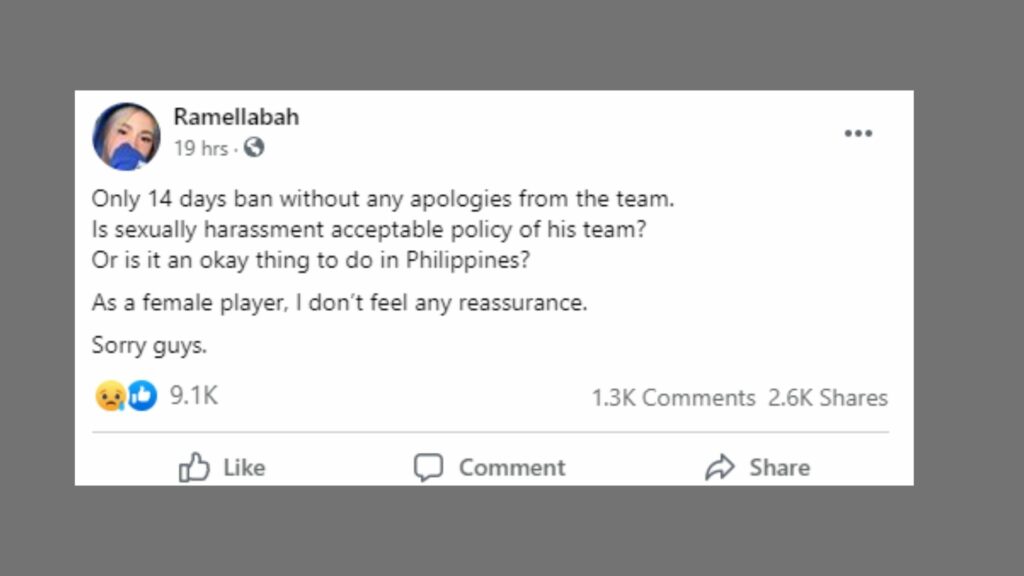 She also expressed her frustration with the 14-day ban imposed by the league along with Smart Omega not contacting her yet for a formal apology.
"As a female player, I don't feel any reassurance," she said.
READ MORE: MPL ID Season 8: Schedule, format, where to watch