The best-of-five LCK Summer 2022 semifinals series between MSI 2022 finalists T1 and 2020 World Champion DWG KIA on August 21 reached 1,073,498 peak viewers, according to Esports Charts.
The cumulative total includes viewers from Twitch, YouTube, Facebook, and Afreeca TV.
This is the highest peak viewership for a single match in the LCK Summer 2022 regular season and playoffs combined so far. Viewership previously peaked at 690,649, a record that was set during the regular season match between T1 and Gen.G in Week 7.
---
---
T1 vs DWG KIA went all the way to five games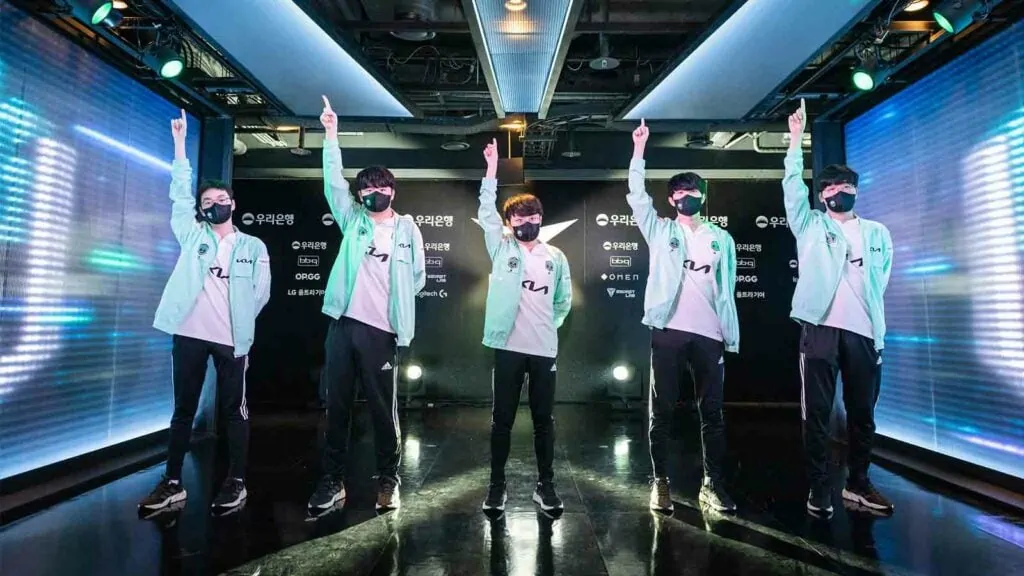 T1 finished second in the LCK Summer 2022 regular season with a 15-3 match record, just behind Gen.G who secured first place.
As the top two teams, they were seeded into the semifinals on opposite sides of the King of the Hill, single elimination bracket. Gen.G defeated Liiv SANDBOX 3-1 in the semifinals the day before to advance to the final.
DWG KIA finished 10-8 in the regular season in fourth place. They took down KT Rolster 3-2 in the first round to qualify for the semifinals and meet T1.
DK lost the first two games in the series, before coming back with creative drafts in games three and four. They took the biggest risk in game five by drafting Heimerdinger bot, Azir top, with Heo "ShowMaker" Su on Yasuo mid.
However, T1 fielded a standard front-to-back scaling team composition that had better engage tools, which eventually won them the decider. This sets up a rematch with rivals Gen.G, whom they defeated 3-1 during the LCK Spring 2022 final.
Catch the LCK Summer 2022 final on August 28 at 5 p.m. GMT+9 | 4 p.m. GMT+8 | 8 a.m. GMT | 1 a.m. PT on the official English and Korean Twitch LCK channels.
READ MORE: Heimerdinger bot, Morgana jungle, Azir top stun in T1 vs DK playoffs series