Esports wiki website Liquipedia has released a chart showing the most visited League of Legends player pages in 2022.
Among the top 20, four are T1 players, three are from Gen.G's 2022 roster, three from Worlds 2022 championship winner DRX, and one from DWG KIA.
South Korean players as a whole dominated in terms of popularity, occupying 12 spots. 11 competed in the LCK, while former T1 Worlds 2013 winner Jeong "Impact" Eon-young has been playing in the LCS since 2016.
With Evil Geniuses for the last two years, he has since moved to FlyQuest for the upcoming LCS 2023 season.
---
---
T1 players dominated the top 20 most visited League of Legends Liquipedia pages of 2022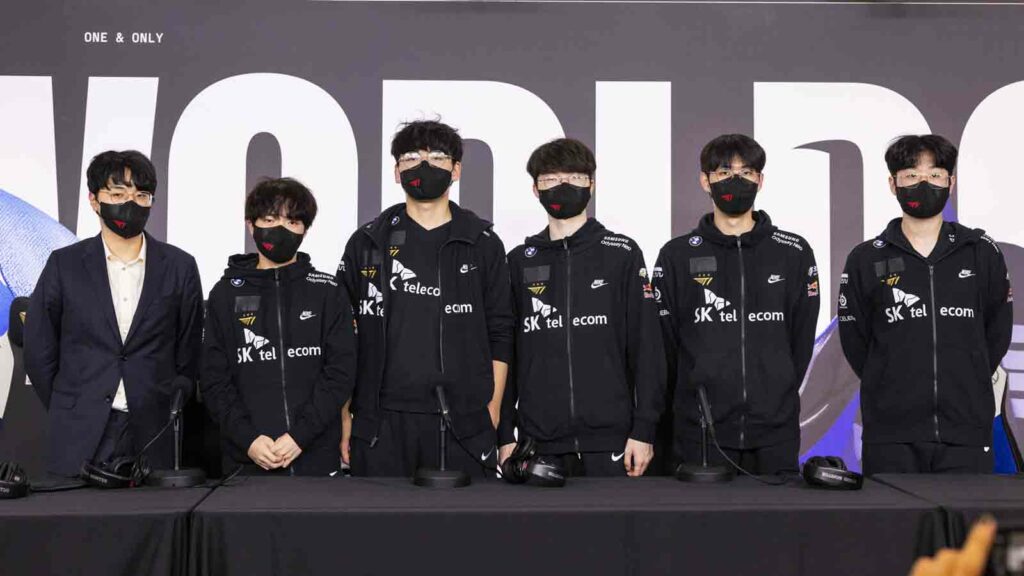 The four T1 players on the list are top laner Choi "Zeus" Woo-je, mid laner Lee "Faker" Sang-hyeok, bot laner Lee "Gumayusi" Min-hyeong, and support Ryu "Keria" Min-seok.
The only player that did not make it to the top 20 most searched pages is their jungler, Mun "Oner" Hyeon-jun. T1 has kept the same roster going into 2023.
Even though Carlos "ocelote" Rodríguez Santiago is not an active player, the former G2 Esports CEO, co-owner, and founder made headlines when he received a competitive ruling from Riot Games in October last year after he tweeted about Andrew Tate.
He was suspended from holding any managerial or operational position with a team or organization in a Riot-sanctioned competition because he had "engaged in activity detrimental to the best interest of the League and Riot Games in violation of the LEC Rules," Riot had stated.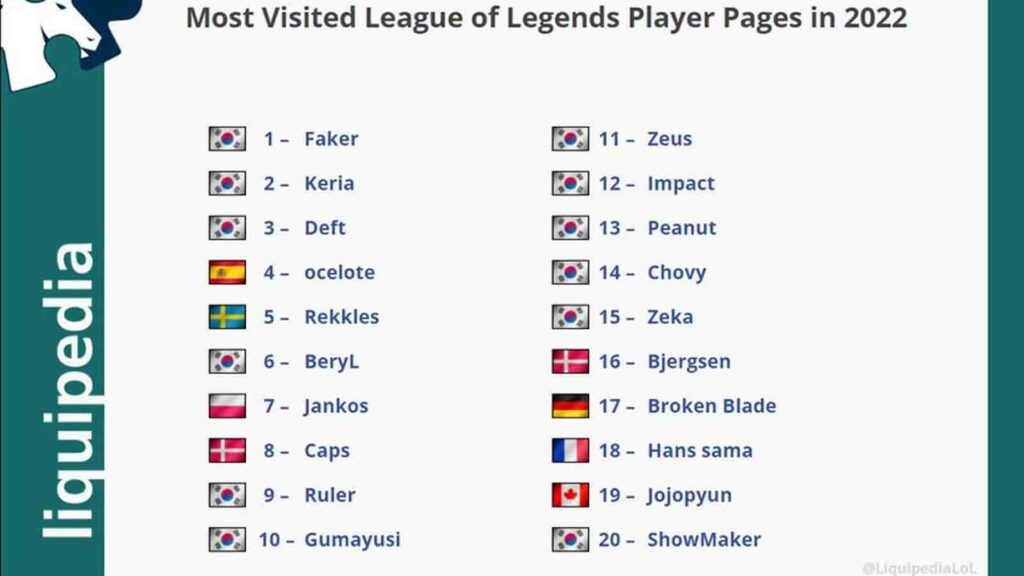 Even though Carl Martin Erik "Rekkles" Larsson did not compete in the LEC last year, having joined French team Karmine Corp in the LFL, he was still the most searched player in Europe over G2 Esports jungler Marcin "Jankos" Jankowski and mid laner Rasmus "Caps" Borregaard Winther.
Rekkles is back in the LEC with his home team Fnatic for the 2023 season. Jankos parted ways with G2 after a disappointing 11th-14th placing at Worlds, and is now with Team Heretics, led by head coach Peter Dun.
Players who competed in the LCS took 16th to 19th place on the list of most searched pages, with star mid laner Søren "Bjergsen" Bjerg bringing in the most volume. He reunited with former TSM teammate and now unretired bot laner, Yiliang "Peter" "Doublelift" Peng, in 100 Thieves.
Follow ONE Esports on Facebook and Twitter for more LoL news, guides, and highlights.
READ MORE: How Imagine Dragons wrote Arcane's opening song 'Enemy' using only two chords