T1 has secured their spot in the upcoming 2023 MSI (Mid-Season Invitational) after defeating Gen.G 3-1 in the LCK Spring 2023 playoffs upper bracket final.
This marks T1's fourth LCK split final appearance in a row and fourth consecutive participation in an international tournament.
With the exception of the third game, T1 dominated the match. In the first game, top laner Choi "Zeus" Woo-je's aggressive performance as Jayce secured T1 victory. It was bot laner Lee "Gumayusi" Min-hyeong who paved the way to victory with 12 kills as Aphelios in game two, while mid laner Lee "Faker" Sang-hyeok carried the later half of game three with an unexpected Jayce mid pick.
In a press conference after the game, T1's Head Coach, Bae "Bengi" Seong-woong, said that the match against Gen.G went smoother than expected, and that they had an easier time preparing especially after a tough match against KT.
T1's support, Ryu "Keria" Min-seok, who will also be participating in his fourth international tournament, also shared similar thoughts on the team's performance against Gen.G, stating that he wasn't too worried about them, especially after seeing their draft picks. He did however, give an interesting answer on the support player he would like to face the most in the final.
---
---
There's only one LCK support player who T1 Keria really wants to face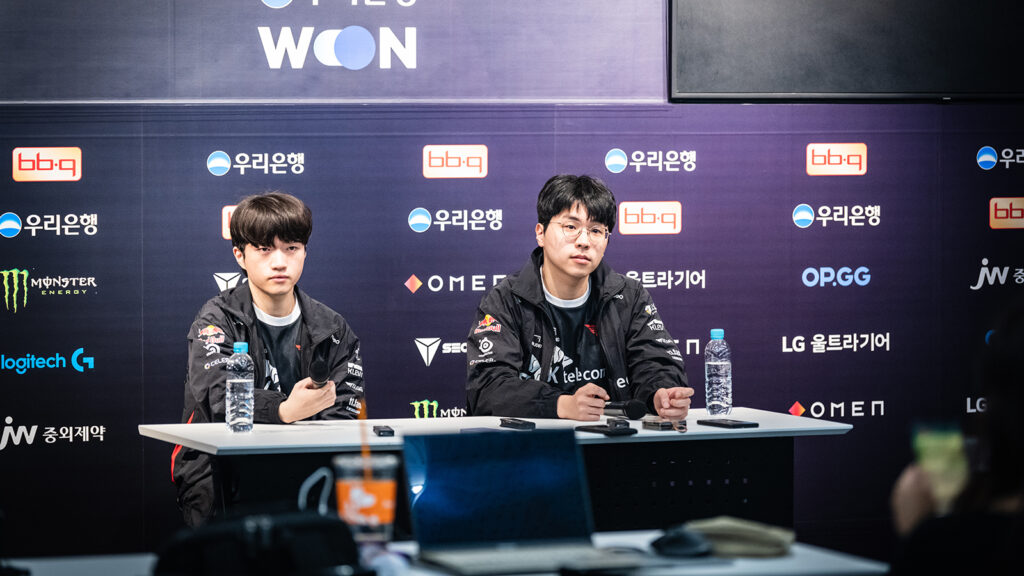 Keria stated that he didn't particularly have anyone in mind, and added that his answer would have been different if it was DRX's support Cho "BeryL" Geon-hee.
During a recent Korizon interview, Keria commented on BeryL's skills of using tanks as support. He noted that champions such as Rakan and Nautilus have been buffed recently, becoming more powerful than before.
He expressed surprise at the newfound overpowered status of these champions, and believes that BeryL's playstyle is particularly well-suited to these champions.
BeryL, who is on DRX, did not qualify for the LCK Spring 2023 playoffs. He did, however, defeat Keria at Worlds 2022 in the final 3-2 on the same organization, a loss that still haunts him to this day.
Teary-eyed on stage, he admits that he still gets flashbacks to that finals match against DRX and how it could have gone differently if he had played differently.
Despite the heartbreaking loss, Keria remains determined to succeed and prove himself in the upcoming MSI. With T1's strong performance and his unwavering determination, it will be his best chance for redemption, except this time without BeryL waiting for him on the other side.
Watch the LCK Spring split playoffs on the official English LCK channel.
Follow ONE Esports on Facebook and Twitter for more LoL news, guides, and highlights.
READ MORE: LCK Spring 2023 playoffs: Schedule, results, format, teams, where to watch