Esports hosting goddess Eefje "sjokz" Depoortere is returning to the LEC broadcast.
She's been a part of the broadcast since Season 3, when it was previously branded EU LCS. Over the years, she's grown to become one of esports' most beloved hosts who has appeared at several World Championships.
Due to several extenuating circumstances, the 34-year-old Belgian has not been hosting the broadcast for the past four weeks. Fans will be delighted to hear that she'll finally grace the Berlin studio, with players also returning to an offline setting this weekend.
---
---
Sjokz returns to the LEC broadcast for Week 5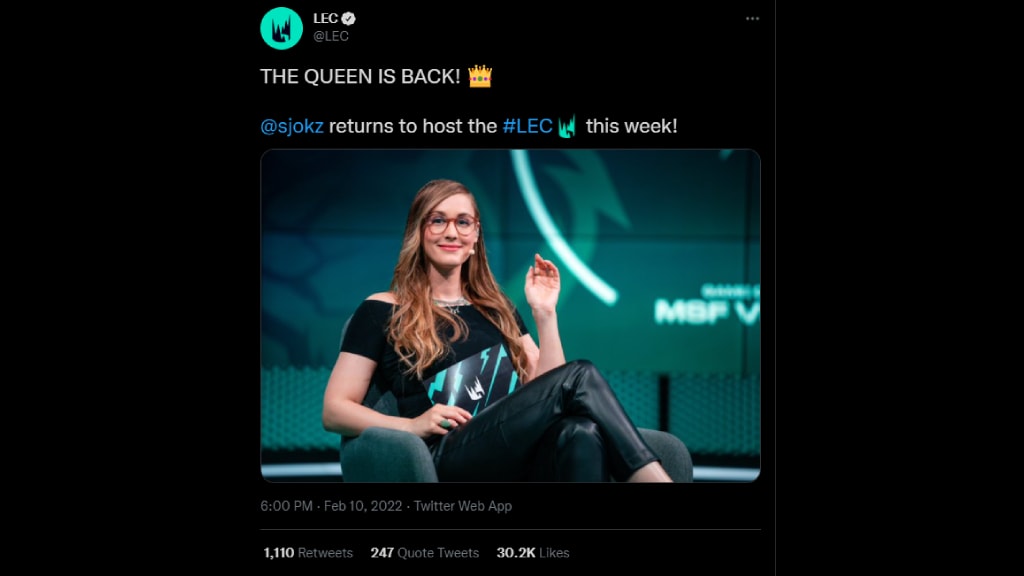 Sjokz's return had been delayed for various reasons. The most recent update was on January 28, when she tweeted that her team "have not yet found a mutually acceptable agreement with Riot".
Even though she was supposed to be back in Week 3, personal reasons further delayed her schedule.
Better late than never, we say. And the community's clearly overjoyed about having her back, for she revealed a screenshot showing just how much engagement her tweet received.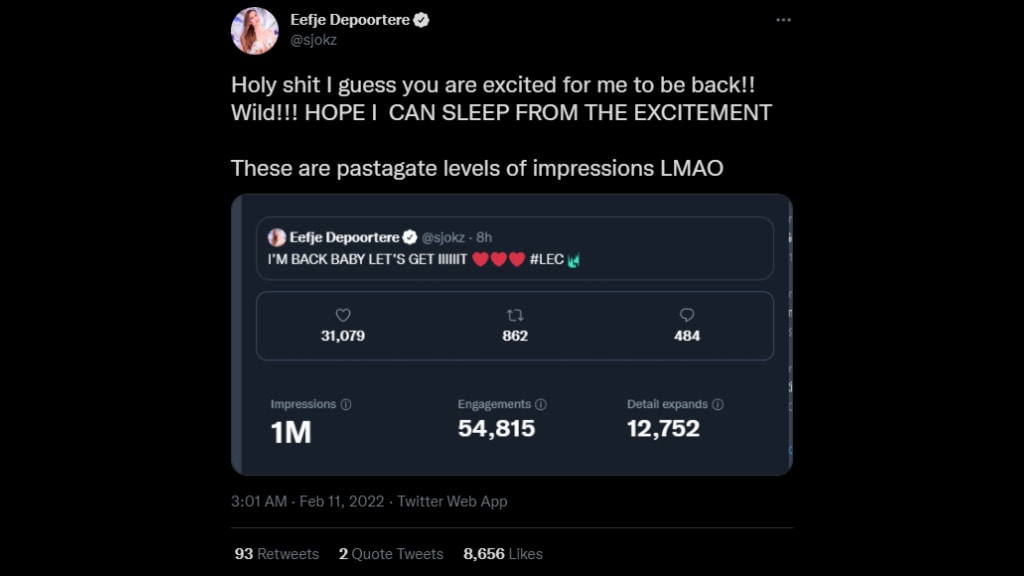 The host isn't the only one who's returning, for it was also announced that some players will return to the Berlin studio this weekend. "We will welcome back teams competing in games 1 and 5 to the LEC main stage," Riot announced.
However, there will still be no crowd for the time being as "the health of safety and players, their teams" and Riot staff are the number one priority.
The LEC Spring Split 2022 continues on February 12, 1 a.m. GMT+8 | February 11, 9 a.m. PT | February 11, 5 p.m. GMT, livestreamed on Twitch and YouTube.
Check out ONE Esports on Twitter for the latest League of Legends news and updates.
READ MORE: Faker is now playing Soraka mid in solo queue after her LCS debut