Week 3 of the League of Legends Champions Korea (LCK) Summer Split saw a David and Goliath matchup between Kwangdong Freecs and reigning Spring Champions T1.
Kwandong Freecs was looking to break their three-match losing streak, while T1 wanted to extend their record-breaking 24-match winning streak.
After Kwangdong Freecs lost game one, the squad rallied behind Park "Teddy" Jin-seong and Kim "Kiin" Gi-in to hand T1 their first LCK defeat of the year.
KDF Teddy steals Baron right under T1's noses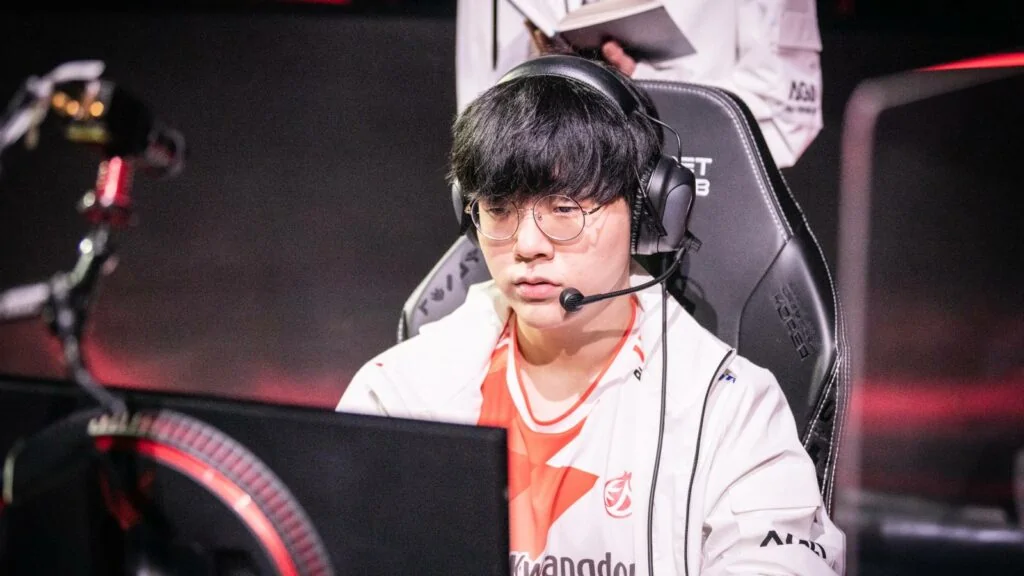 KDF Teddy played fasting Senna in game two and had an incredible late game highlight.
At the 30-minute mark, Kwangdong Freecs spotted T1 at Baron and went for the contest. The rest of KDF crowded around the Baron pit's entrance while KDF Teddy took shots from behind the pit wall.
Senna is one of the only two long-ranged champions who can auto attack from that position. Teddy had enough Mist stacks to gain bonus attack range to auto-attack the Baron from behind the wall.
T1 was looking to claim Baron with the combo of Rend from Lee "Gumayusi" Min-hyeong's Kalista and Smite from Mun "Oner" Hyeon-joon's Wukong, but things would turn awry for the duo. Gumayusi got exhausted, reducing his damage dealt by 40% for three seconds, while Oner, in the heat of the moment, smited Baron when it had over 1,000 HP.
Miraculously, KDF Teddy managed to steal it with a simple auto-attack.
KDF then focused their efforts on taking out T1. Kiin's Gangplank made use of his Powder Kegs to deal critical damage while Ryu "Hoit" Ho-seong's Seraphine burned enemies to a crisp with Liandry's Anguish.
Picking up the ace, Kwangdong Freecs sieged the enemy base to claim the Nexus and tie things up.
During the post-match interview, KDF Teddy revealed that the Baron steal was a "lucky mistake". The AD carry was just trying to hit Oner's Wukong, but ended up clicking the Baron.
---
---
---
Kiin unlocks hyper speed with Gnar in game three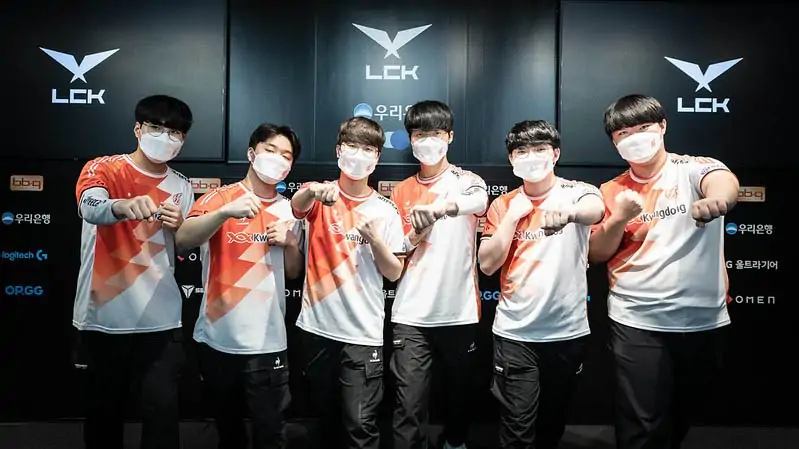 Kiin took the spotlight in game three with his outstanding plays on Gnar. The top laner zipped through the final fight, all thanks to the bonus movement speed from Gnar's Hyper, four Cloud Drakes, and the Cloud Soul.
Kiin tagged Oner's Lee Sin with a Boomerang Throw and immediately hopped over a wall to engage. Choi "Ellim" El-lim's Wukong slowed Oner's retreat with Cyclone, allowing Kiin to attack the T1 player and build Gnar's Hyper.
Kiin continued to chase Oner's Lee Sin through the jungle, hopping over walls and using Sweeping Lens to keep track of him. Oner tried to escape by Safeguarding to Lee "Faker" Sang-hyeok's Lissandra, but the speedy Gnar player landed one more auto-attack to bag the kill.
Still out for blood, Kiin's Gnar transformed and slammed Faker into a wall for the double kill.
Working off the 2v5 advantage, Kwangdong Freecs sieged the enemy base and destroyed their second Nexus, securing their second win of the Summer Split.
---
---
A former T1 player, KDF Teddy said that he always wanted to take them down, and was glad that they were able to beat them in this match.
T1 CEO Joe Marsh congratulated Kwangdong Freecs on Twitter. "They played us tough in scrims and when it mattered the most. Records are meant to be broken and ended," he wrote.
Kwangdong Freecs now hold a 2-3 record and will face Gen.G on July 2 at 8 p.m. GMT+9 | 7 p.m. GMT+8 | 11 a.m. GMT | 4 a.m. PT.
Fans can watch the LCK Summer Split 2022 on the official English and Korean Twitch LCK channels.
Follow ONE Esports on Facebook and Twitter for more LoL news, guides, and highlights.
READ MORE: T1 remains undefeated for 24 LCK matches, Faker breaks his own LCK record