Another world championship record is in the books for the Unkillable Demon King.
During the second Group Stage round robin of Worlds 2022, three-time World Champion Lee "Faker" Sang-hyeok broke the record for most kills in Worlds history. The T1 mid laner surpassed LPL superstar Jian "Uzi" Zi-Hao who set the record at 350 kills in 2019.
---
---
Faker breaks Uzi's four year-long record for most kills at Worlds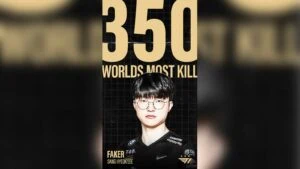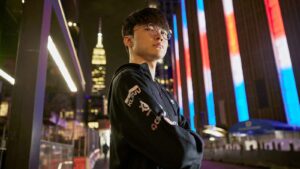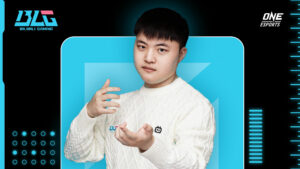 Faker shattered the record during their recent match against LEC team Fnatic. Faker played Sylas and bagged six kills, putting his Worlds kill count to 353 by the end of the game.
The LoL veteran was able to pad out his record on the day, bringing it up to a total of 360 after facing off against Cloud9 and Edward Gaming.
While Faker now sits on the throne for most Worlds kills, it's important to note that Uzi set the previous record in fewer and shorter appearances.
The AD carry has only played in six Worlds tournaments and went all the way to the grand final twice. His last run in 2019 with Royal Never Give Up was cut short in the Group Stage. Faker however, is on his seventh Worlds run this year and has gone to the grand final four times.
Clocking in almost a decade of pro play, Faker continues to shine internationally. Just a few days ago, he became the first player to play 100 games on the Worlds stage.
T1 now advances as the first seed of Group A to the Knockout Stage, which starts on October 20.
---
---
Follow ONE Esports on Facebook and Twitter for more LoL news, guides, and highlights.
READ MORE: T1 and Edward Gaming triumph in Group A, advance to Worlds quarterfinals