The League of Legends World Championship 2022 will kick off on September 29 in Mexico City, Mexico, and continue in the USA.
LCK will be represented by Gen.G, T1, and DWG KIA in the Group Stage, as well as DRX, who start their journey in the Play-Ins Stage.
LPL will send JD Gaming, Top Esports, Edward Gaming, and Royal Never Give Up, with monster botlaners like Top Esports' Yu "JackeyLove" Wen-Bo and JD Gaming's Wang "Hope" Jie.
LCK has historically been one of the best LoL esports regions. It has won six of the last twelve World Championships, finished second six times, and finished top four in all but one. In the last seven Mid-Season Invitationals, the region has also won two championships with five runner-up finishes.
However, during the 2022 LCK Summer playoffs, South Korean fans began to lose faith their teams, doubting that they'll do well at Worlds 2022 due to perplexing draft picks, uncoordinated fights, and individual mistakes.
---
---
After a shaky playoffs run, faith in LCK's performance at Worlds started to dwindle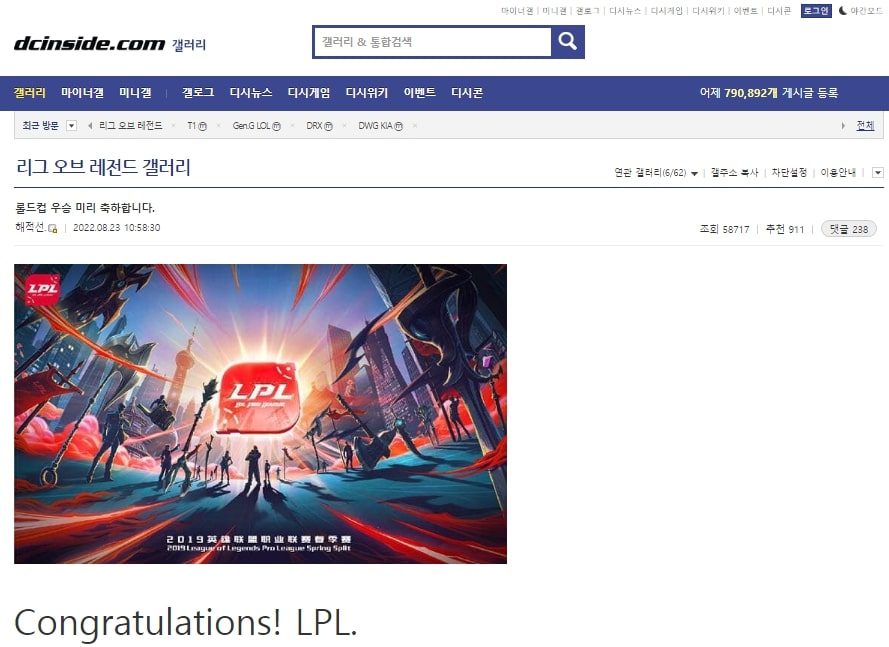 Korean LCK fans pre-congratulated LPL with a meme post on DC Inside in August, a popular forum in South Korea. The post received approximately 60,000 upvotes, twice as much as the average.
The post received both positive and negative feedback. However, the majority of the comments appeared to agree with the original poster.
According to one user, the current LCK "will never win because they will get hard diff'd on the midlane." Other users made unverifiable claims, such as LPL teams considering "T1 and Gen.G to be mid-tier."
Their concerns are not exactly unwarranted.
DWG KIA fans were concerned about the team's draft picks, for they had selected Heimerdinger as their last pick during game five of their elimination match against T1 in the semifinals. Noh "Burdol" Tae-yoon, who subbed for veteran Jang "Nuguri" Ha-gwon, competed despite not playing a single match during Summer as his time was mostly spent in Challengers.
---
---
After a 3-1 quarterfinal loss to Liiv Sandbox, DRX had to rethink their strategy, eventually substituting Ju-han "Juhan" Lee for veteran Chang-hyeon "Pyosik" Hong during the Regional Qualifiers, who had only played only a handful of matches during the regular season. One of the most recent most popular threads in the DRX's DC Inside gallery discussed how Pyosik has not been up to par with the rest of the region's junglers.
Overall sentiment pointed to LPL being a strong region that's highly competitive. The top four teams at Worlds have been making intelligent draft picks and have a good read on the meta. LCK fans believe that their macro strategy and coordination have been excellent, and that their individual play-making has had a greater influence on games.
---
LCK fans regain confidence following Regional Qualifiers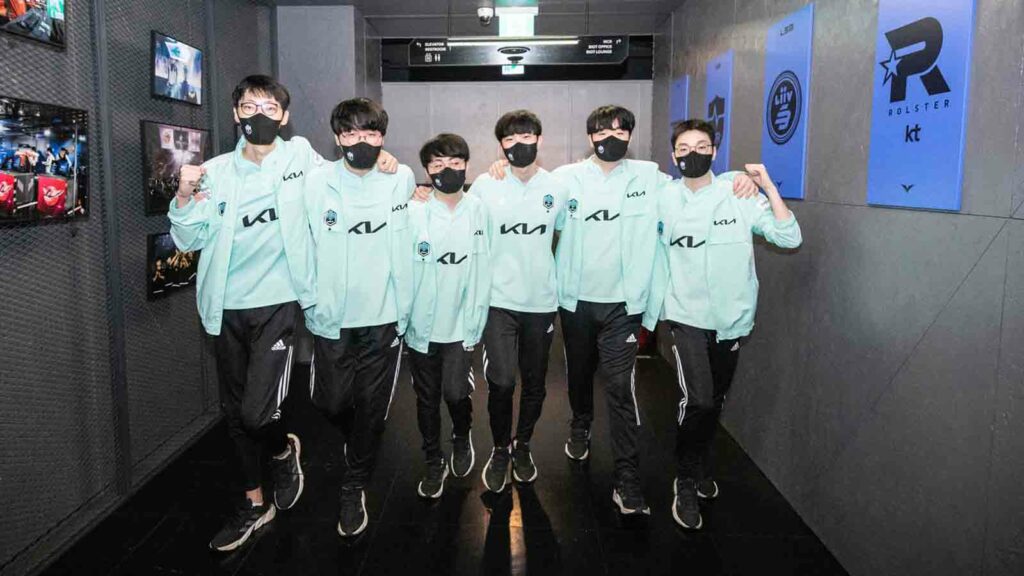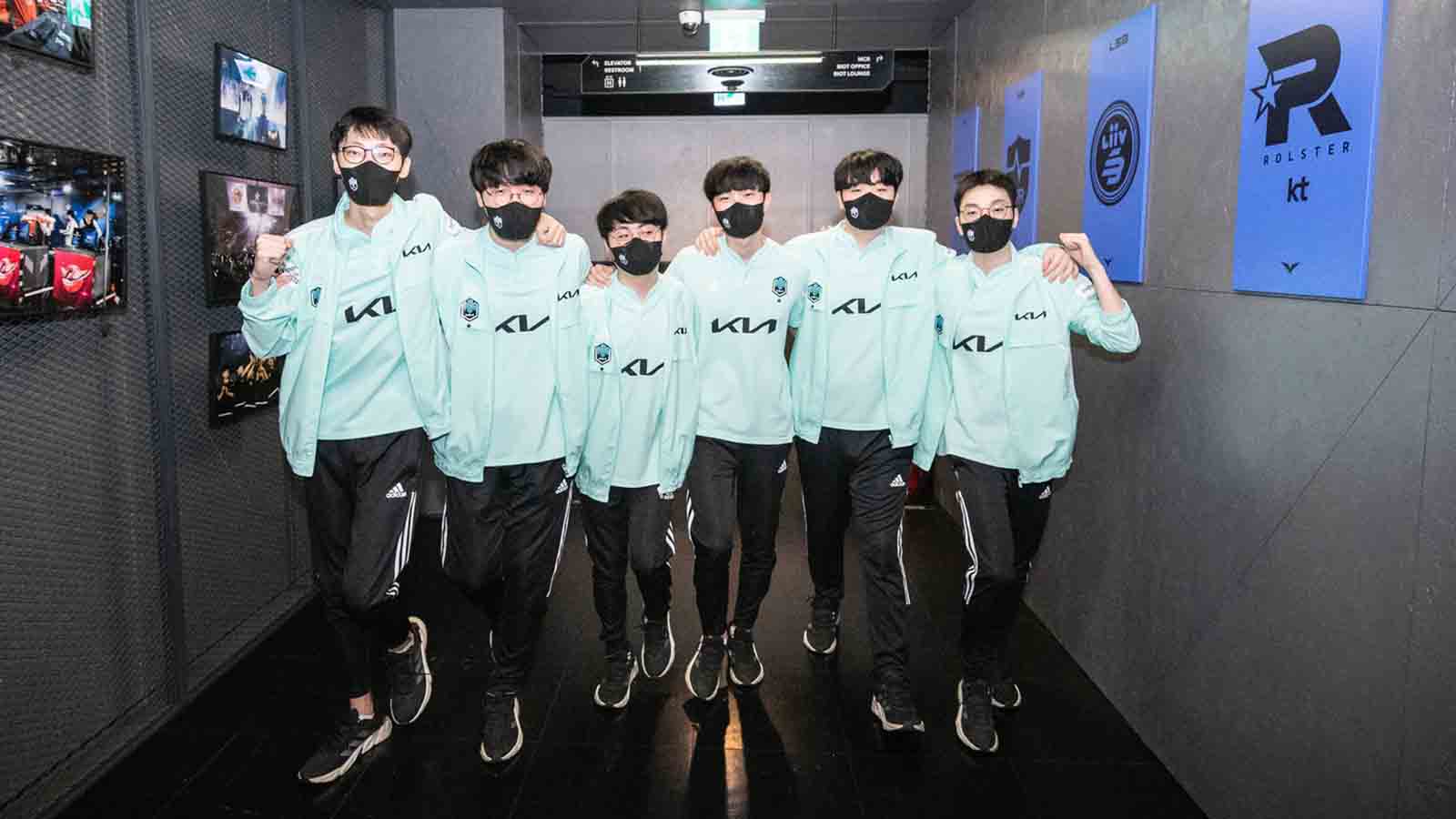 Another user on DC Inside recently posted another thread pre-congratulating LPL on the win in September, one month after the first meme post, but it only received only a few hundred upvotes.
The majority of the comments this time were negative, with many asking OP if they had seen the recent LCK Regional Qualifiers matches where DWG KIA and DRX had made much progress since the end of the regular season and playoffs.
Korean fans believed that DWG KIA looked better and more like themselves with Nuguri on the team after they defeated Liiv Sandbox to earn the third seed for Worlds.
Juhan was in the spotlight for DRX, playing in place of Pyosik, after being benched and living in the shadow of their veteran jungler for the majority of Summer.
And then, there's Gen.G, the current reigning champions of LCK.
Users in both threads formed new opinions, stating that LCK has nothing to worry about because they believe Gen.G will win it all. In the 2022 LCK Summer playoffs, they only lost one game to Liiv Sandbox and swept T1 in the final 3-0.
This shift in sentiment, however, does not change the fact that LPL remains a strong region. Each of the four teams are fierce contenders, and we look forward to more intense battles between the two regions.
Follow ONE Esports on Facebook and Twitter for more LoL news, guides, and highlights.
READ MORE: 6 years ago, coach kkOma made a mistake at Worlds that resulted in one of the greatest games of all time