League of Legends Champions Korea (LCK) team Gen.G has officially parted ways with bot laner Park "Ruler" Jae-hyuk.
The announcement was made less than two weeks after Gen.G was eliminated from the World Championship (Worlds 2022), where they placed third to fourth along with JD Gaming.
The organization posted a short video of the Korean player's humble beginnings in the LoL competitive scene, recalling his time with Samsung Galaxy in 2016 alongside LCK veterans Lee "CuVee" Seong-jin, Kang "Ambition" Chan-yong, and Lee "Crown" Min-ho. SSG was obtained by KSV, forming KSV eSports, which later rebranded to Gen.G.
The video also showed his ups and downs in the regular season, as well as his team's sweet victory during the LCK Summer 2022 finals where they beat T1 3-0.
---
---
Long-time team AD carry Ruler bids farewell to Gen.G
"I was so happy playing and winning at Gen.G, and being the Summer champion will remain the most memorable moment of all time," the bot laner said in Gen.G's tribute video. "I'd given a lot of thought before I decided to leave my beloved old team, and it still doesn't feel real that I'll be leaving Gen.G."
The Worlds 2017 champion also expressed his gratitude to his fans, teammates, and the organization staff, and asked everyone to keep supporting him.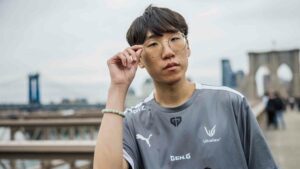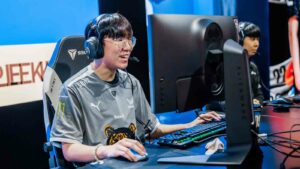 Ruler is a founding member of the LCK team and has played under the black and gold banner for more than four years. A decorated AD carry in the Korean league, he was hailed MVP during Worlds 2017, as well as Player of the Split and MVP in Summer 2022. He is known for his aggressive playstyle and was once regarded as a "mega rookie" when he was just starting out.
In an exclusive interview with ONE Esports, the Korean player looked back at his career and how much he has grown throughout the years. He stated that he felt more mature than his 2017 self and that he has much more knowledge and a better understanding of the game.
He also shared how he dealt with burnout and stage jitters, which he experienced back in 2019 when the team had a disappointing regular season run.
"I wanted to give up, but I tried to get rid of that feeling and think in a more optimistic way," he said. "A big part of it was actually my fans. When I go into a game, I now have that mindset that I will always try my best [for them]."
The 23-year-old bot laner is currently a free agent and has not yet announced his plans after his departure from the LCK team.
Watch the full announcement video below:
---
---
Gen.G LoL roster
---
Follow ONE Esports on Facebook and Twitter for more LoL news, guides, and highlights.
READ MORE: Growing pains: How Ruler deals with burnout and stage jitters