Cloud9's Park "Summit" Woo-tae has helped his team to a 7-2 record in the LCS so far, while putting up strong performances in the top lane.
Fans found out that the new import from Korea doesn't only have prodigious skills at League of Legends, but is also a phenom at streaming. While streaming his Champions Queue games, Summit answered questions from viewers and showed a sense of humor in his second language.
---
---
Cloud9 Summit is a master at both League of Legends and streaming
Yesterday, the 23-year-old livestreamed his Champions Queue games on Twitch, and for the first time, he talked to viewers in both Korean and English.
When one viewer asked him about bot laner Kim "Berserker" Min-cheol's English ability, the former Liiv SANDBOX player gave a example of the three C9 Korean players' English skills.
He rated Kim "Winsome" Dong-keon's English level as being high, his own as being mid tier, and according to him, Berserker's is "here", placing his hand at floor level. Some viewers said his demeanor reminded them of former C9 jungler Lee "Rush" Yoon-jae, who also streamed a lot in English.
Summit's personality also comes through in team comms during LCS games. For example, he uttered, "Nice team gap" after winning a team fight around Dragon and also said, "Top gap" during another game.
The 23-year-old's heroics on Jayce and Gnar against FlyQuest, Dignitas, and 100 Thieves earned him the Player of the Week in Week 4 of the LCS Spring 2022 split.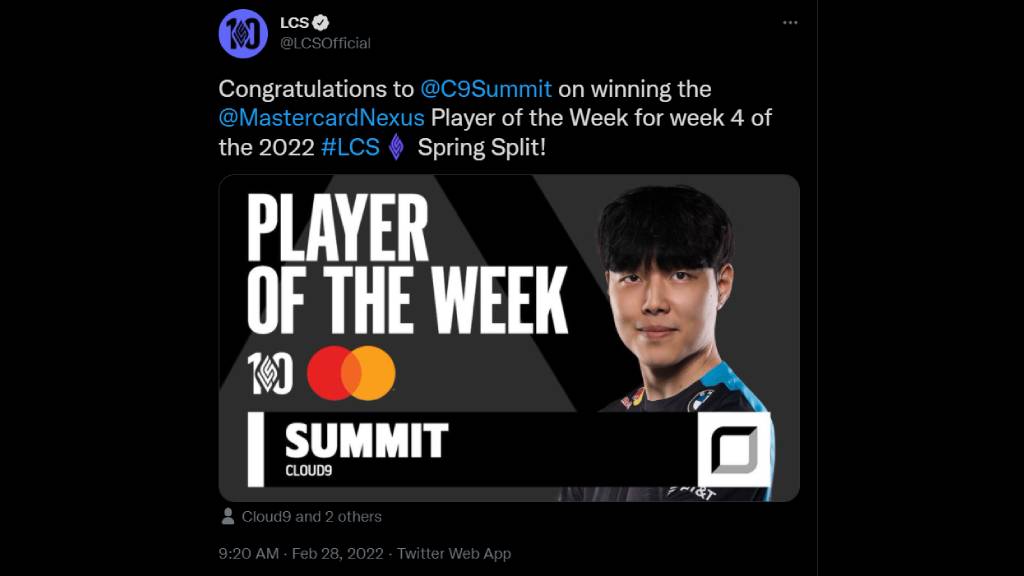 Fans can watch the Korean player stream on Twitch.
His team will next play against Golden Guardians on March 6, 8.30 a.m. GMT+8 | March 5, 4.30 p.m. PT | 12.30 a.m. GMT. Catch the LCS live on Twitch and YouTube.
READ MORE: What is the prize pool of Champions Queue?