We hope you've stocked up on your fragile, condensed, and original resin because we'll be spending a lot of time farming for Genshin Impact's new Sumeru artifacts.
Two new 5-star artifact sets, Deepwood Memories and Gilded Dreams, will headline the release of version 3.0 on August 24.
Deepwood is the very first artifact set designed with Dendro characters in mind for upcoming 5-star character, Tighnari, and the free 4-star character Collei.
Here's everything you need to know about the Dendro region's artifact sets, including their locations, how to farm them, and which sets work best for characters.
---
Sumeru artifacts domain location
Players can farm Sumeru artifact sets in Domain of Blessing: Spire of Solitary Enlightenment located between Gandha Hill and Gandharva Ville around Avidya Forest.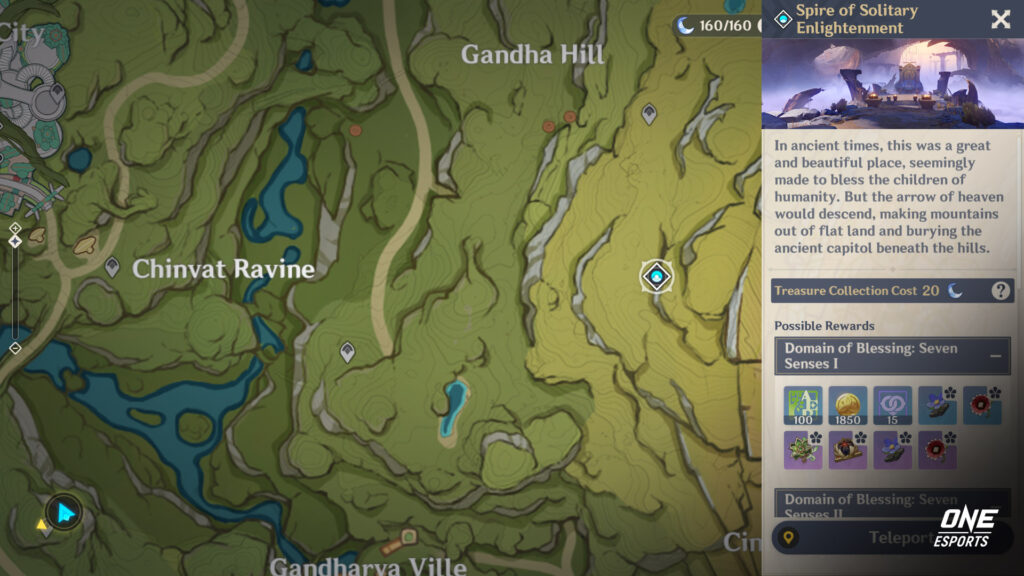 To unlock this domain, teleport to the Statue of The Seven near Gandharva Ville and climb your way up. Then, press F to open the domain.
---
How to farm Sumeru artifact sets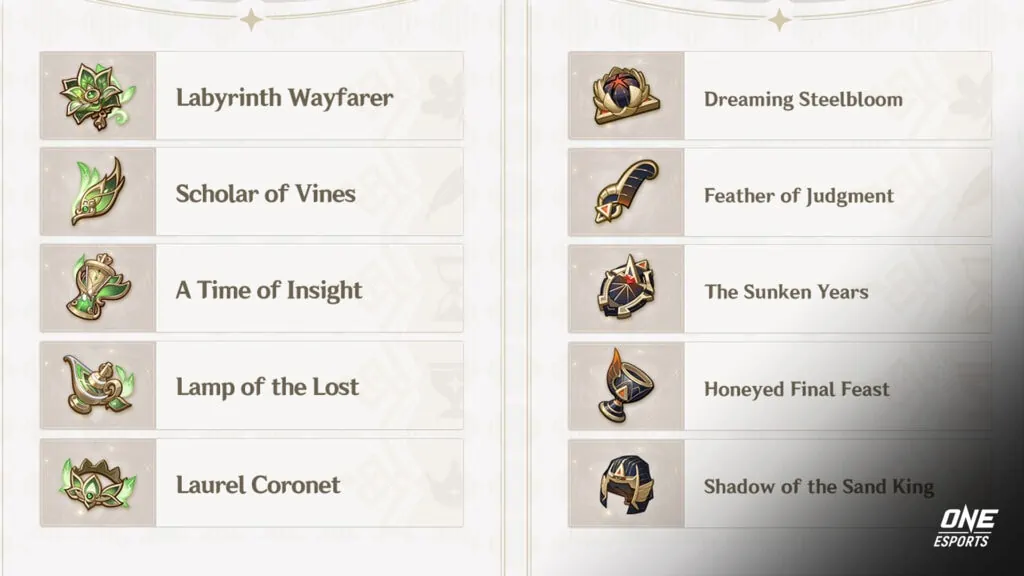 Enter the Spire of Solitary Enlightenment domain in Sumeru.
Clear the domain by defeating the following enemies:

Eremite Sunfrost
Eremite Desert Clearwater
Eremite Daythunder

Approach the petrified tree to claim your rewards. You may opt to use your original resin, or use condensed resin to double your rewards.
| | | |
| --- | --- | --- |
| TYPE | DEEPWOOD MEMORIES ARTIFACT SET | GILDED DREAMS ARTIFACT SET |
| Flower of Life | Labyrinth Wayfarer | Dreaming Steelbloom |
| Plume of Death | Scholar of Vines | Feather of Judgment |
| Sands of Eon | A Time of Insight | The Sunken Years |
| Goblet of Eonothem | Lamp of the Lost | Honeyed Final Feast |
| Circlet of Logos | Laurel Coronet | Shadow of the Sand King |
Be sure to bring Electro, Cryo, and Hydro characters to your party to efficiently clear this domain of blessing.
---
---
Artifact set Deepwood Memories works best for these characters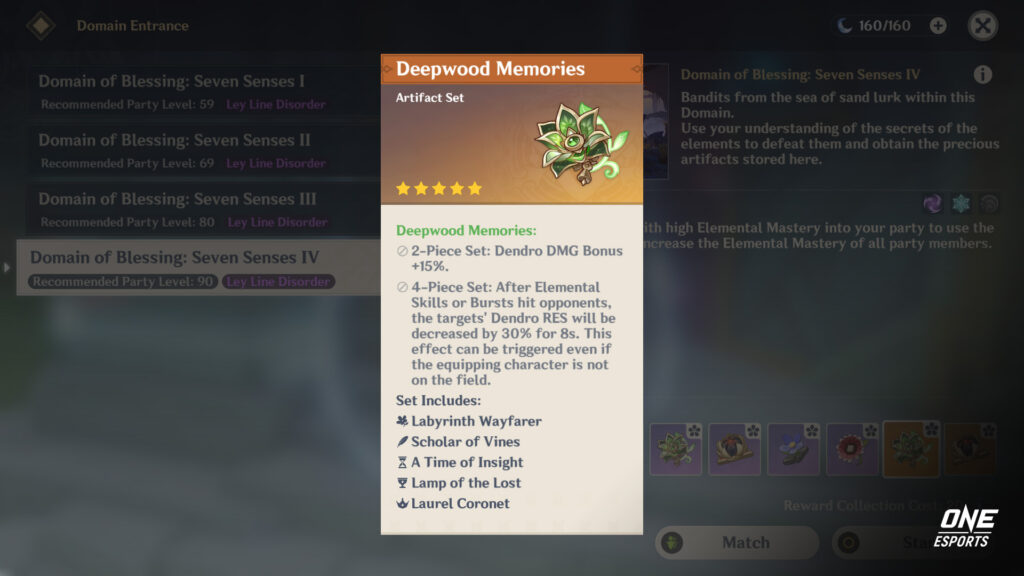 Finally, an artifact set that's made just for Dendro characters!
Deepwood Memories is perfect for Tighnari, who is a burst damage dealer. The set's 4-piece effect, which briefly decreases targets' Dendro RES, works great with Tighnari's elemental burst, Fashioner's Tanglevine Shaft, which deals high amounts of damage.
ARTIFACT SET
RECOMMENDED CHARACTERS
Deepwood Memories
Collei
Tighnari
---
Artifact set Gilded Dreams works best for these characters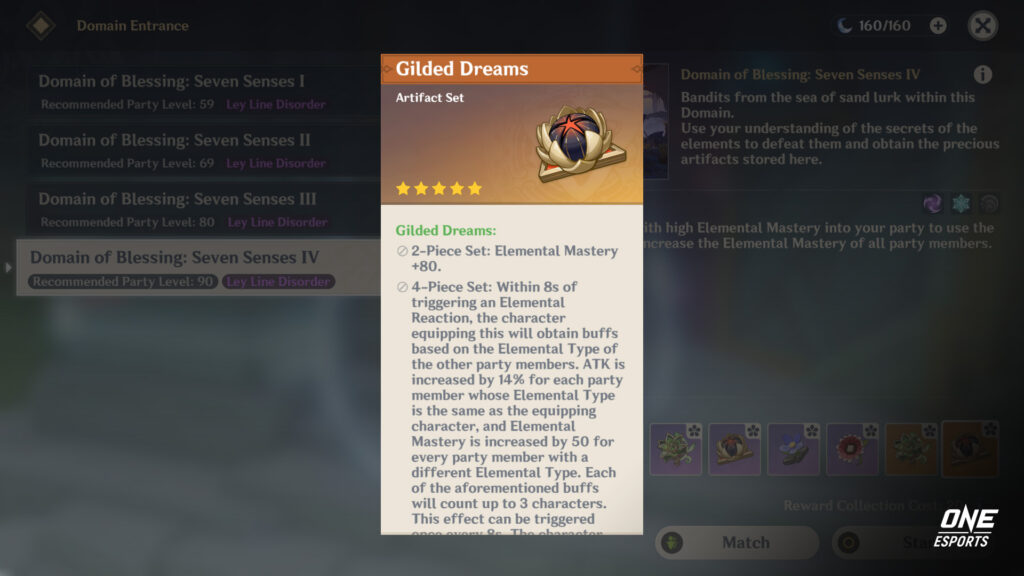 When you trigger an elemental reaction, the Gilded Dreams 4-piece artifact set gives buffs based on the elemental type of the other party members.
It will grant a 14% ATK buff for characters who share the same element while it will give an additional 50 Elemental Mastery for each character with a different element.
This artifact set works great for all damage-support characters like Kaedehara Kazuha and Sucrose, as well as those that trigger elemental reactions like Xiangling.
---
Follow ONE Esports on Facebook for more Genshin news, guides, and highlights.