It's your turn to be a hero as one of the most overpowered characters in anime history, One-Punch Man, is coming to Garena's mobile battle royale game Free Fire!
The Free Fire x One-Punch Man event will start rolling out challenges on Sunday, January 10. Garena has not yet revealed the full details for the collaboration but they have confirmed that players will have the chance to grab One-Punch Man cosmetics based on the anime's protagonists Saitama and his cyborg disciple, Genos.
"Players will have access to a variety of One-Punch Man fashion items inspired by the series -– to enable them to battle in style," said Garena in a statement.
There will also be One Punch Man Gloo Wall skins and emotes available during the Free Fire event. Popular weapons Megapunch M1887 and M4A1 will be receiving gun skins as well.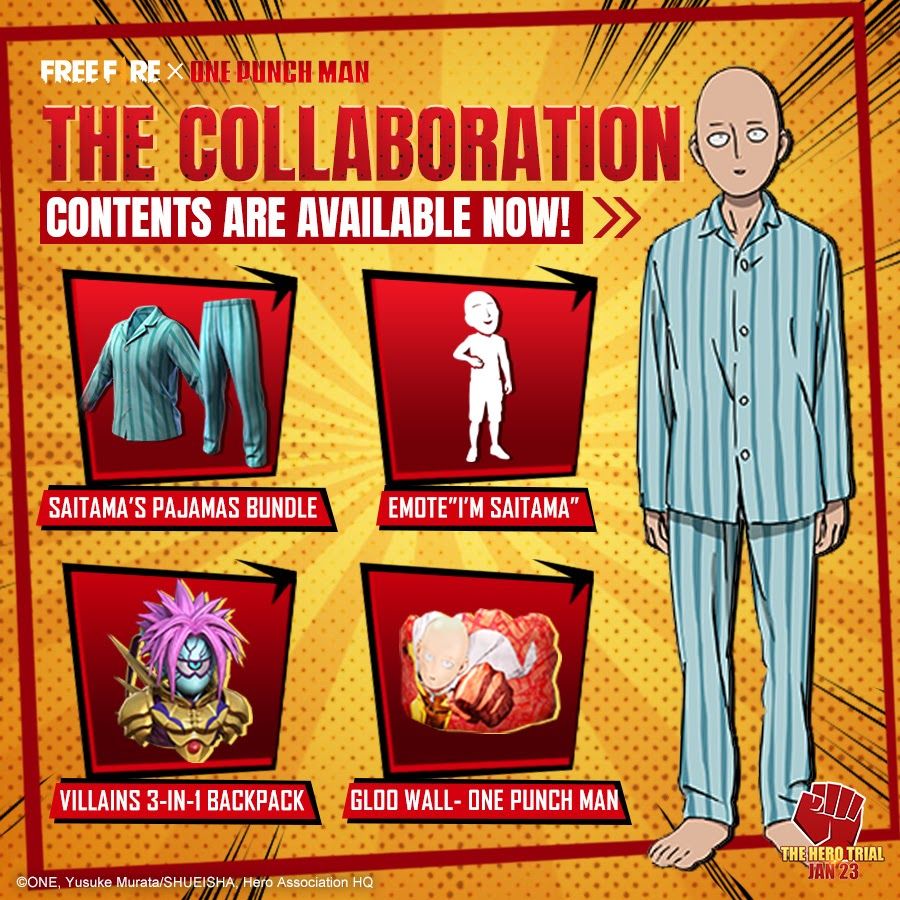 ---
---
A web event will also take place on January 16 where players can earn exploration tokens to be exchanged for more event rewards.
Meanwhile, players who join the Trial on January 23 can claim their free Saitama lootbox which contains a free Saitama Surfboard skin.
Here is a brief timeline of the Free Fire x One-Punch Man event:
January 10 — challenges start
January 15 — Free Fire's interface goes One-Punch Man
January 16 — "The Path to Hero" web event begins
January 23 — join the Trial to claim free Saitama lootbox
January 26 — "The Path to Hero" web event ends
Saitama, popularly known as One-Punch Man, is the main protagonist of the Japanese animated series One-Punch Man. He is a bald superhero that wears a plain yellow bodysuit with a pair of red gloves and a white cape. Saitama's simple appearance very much reflects his lax and chill personality. He can defeat enemies with a single, effortless punch, a recurring comedic theme in the series.
READ MORE: Garena's new Booyah! app is dedicated to Free Fire community content