Did someone say backup?
With Fortnitemares now taking over for Halloween, Epic Games lands a timely crossover with Capcom's Resident Evil by bringing the zombie-killing duo of Chris Redfield and Jill Valentine to the island.
Fortnite's Resident Evil crossover lets you play as Jill Valentine and Chris Redfield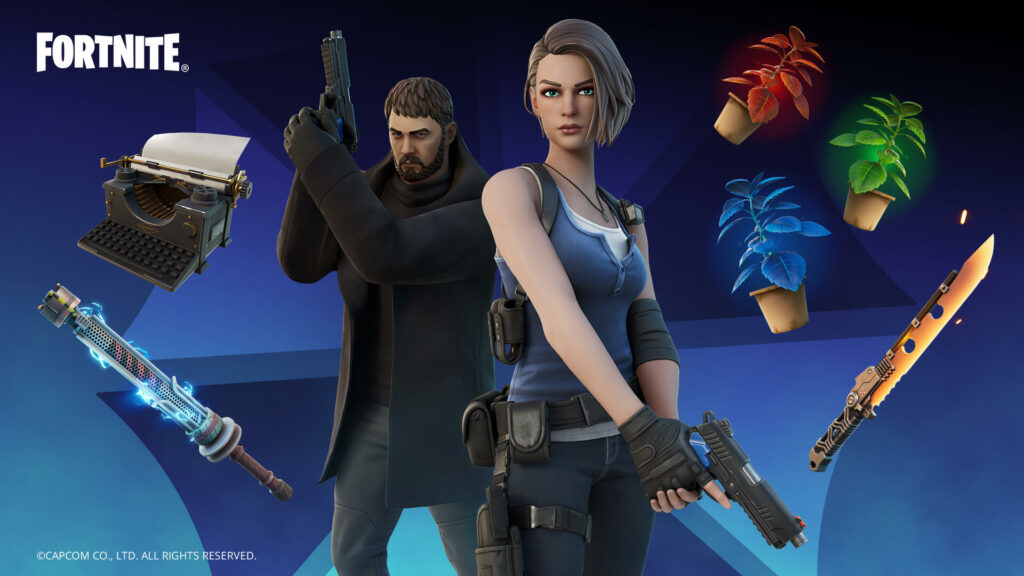 Jill Valentine and Chris Redfield enter the fray in their traditional S.T.A.R.S. uniforms, featuring Chris' original outfit in Resident Evil 5 and Jill's classic attire from Resident Evil 3.
The two also come with their more stylish alternative skins from the recent iterations of the Resident Evil series.
Chris dons all black in his Hound Wolf Squad Style variant from Village, while Jill goes for a layered look with her Raccoon City Style variant from the RE3 remake.
---
---
With their targets switching from zombies to the Sideways, the duo brings an array of familiar Resident Evil tools to the table.
Classic valuables like herbs and typewriters can now be equipped with the Green Herb and Saving Keystrokes Back Bling.
If you're looking to deal some lethal damage up close, S.T.AR.S. has you covered with the Stun Rod and HOT DOGGER pickaxe.
Jill and Chris are currently available in the Item Shop for 1,500 V-Bucks individually. You can also get a nice discount for both characters by purchasing the S.T.A.R.S. Team Bundle, priced at 2,100 V-Bucks.
Follow ONE Esports on Facebook for more Fortnite news, guides, and highlights.
READ MORE: The LeBron James Fortnite collection is a must-have for NBA fans