Team Spirit's Cinderella run continues at The International 10 (TI10) after the CIS squad defeated Invictus Gaming in a lower bracket semifinal match during Day 5 of the playoffs.
The team's carry player, Illya "Yatoro" Mulyarchuk, put together a historic performance as he became the only Dota 2 player with two Rampages on The International's main stage.
What's even more impressive is that he is doing this on his first-ever TI run.
---
Yatoro breaks the record for most Rampages at TI10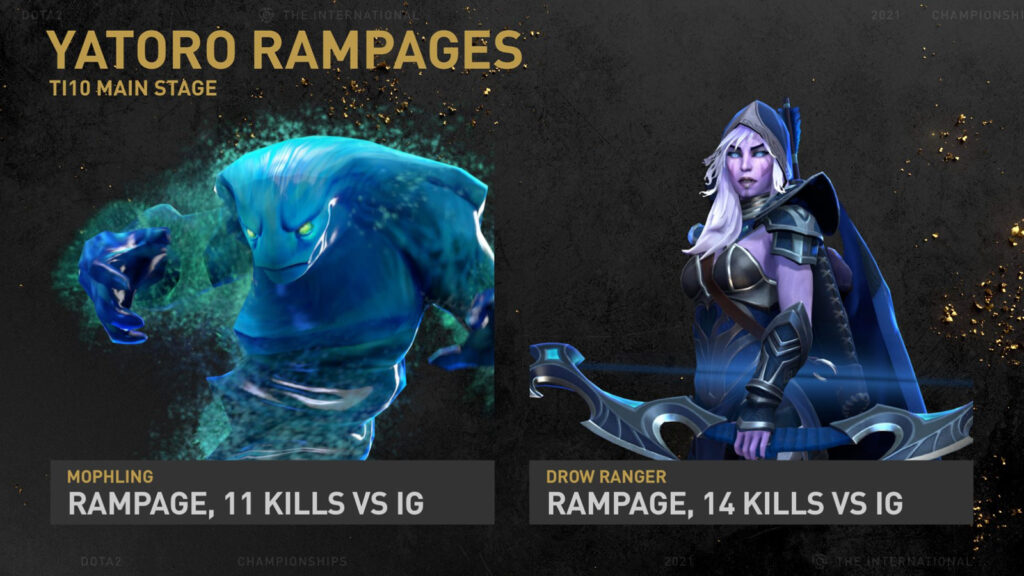 (Last updated October 25, 2021)
Yatoro broke the record for most Rampages in TI history when he earned his third teamwipe against Team Secret during TI10's lower bracket final series.
Team Spirit was locked in an intense rematch against ONE Esports Singapore Major champions, Invictus Gaming.
In their first meeting during TI10's main event opening match, Invictus Gaming came out on top with a 2-1 victory, which knocked Team Spirit to the lower bracket. The surging CIS squad then made it all the way through to the lower bracket semifinal, where they got their revenge against their Chinese rivals.
In the process, Yatoro stood out among all other carry players in TI history after he earned himself his second Rampage at TI10. As such, he now holds the record for most Rampages at a TI main event at two.
Dota 2 pros who scored Rampages at The International's main stage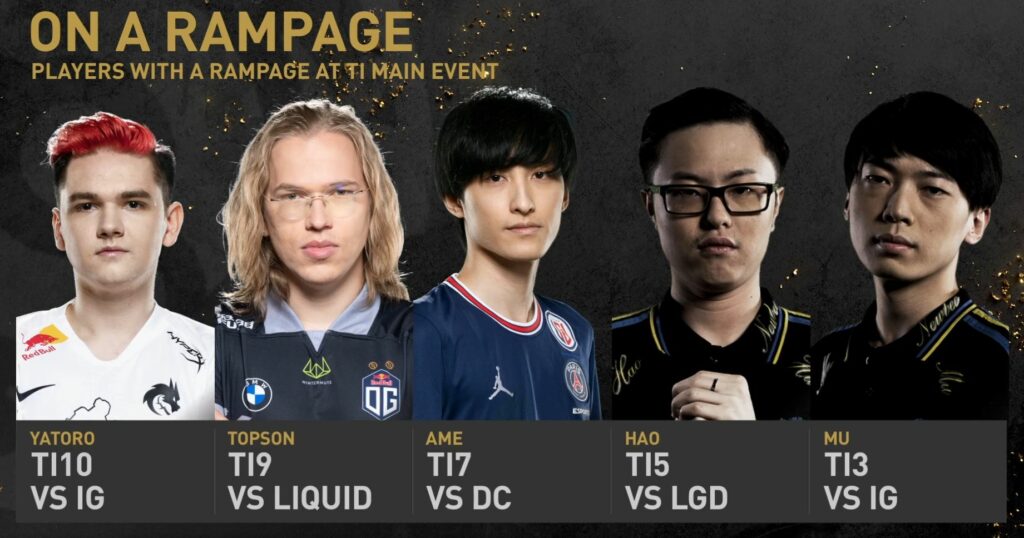 | | | |
| --- | --- | --- |
| TEAM | PLAYER | WHEN |
| Natus Vincere | Oleksandr "XBOCT" Dashkevych | versus Team DK at TI2 |
| TongFu | Zhang "Mu" Pan | versus Invictus Gaming at TI3 |
| Vici Gaming | Chen "Hao" Zhihao | versus LGD Gaming at TI5 |
| LGD Gaming | Wang "Ame" Chunyu | versus Digital Chaos at TI7 |
| OG | Topias "Topson" Taavitsainen | versus Team Liquid at TI9 |
| Team Spirit | Illya "Yatoro" Mulyarchuk | versus Invictus Gaming twice at TI10 |
| Team Spirit | Illya "Yatoro" Mulyarchuk | versus Team Secret at TI10 |
Yatoro scored two Rampages against Invictus Gaming at TI10's main stage. The first was when Yatoro's Morphling activated his Double Damage rune and decimated IG at the 36-minute mark during game one of their upper bracket quarterfinal match at TI10.
---
---
Yatoro's second Rampage took place in Team Spirit's second game against Invictus Gaming during the lower bracket semifinal at TI10.
At the start of the clash, Team Spirit was caught by Jin "flyfly" Zhiyi's Faceless Void who dropped two amazing Chronosphere ultimates that cost the CIS squad their Aegis of the Immortal advantage.
With most of Invictus Gaming's spells and ultimates spent, Yatoro's Drow Ranger dished out all the damage he could after he respawned, which earned him the most Rampages on the TI main stage.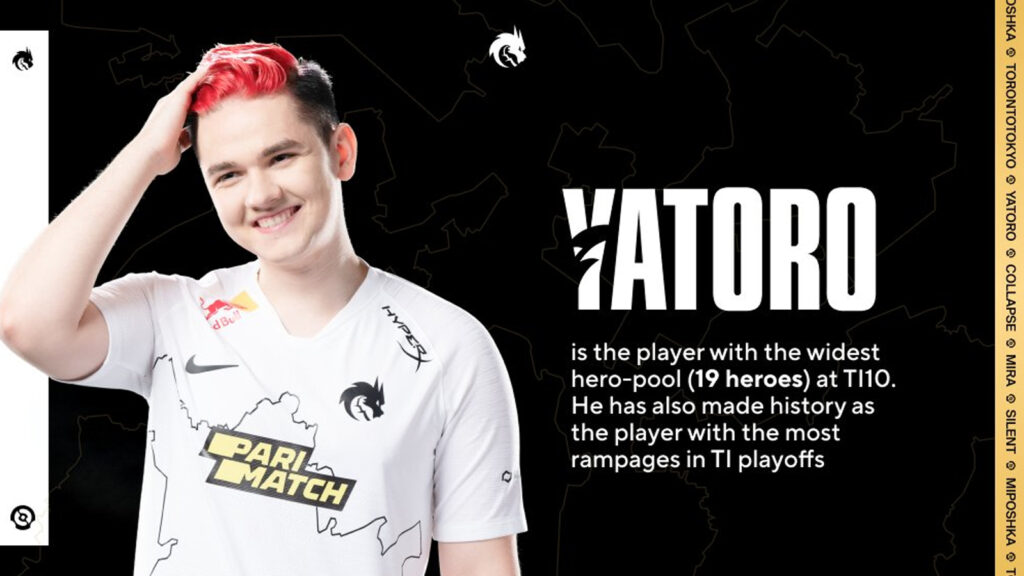 What's even more impressive is that Yatoro has played a different carry hero in each of his playoff games at TI10.
He has played Morphling, Chaos Knight, Juggernaught, Luna, Sven, Faceless Void, Lifestealer, Monkey King, Terrorblade, Tiny, Phantom Assassin, and Drow Ranger so far on The International 10's main stage.
---
Team Spirit secure themselves a top 3 finish at TI10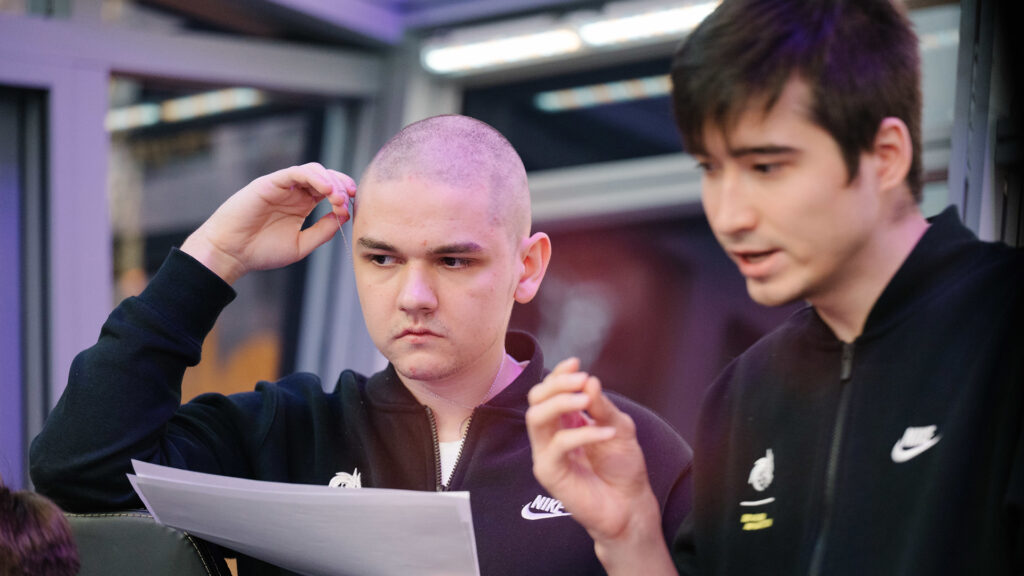 The CIS squad's incredible 2-0 victory over Invictus Gaming moved them one step closer to claiming TI10's Aegis of the Immortal. They've guaranteed themselves a top three finish at The International 10 and at least US$3.6 million in prize money.
Team Spirit is now set to face European powerhouse squad Team Secret in the lower bracket final of The International 10's playoffs. The match is set to take place on October 17 at 3:00 p.m. GMT+8. The winner of the said match will face tournament favorites PSG.LGD in the grand final of TI10.
Hungry for more Dota 2 action? Check out the Heroes of the Game documentary presented by foodpanda.
READ MORE: Marci of Netflix DOTA: Dragon's Blood joins the Dota 2 roster