Out of the 40 games played on The International 10 (TI10) opening day, Invictus Gaming's clash against Evil Geniuses was the most surprising of all.
The Chinese squad showed that every moment of TI10 counts, even when the game is paused. 
The highly-anticipated ONE Esports Singapore Major rematch had Invictus Gaming claim an exciting 2-0 victory over North American powerhouse squad Evil Geniuses.
Invictus Gaming turned the tides of battle right after Evil Geniuses' pause at TI10
Evil Geniuses were slowly chipping away at IG's lead as the North American team was able to secure the Aegis of the Immortal for Artour "Arteezy" Babaev's carry Ursa, and the Cheese for Andreas Franck "Cr1t-" Nielsen's support Monkey King.
With the Aegis and Cheese advantage, EG was ready to clash.
Suddenly, at the 45-minute mark of the game, EG's team captain Tal "Fly" Aizik paused the game due to lag spikes. Right at that moment, IG realized that Cr1t-'s Monkey King was within range of Thiay "JT-" Jun Wen's Mars.
When the pause was lifted, JT- used Mars' Arena of Blood ultimate, which led to the Monkey King's death.
---
---
What made matters worse for EG was that Abed "Abed" Yusop's Puck was also picked off in the aftermath, and both heroes did not have buyback.
In an attempt to even the odds, Arteezy tried to take down Zhou "Emo" Yi's Lina by the river, but was unsuccessful, which cost him the Aegis.
After EG's pause, IG was able to double their gold lead in just a span of four minutes, which led to them winning the first game.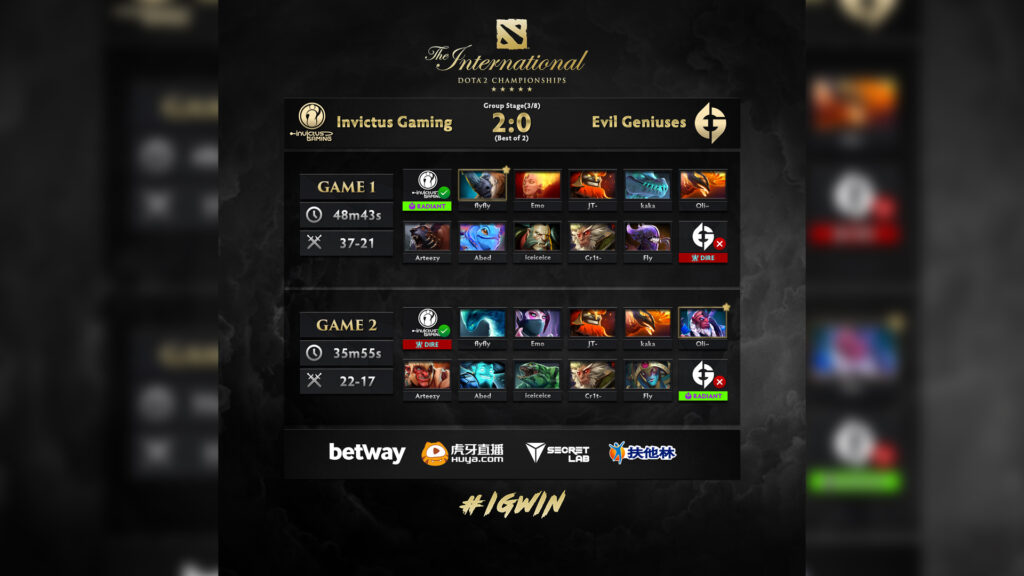 Invictus Gaming went on to sweep Evil Geniuses 2-0. The win tied them with OG and Virtus.pro for first place in Group A with 5-1 record at the end of TI10's first day.
Find out how some of the teams made it to The International 10 by watching this Heroes of the Game documentary presented by Foodpanda.
READ MORE: Why Tidehunter is the most picked hero at TI10 so far