During the opening match of TI10's main event, Team Spirit made TI history with a hail mary Rampage against ONE Esports Singapore Major champions, Invictus Gaming.
Heavy favorites Invictus Gaming spent the majority of the game ahead in networth and kills, taking objectives with ease, and fending off any aggression coming from Team Spirit.
With an Aegis on Jin "flyfly" Zhiyi's Monkey King, Invictus Gaming were looking to start closing out the game with a Radiant tier three tower. During the push, flyfly's Aegis expired.
In that moment, Spirit made their move, and assassinated him.
---
---
Team Spirit regained their confidence after shutting down Invictus Gaming's Monkey King
This forced Invictus Gaming to back off after losing their carry, content with their lead, they went into their jungle to complete their next set of core items. Team Spirit however, had other plans, and smoked up as five.
They caught Invictus Gaming off guard in their jungle, and proceeded to snap up kill after kill, resulting in a Rampage, and a completely unexpected victory.
This is the 5th ever Rampage during a main event at The International
Prior to Team Spirit's Illya "Yatoro" Mulyarchuk snagging a history making Rampage, there have been only four recorded Rampages at previous The International main events.
Zhang "Mu" Pan, who played for TongFu at TI3, is the first ever player to achieve a Rampage during the main event of The International.
In 2015, Chen "Hao" Zhihao from Vici Gaming secured the second main event Rampage during their match against LGD Gaming.
During TI7, Wang "Ame" Chunyu from LGD Gaming cemented himself in history during his match against Digital Chaos.
Lastly, OG's very own Topias Miikka "Topson" Taavitsainen claimed his very own main event Rampage back in 2019 during TI9.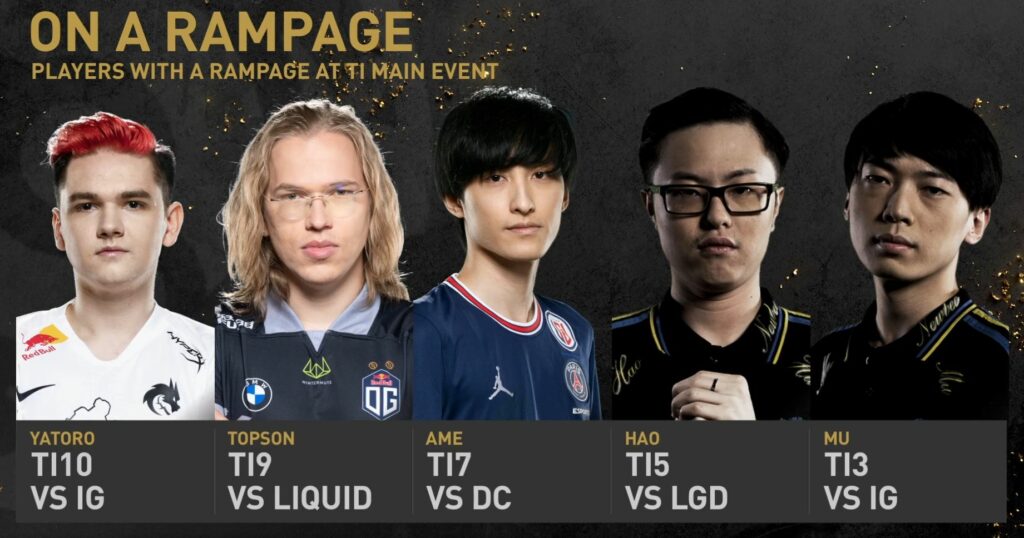 Hungry for more Dota 2? Check out the Heroes of the Game documentary presented by foodpanda.
READ MORE: Top 5 best plays from TI10's group stage