Rodrigo "LESLÃO" Santos is no longer a Soniqs player after his offensive Dota 2 effigy was revealed during a broadcast at The International 2022.
An effigy in Dota 2 is a cosmetic item that allows players to "modify the appearance of superficial buildings in the player's base." Players can opt for different heroes, equipment, and poses, and most importantly, write their own personalized text.
In Soniqs tiebreaker game against BOOM Esports, LESLÃO'S effigy was briefly clicked on by the observer, revealing the offensive message. The timestamped video can be found here.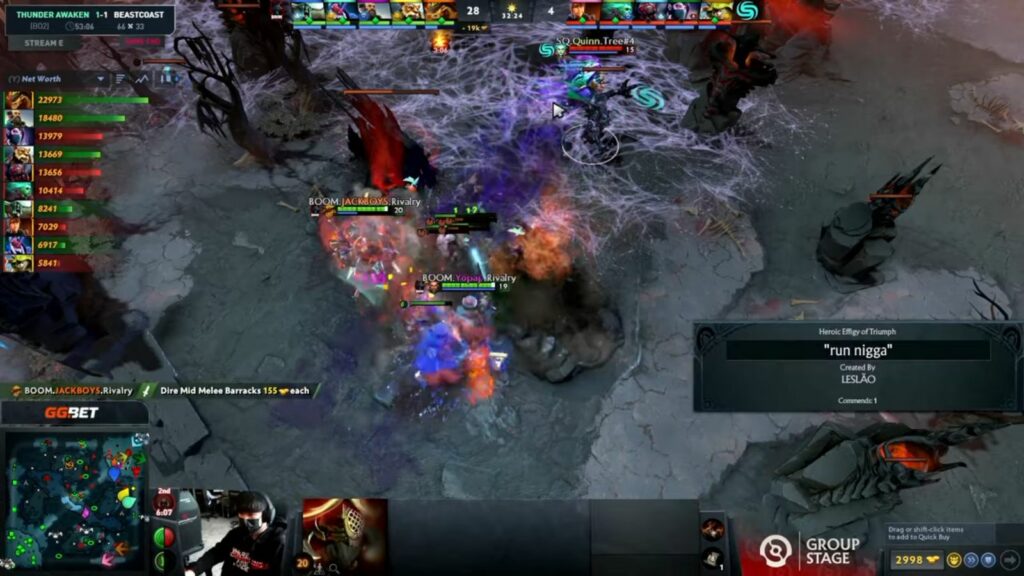 Soniqs eventually lost the tiebreaker, meaning that the organization was eliminated from TI11.
---
---
Soniqs has "zero-tolerance policy towards racism or discrimination," removes LESLÃO from roster
North American organization Soniqs released a statement today confirming that the offlaner will officially be let go from its Dota 2 roster.
"We hold our players to a high standard of professionalism and have a zero-tolerance policy towards racism or discrimination of any kind," Soniqs wrote. "Effective immediately, we have released LESLAO from his contract at the Soniqs."
This is LESLÃO's second stint with Quincy Crew, which was picked up by Soniqs in August this year.
The 25-year-old had immediately apologized for the offending effigy after the broadcast, before the termination of his Soniqs contract was made clear.
"It's clearly inappropriate and hurtful, and I apologize for ever writing it," LESLÃO wrote. "I had carelessly written it many years ago and then forgotten about it, and I'm deeply sorry for both doing so and not checking and removing it earlier."
READ MORE: 3 more RNG players test positive for COVID-19 at TI11