BOOM Esports were too legit to quit at TI11.
Before the final day of TI11's Group Stage, Dota 2 esports statistician Ben "Noxviller" Steenhuisen tweeted that the Southeast Asian team only had a 1.42 percent chance of advancing to the TI11's Playoffs.
Despite the odds stacked against them, BOOM managed to pull off one of the biggest upsets from the Group Stage when they defeated Evil Geniuses, Group A's first-placed team.
Luckily for BOOM Esports, on top of their impressive 2-0 victory, BetBoom Team ended their series against PSG.LGD with a tie. On top of that, Soniqs lost their last match of the day against Gaimin Gladiators.
With all three teams tied for the eighth place with 5-13 records, the final lower bracket spot was decided by a three-way tiebreaker, which the Southeast Asian squad won convincingly.
---
---
BOOM Esports wins a three-way tiebreaker and advances to TI11's Playoffs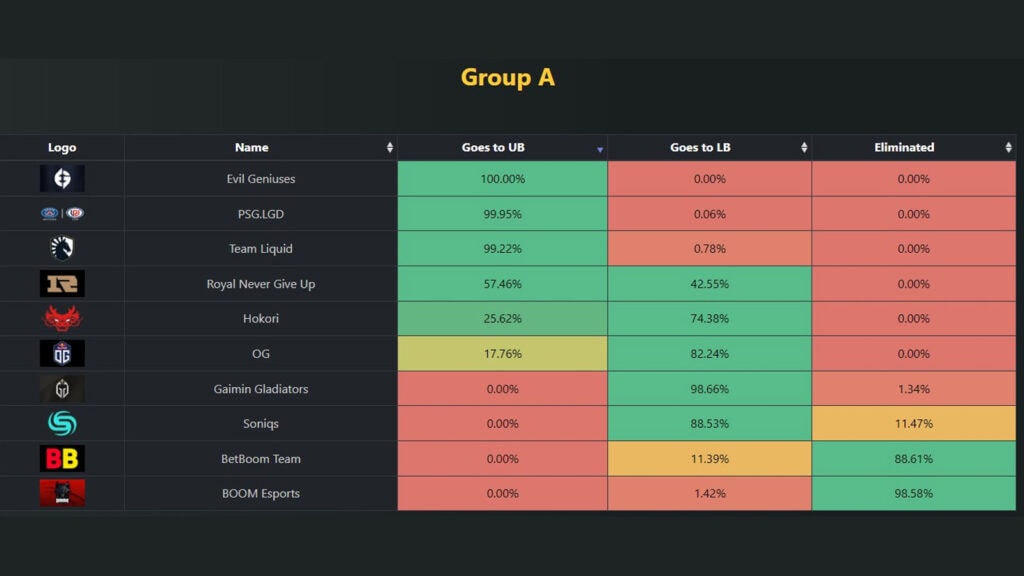 BOOM relied upon their midlaner Erin "Yopaj" Ferrer and position 5 support Rolen "skem" Ong in their first best-of-one tiebreaker match against North American squad Soniqs.
BOOM's Erin "Yopaj" Ferrer and Rolen "skem" Ong put on a clinic in their best-of-one tiebreaker game against North American squad Soniqs.
Yopaj's midlane Kunkka dominated the midlane, while Skem's support Undying was pivotal in BOOM's clashes against Soniqs. The two Filipino players finished the game without any deaths and moved their team one step close to securing the eighth-place spot in Group A.
BOOM's following tiebreaker match against BetBoom Team ended in utter domination with the Southeast Asian squad having 38 more kills than their Eastern European opponents.
---
---
Yopaj and the rest of his teammates looked completely in sync during the game as they outplayed their opponents from start to finish.
BOOM's back-to-back best-of-one wins eliminated both BetBoom and Soniqs from TI11. The team will now continue their tournament run in the lower bracket where they're set to face reigning TI10 champions Team Spirit on October 20, at 4:00 p.m. GMT+8 | 1:00 a.m. PT | 8:00 a.m. GMT.
Fans can watch the matches live on PGL's official Dota 2 Twitch or YouTube channels.
READ MORE: Evil Geniuses becomes first team to qualify for TI11's Main Event upper bracket