TI11's all-star cast of talent was announced by Valve. The complete list of broadcast talent includes beloved veterans and rising young stars who will make watching this year's The International 2022 an event to remember.
Production includes hosts, commentators, and analysts, who are preparing to deliver a positive online viewing experience at the biggest Dota 2 tournament of the year.
Here is a complete list of talent for the English, Chinese, Spanish, Russian, and Portuguese streams.
---
---
---
TI11 talent for the English broadcast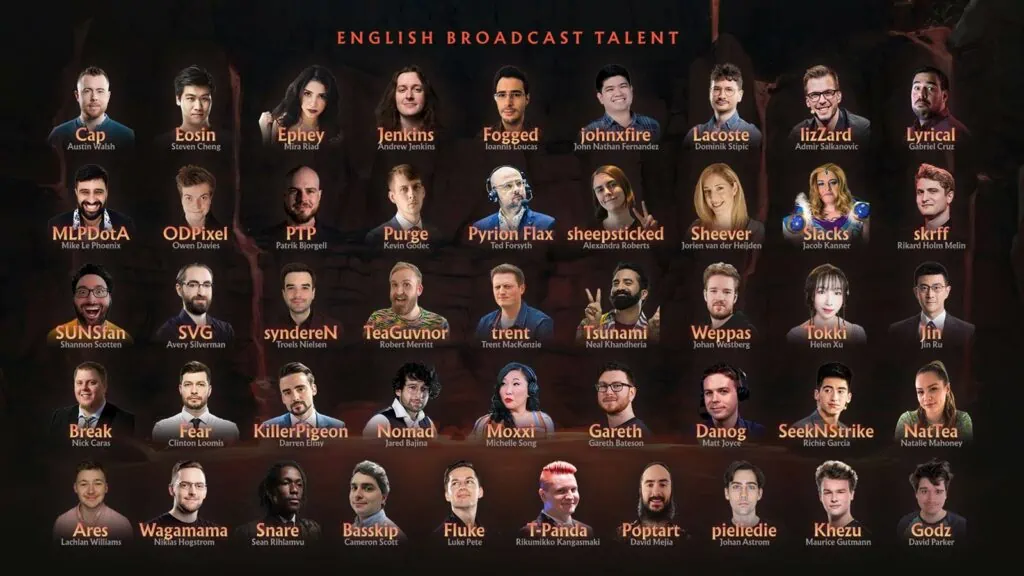 Hosts
Ted "PyrionFlax" Forsyth
Jorien "Sheever" van der Heijden
Neal "tsunami" Khandheria
Darren "KillerPigeon" Elmy
Natalie "NatTea" Mahoney
James "2GD" Harding
Commentators/Analysts
Owen "ODPixel" Davies
Ioannis "Fogged" Loucas
Shannon "SUNSfan" Scotten
Troels Lyngholt "syndereN" Nielsen
John "johnxfire" Nathan Fernandez
Mike "MLPDotA" Le Phoenix
Matt "Danog" Joyce
Lachlan "Ares" Williams
Trent "Trent" MacKenzie
Gabriel "Lyrical" Cruz
Nick "BreakyCPK" Caras
Jared "Nomad" Bajina
Michelle "Moxxi" Song
Admir "lizZard" Salkanović
Luke "Fluke" Pate
Cameron "Basskip" Scott
Mira "Ephey" Riad
Kevin "Purge" Godec
Andrew "Jenkins" Jenkins
Dominik "Lacoste" Stipić
Gareth "Gareth" Bateson
Alexandra "Sheepsticked" Roberts
Robson "TeaGuvnor" Merritt
David "GoDz" Parker
Austin "Cap" Walsh
Clinton "Fear" Loomis
Avery "SVG" Silverman
Johan "pieliedie" Åström
Maurice "KheZu" Gutmann
Niklas "Wagamama" Högström
Sean "Snare" Rihlamvu
Rikumikko "T-Panda" Kangasmäki
Richie "SeekNStrike" Garcia
Observers
Steven "Eosin" Cheng
Patrik "PTP" Björgell
Rikard 'skrff' Holm Melin
Johan "Weppas" Westberg
David "Poptart" Mejia
Content Creator
Jake "SirActionSlacks" Kanner
Kaci "Kaci" Aitchison
Statistician
Translator
Helen "Tokki" Xu
Jin "Jin" Ru
---
TI11 talent for the Chinese broadcast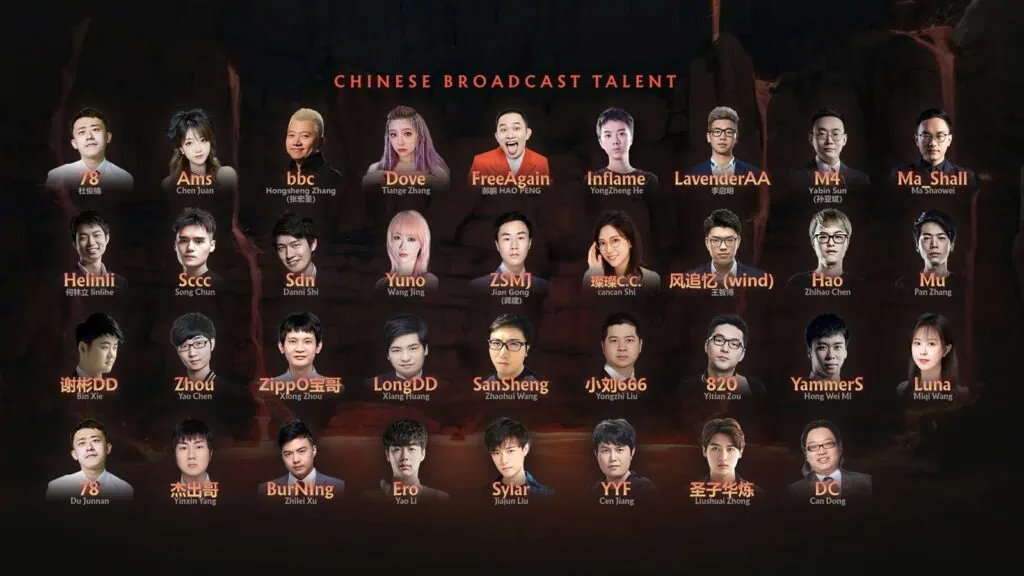 Hosts
Zhang "BBC" Hongsheng
Du "78" Junnan
Ma "Mashall" Shaowei
Commentators/Analysts
Chen "Ams" Juan
He "Inflame" Yongzheng
Li "AA" Qiming
Song "Sccc" Chun
He "小雪人" Linli
Wang "Yuno" Jing
Gong "ZSMJ" Jian
Shi "璨璨cc" Cancan
Chen "Hao" Zhihao
Zhang "Mu" Pan
Xie "DD" Bin
Chen "Zhou" Yao
Zhou "ZippO" Xiong
Huang "LongDD" Xiang
Dong "DC" Can
Hao "FreeAgain" Peng
Sun "M4" Yabin
Shi "Sdn" Danni
Wang "风追忆" Zhibo
Wang "SanSheng" Zhaohui
Content Creator
---
TI11 talent for the Spanish broadcast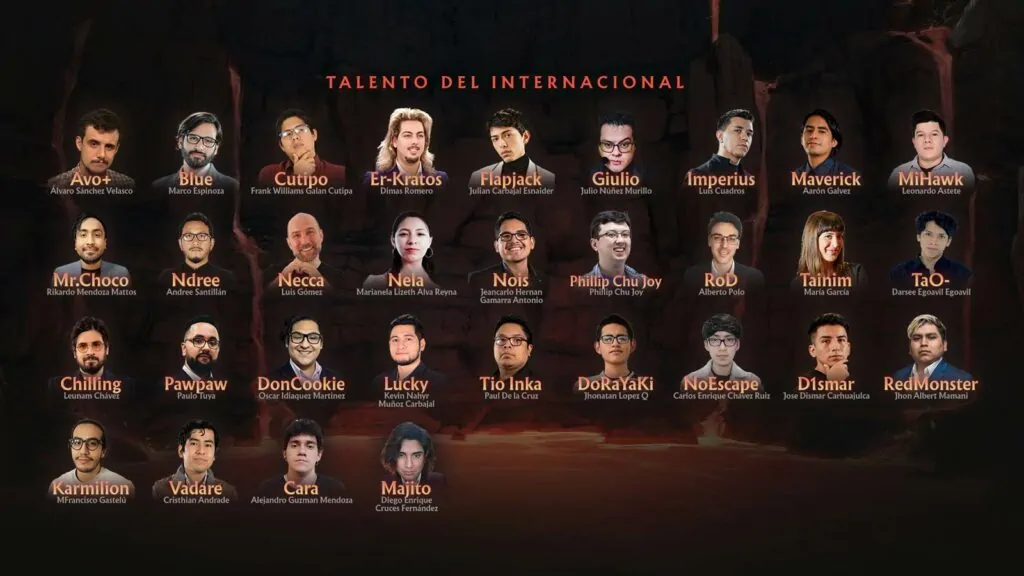 Hosts
Alvaro "AvoPlus" Sanchez Velasco
Marco "Blue" Espinoza
Oscar "DonCookie" Idiáquez Martinez
Commentators
Frank "Cutipo" Cutipa
Dimas "Er-Kratos" Romero
Julio "Giulio" Nuñez Murillo
Luis "Imperius" Cuadros
Aaron "Maverick" Gálvez
Rikardo "Mr.Choco" Mendoza Mattos
Andree "Ndree" Santillan
Luis "Necca" Gómez
Marianela Lizeth Alva "Nela" Reyna
Jeancarlo Hernan "Nois" Gamarra Antonio
Phillip Chu Joy
Kevin "Lucky" Nahyr Muñoz Carbajal
Paul "Tio Inka" de la Cruz
Jhonatan López "Dorayaki" Quinga
Carlos Enrique Chávez "NoEscape" Ruiz
Christian "Vadare" Andrade
Analysts
Julián "Flapjack" Carbajal
Leonardo "MiHawk" Astete
Alberto "RoD" Polo
María "Tainim" García
Darsee "TaO-" Egoavil
Leunam "Chilling" Chávez
Paulo César "Pawpaw" Tuya
José "D1smar" Levano
Jhon "RedMonster" Mamani
Alejandro "Cara" Mendoza
Observers
Francisco "Karmilion" Gastelú
Diego Enrique Cruces "Majito" Fernández
---
TI11 talent for the Russian broadcast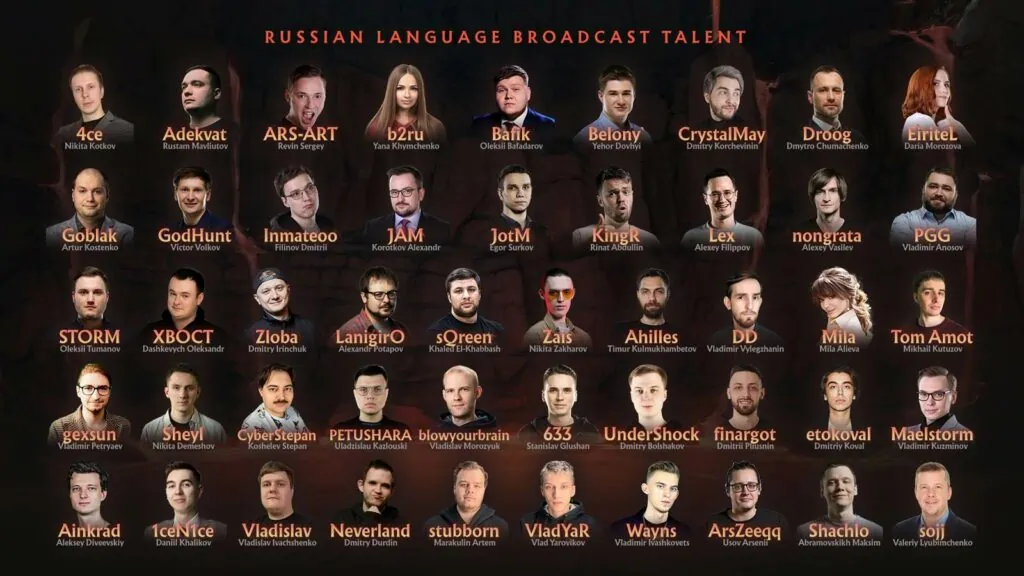 Hosts
Dmitry "CrystalMay" Korchevinin
Dariya "Eiritel" Morozova
Yana "b2ru" Khymchenko
Analysts/Commentators
Dmitriy "Neverland" Durdin
Vladislav "BLACKARXANGEL" Ivachshenko
Arsenii "ArsZeeqq" Usov
Maxim "Shachlo" Abramovskikh
Valery "sojj" Lubimchenko
Dmitriy "etokoval" Koval
Daniil "1ceN1ce" Khalikov
Marakulin "stubborn" Artem
Vlad "VladYaR" Yarovikov
Vladimir "Wayns" Ivashkovets
Nikita "4ce" Kotkov
Rustam "Adekvat" Mavliutov
Oleksii "BafiK" Bafadarov
Yehor "Belony" Dovhyi
Viktor "GodHunt" Volkov
Vladimir "Maelstorm" Kuzminov
Dmytro "Droog" Chumachenko
Alexander "JAM" Korotkov
Alexander "LanigirO" Potapov
Vladimir "DD" Vylegzhanin
Mila "Mila" Alieva
Mikhail "Tom Amot" Kutuzov
Vladimir "gexsun" Petryaev
Nikita "Sheyl" Demeshov
Stepan "CyberStepan" Koshelev
Stanislav "633" Glushan
Alexey "Lex" Filippov
Sergey "Smile" Revin
Artur "Goblak" Kostenko
Dmitry "Inmate" Filinov
Egor "JotM" Surkov
Oleksandr "XBOCT" Dashkevych
Rinat "KingR" Abdullin
Alexey "nongrata" Vasilyev
Vladimir "PGG" Anosov
Oleksii "STORM" Tumanov
Dmitry "Zloba" Irinchuk
Khaled "sQreen" El-Khabbash
Nikita "Zais" Zakharov
Timur "Ahilles" Kulmuhambetov
Uladzislau "Petushara" Kazlouski
Vladislav "blowyourbrain" Morozyuk
Dmitry "UnderShock" Bolshakov
Aleksey "Ainkrad" Diveevskiy
---
TI11 talent for the Portuguese broadcast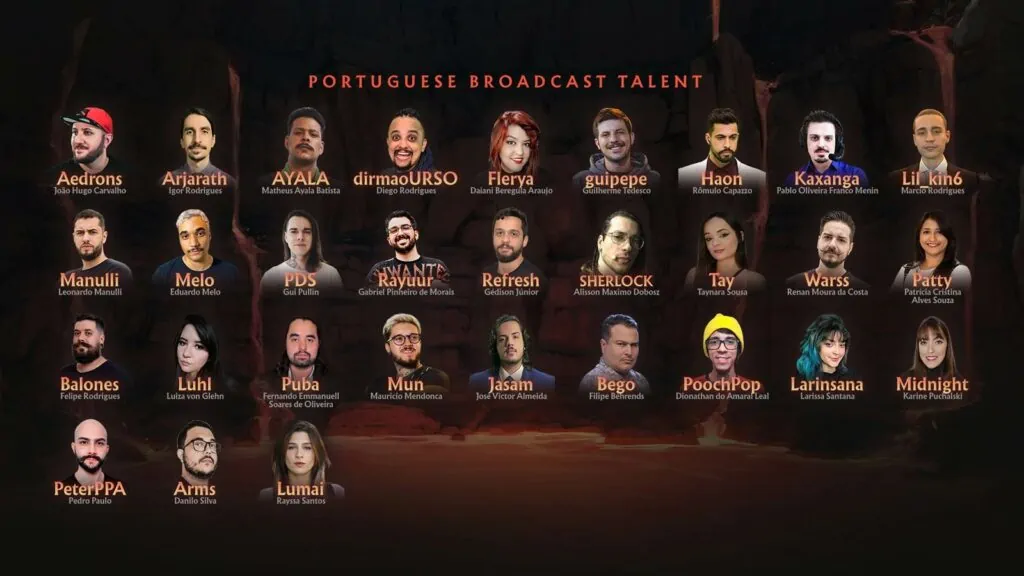 Hosts
Rômulo "Haon" Capazzo
Taynara "Tay" Sousa
Commentators
Igor "Arjarath" Rodrigues
Matheus "Mentirinha" Torreao
Diego "dirmaoURSO" dos Santos Rodrigues
Guilherme "guipepe" Tedesco
Pablo "Kaxanga" Oliveira Franco Menin
Eduardo "Melo" Melo Viana
Renan "Warss" Moura
Felipe "baLones" Rodrigues
Fernando "Puba" de Oliveira
Mauricio "Mun" Mendonca
José "Jasam" Almeida
Filipe "Bego" Behrends
Dionathan "PoochPop" do Amaral Leal
Analysts
João Hugo "Aedrons" Carvalho
Daiani "Flerya" Beregula Araujo
Marcio "Lil_kin6" Rodrigues
Leonardo "Manulli" Manulli
Guilherme PDS" Pullin
Gabriel "Rayuur" Morais
Gédison "Refresh" Júnior
Alisson "Sherlock" Maximo
Patrícia "Patty" Souza
Luiza "LuhL" von Glehn
Larissa "LariNSana" Santana
Karine "Midnight" Puchalski
Pedro "PeterPPD" Paulo
Danilo "Arms" Silva
Rayssa "Lumai" Santos
The International 2022 will begin with the group stage on October 15 followed by the Main Event on October 20. The grand final will take place on October 30.
Follow ONE Esports on Facebook and Twitter for more The International 2022 news, updates, and highlights.
READ MORE: Throwback: TI10 opening ceremony showcases the best moments from every The International