Aside from Genshin Impact's playable characters, the game's antagonists, Fatui Harbingers, have been really popular among cosplayers. Several Scaramouche, Tartaglia, and La Signora cosplayers have graced convention floors with their villainous presence, showcasing the wrath of the Tsaritsa's lieutenants.
However, everything changed after the launch of Genshin Impact version 2.1.
Warning: Major spoilers if you haven't finished playing the Archon Quest Chapter 2: Act 3 – Omnipresence Over Mortals.
La Signora, the Eighth of the Eleven Fatui Harbingers, lost to the Traveler in a duel and was killed by the Raiden Shogun as consequence. She eventually became a weekly Genshin boss in the Narukami Island: Tenshukaku trounce domain, where travelers can relive their battle with the Fatui Harbinger and receive generous rewards.
About 10 months since the release of version 2.1 and her passing, her fellow Harbingers gathered to mourn her death in the interlude teaser "A Winter Night's Lazzo".
The Fair Lady may be long gone, but her impact can still be felt, especially in the cosplay community.
Funny La Signora cosplayer steals the show at Anime and Cosplay Expo 2022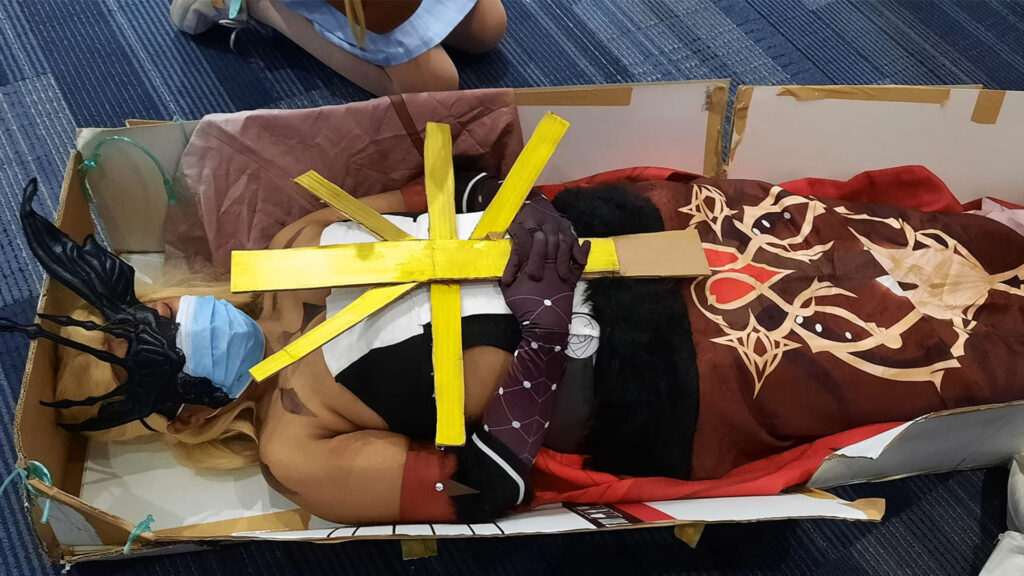 One Genshin Impact fan showed their love for the deceased character during the Anime and Cosplay Expo 2022 in Manila, Philippines.
The cosplayer showed up with her own, lowcost coffin inspired by the one showcased in the game's Fatui Harbingers reveal. Unlike the casket in the video, this one was open for everyone to see while the cosplayer lay down as she held to a big Cryo element insignia.
---
---
As Signora rests peacefully, convention attendees and Genshin fans took the opportunity to take their photos with her.
Predictably, the director of the Wangsheng Funeral Parlor, a Hu Tao cosplayer, approached the open casket and took a photo with their fellow cosplayer. Taking a page out of the Grant Gustin funeral meme, they squatted next to La Signora and held up a peace sign to the camera.
May you rest eternally in peace, Rosalyne.
READ MORE: Kamisato Ayaka cosplay by Akase Akari unites Genshin and anime fans