While light machine guns are a niche pick in Call of Duty: Warzone, Raven Software recently updated the Season 5 weapon roster with the RAAL MG.
Just hours after the LMG's release, streamer Ean "FaZe Booya" Chase maxed out the weapon's levels, found his favorite attachments, and created the best RAAL loadout.
The best RAAL loadout in Call of Duty: Warzone Season 5, according to Booya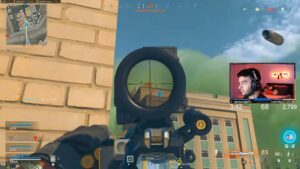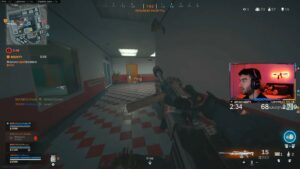 The RAAL comes through as the quintessential LMG, beaming through opponents regardless of how far they are.
In terms of positioning, Booya plays it safe with this best RAAL loadout, scouting out open spaces to land a longer and more lethal spray.
To make those longshots happen, Booya equips the RAAL Monocore muzzle, which is akin to the standard Monolithic Suppressor, and the 32.0″ RAAL Line Breaker barrel for an extended damage range.
The streamer also mentioned that the Tac Laser is a must-have if you want a more accurate aim-down sights (ADS) shooting pattern.
While Booya uses the PMC Grip for recoil control, he recommended the FFS Oblique as another good underbarrel option for a bump in ADS speed.
The main downside of the RAAL is that it's a heavy gun, leaving you flatfooted in dynamic skirmishes. You can remedy this by having a mobile secondary weapon like the AMP63 pistol.
---
---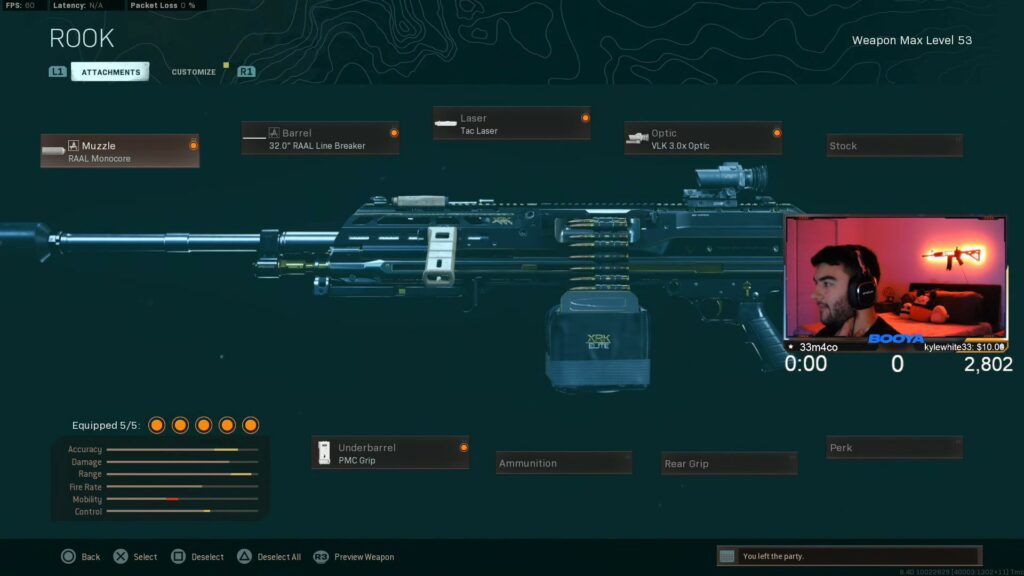 Here are the details of Booya's best RAAL loadout in Call of Duty: Warzone:
| | |
| --- | --- |
| SLOTS | ATTACHMENTS |
| Muzzle | RAAL Monocore |
| Barrel | 32.0″ RAAL Line Breaker |
| Laser | Tac Laser |
| Optic | VLK 3.0x Optic |
| Underbarrel | PMC Grip |
How to unlock the RAAL LMG for free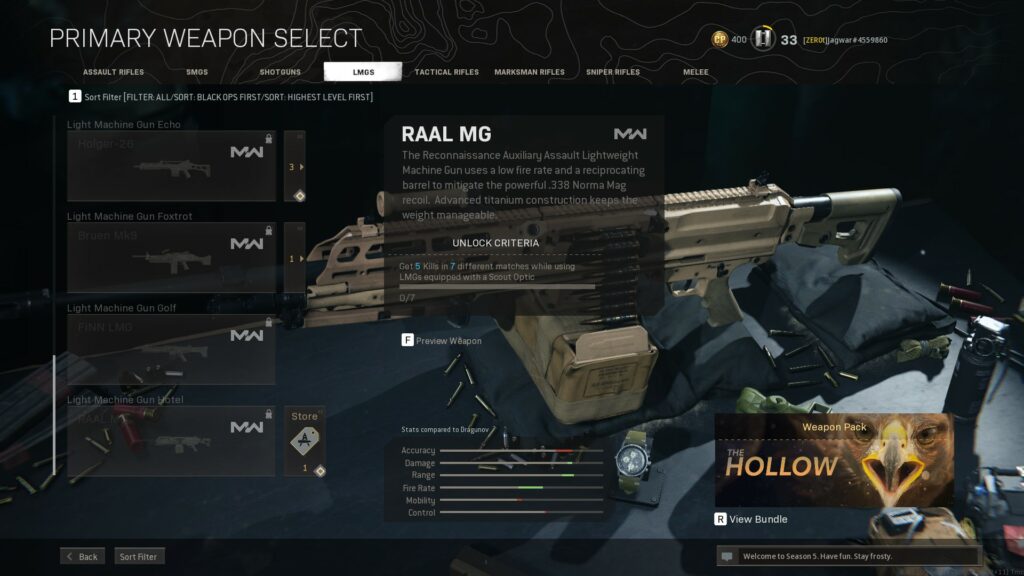 To unlock the RAAL LMG for free, you must complete the gun's in-game challenge:
Get 5 kills in 7 different matches while using LMGs equipped with a Scout Optic
Check out Booya's full gameplay of the best RAAL loadout.
READ MORE: The best SMG in Warzone Season 5 is Swagg's buffed Fennec loadout