The Warzone 2.0 and Modern Warfare 2 Season 1 Battle Pass introduces a novel, non-linear way of earning rewards.
Instead of a horizontal tiered progression, the Battle Pass takes the form of a combat map with multiple sectors, each with a unique set of five rewards, including one High-Value Target (HVT). Unlocking a certain sector will then unlock adjacent sectors, and you can choose the rewards path you want to take through the pass.
However, not all sectors are created equal. Here are the best items to unlock first in the Season 1 Battle Pass.
---
---
The best items, sectors, and upgrade path in Warzone 2.0 and Modern Warfare 2 Season 1 Battle Pass
1. Sector A1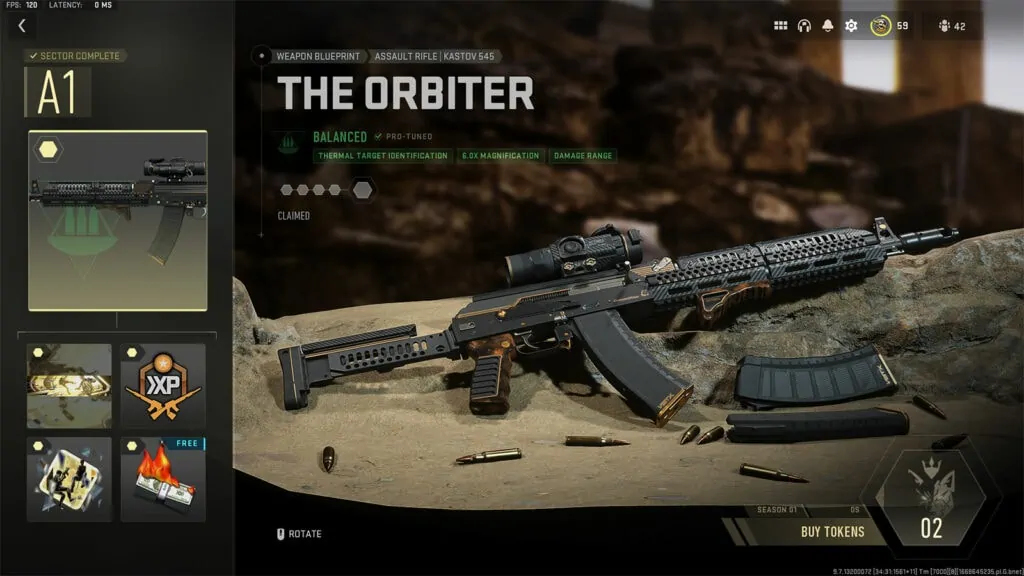 Aerial Entrance calling card
One-hour double weapon XP token
Hired Sniper emblem
Paying Rent charm
The Orbiter Kastov 545 weapon blueprint (HVT)
Everyone starts in Sector A1. The HVT is a Kastov 545 blueprint, giving you immediate access to the Kastov 545.
The Kastov 545 provides a direct path to the Kastov-74U, one of the best weapons in the game, and this blueprint will allow you to skip over other requirements, such as unlocking the Kastov 762.
Once you complete this sector, you'll unlock Sector A2 and A3, opening up a path to the BAS-P SMG and Victus XMR sniper rifle, two of the new Season 1 weapons that can be unlocked for free.
---
2. Sector A7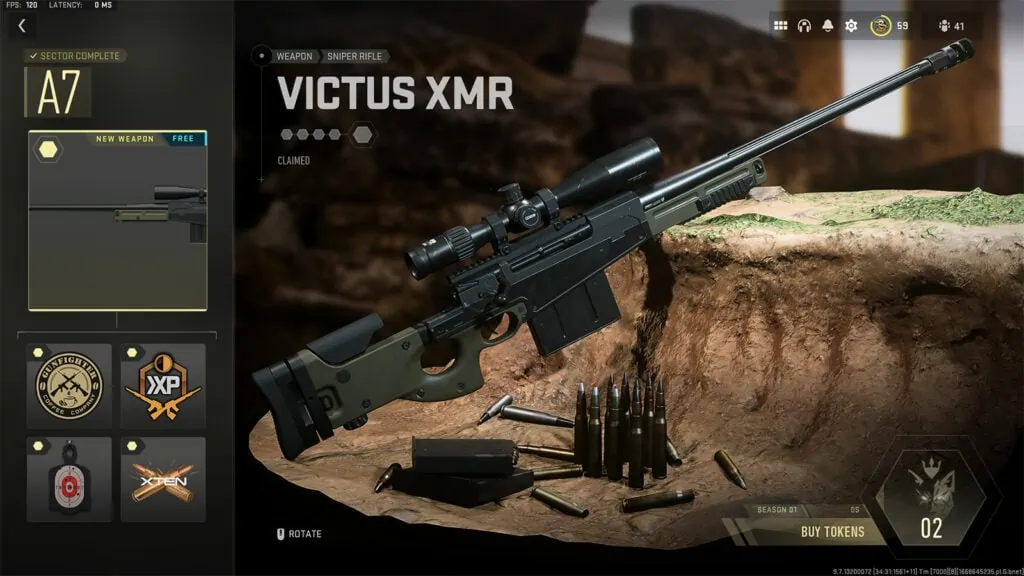 Gunfighter Coffee Company weapon sticker
30-minute double weapon XP token
Shooting Target charm
XTEN large decal
Victus XMR sniper rifle (HVT)
To get to Sector A7, you have to first complete Sectors A2 and A4. Along the way, you'll pick up a neat Letter Opener combat knife blueprint in Sector A2, and 100 Call of Duty Points (CP) and a 30-minute double XP token in Sector A4.
The Victus XMR is the big prize in Sector A7, and you don't even have to purchase the Battle Pass to get it. It is the longest-range sniper in the game, which makes it a natural fit for the sprawling expanse of Al Mazrah in Warzone 2.0. Its scope also automatically accounts for bullet drop — perfect for novice snipers still finding their footing.
---
3. Sector A8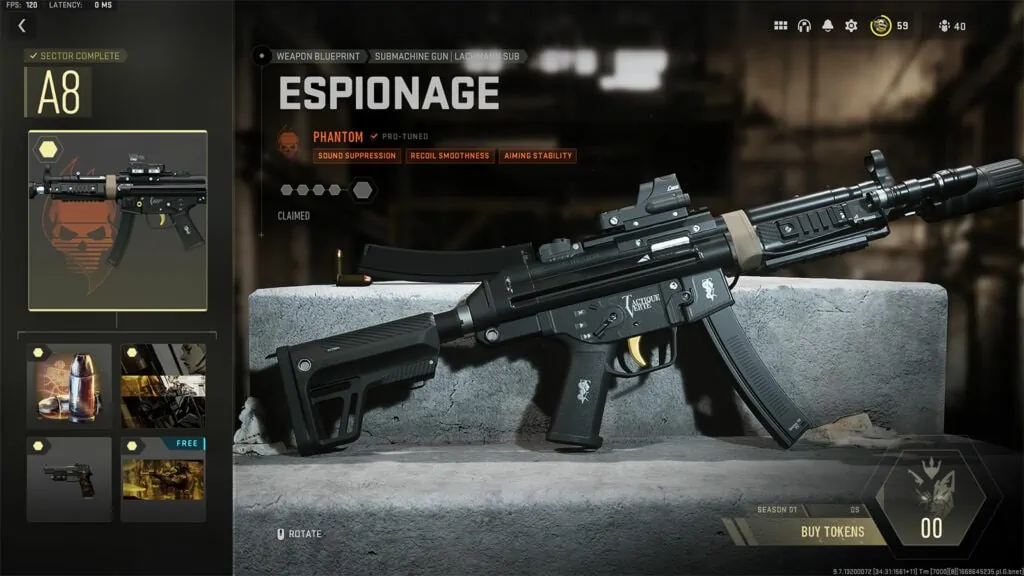 Time to Strike emblem
Scaling Assassin calling card
Jack of All P890 weapon blueprint
Down the Barrel loading screen
Espionage Lachmann Sub weapon blueprint (HVT)
Next, you can focus on Sector A8. This sector contains two excellent weapon blueprints to unlock: the P890 and Lachmann Sub.
The P890 is arguably the best handgun in the game, capable of killing in two shots in multiplayer. Similarly, the Lachmann Sub is a stellar SMG, shredding opponents at close range. If you enjoy actively seeking out fights in Warzone 2.0, this is an excellent weapon to have in your kit.
New Warzone 2.0 players who have not yet unlocked these weapons in multiplayer will essentially be able to skip the grind and access these guns more quickly.
---
4. Sector A6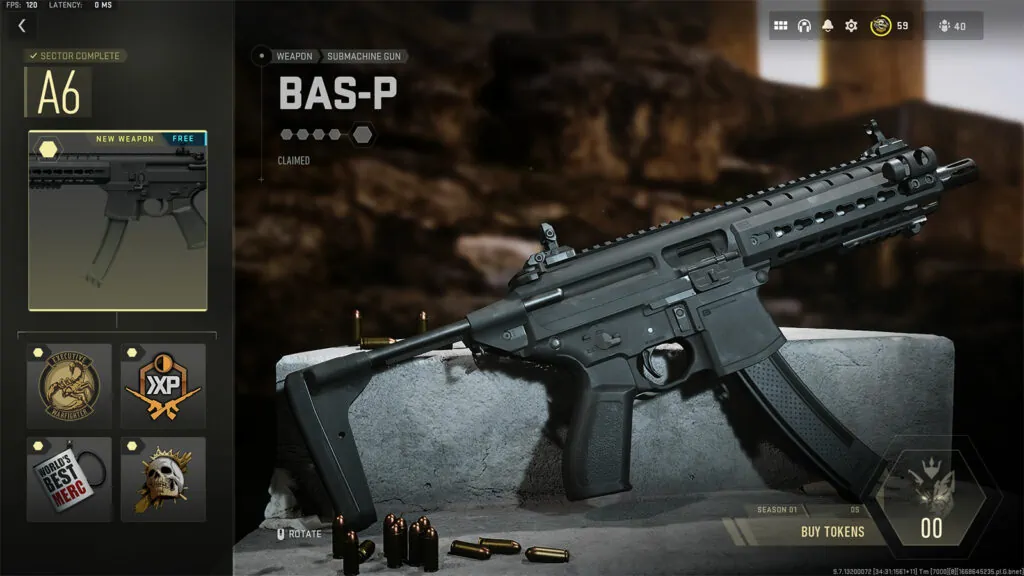 Scorpion weapon sticker
30-minute double weapon XP token
World's Best Merc charm
King's Skull large decal
BAS-P SMG (HVT)
Your next target should be Sector A6. It features the new BAS-P SMG, which is available for free. It boasts a rapid fire rate, in addition to subsonic ammunition that hides kill skulls from the enemy team.
With a fire rate of 870 rounds per minute, just below the excellent PDSW 528 SMG, it is already shaping up to be a beast at close range.
---
5. Sector A10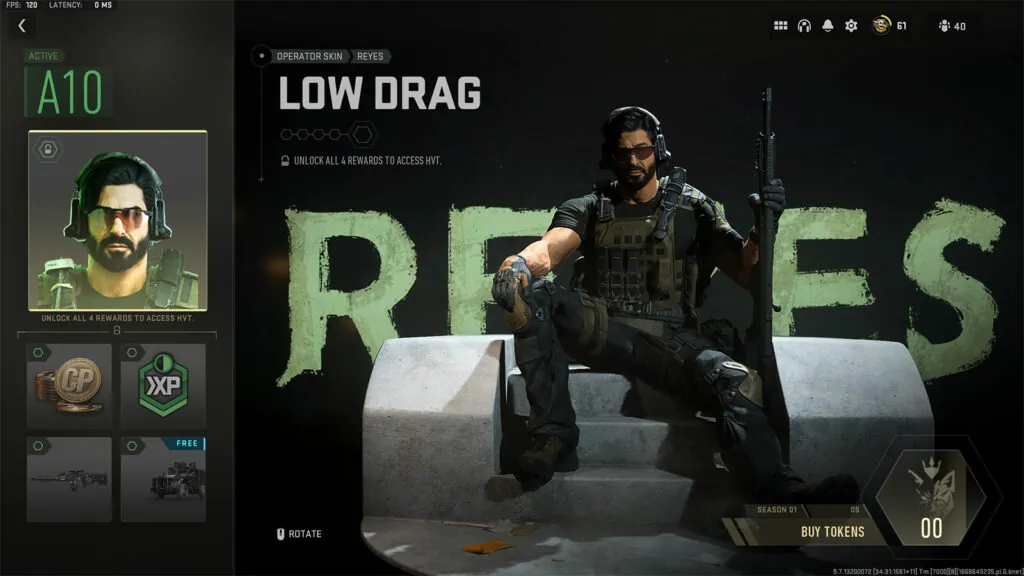 100 CP
30-minute double XP token
Hacksaw Fennec 45 weapon blueprint
Offsite vehicle skin
Low Drag Reyes operator skin (HVT)
The reward you want in this sector is the Fennec 45 blueprint. This SMG can only be unlocked when you reach military rank 25, but the blueprint can help you skip the grind (especially if you purchased the Vault Edition and its 50 token skips).
The Fennec 45 is looking like one of the strongest weapons for close quarters combat in Warzone 2.0, alongside the Lachmann Sub and Vaznev-9K.
---
6. Sector A9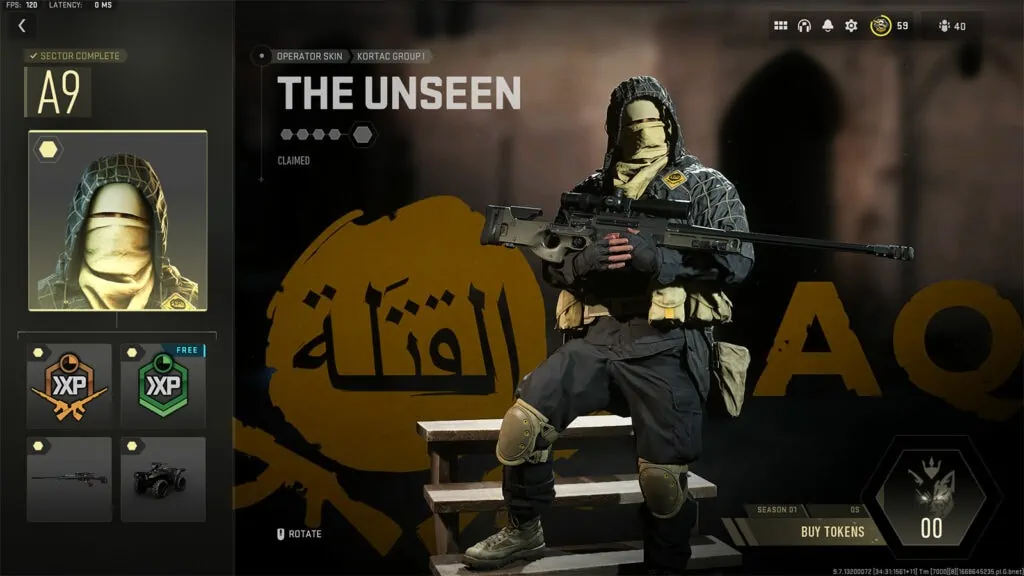 15-minute double weapon XP token
15-minute double XP token
Send It LM-S weapon blueprint
Obsidian Rider vehicle skin
The Unseen Kortac Group I Operator skin (HVT)
Sector A9 comes with an LM-S marksman rifle blueprint, unlocking the weapon for you without having to first unlock and level the Lachmann-762 battle rifle.
The HVT is The Unseen Operator skin, for Kortac Group I. This is probably the best Operator skin in the Battle Pass, standing out from the spec ops aesthetic favored by the rest.
---
7. Sector A5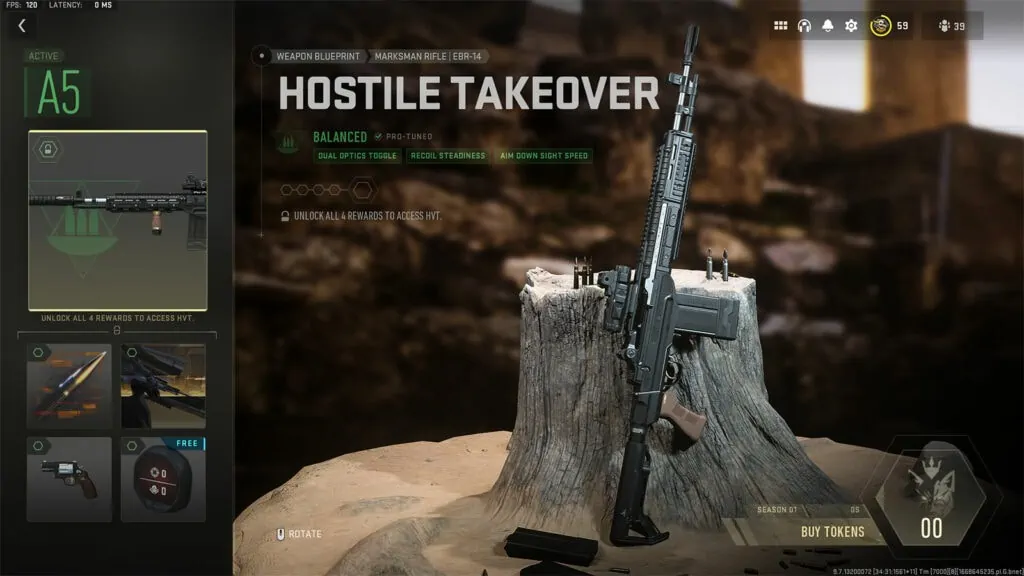 Back to Back emblem
Hired Sniper calling card
Ignition Basilisk weapon blueprint
Endless Black gun screen
Hostile Takeover EBR-14 weapon blueprint (HVT)
Sector A5 offers two weapons: the Basilisk handgun and EBR-14 marksman rifle. The EBR-14, in particular, is a very capable weapon that fires fast and kills in two shots. When equipped with the Canted Vibro-Dot 7 laser, it is a force to be reckoned with in multiplayer.
The free Endless Black gun screen is nice to have as well. It attaches a widget to your weapon that displays your kills, letting you track the number of frags you get in-game.
---
8. Victory Sector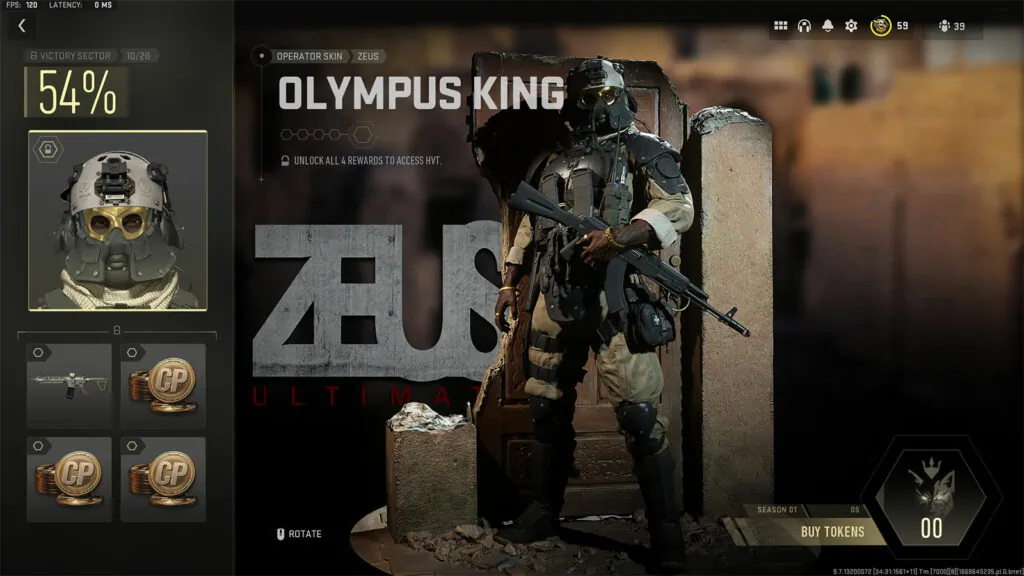 Mortal's Bane M4 weapon blueprint
3x 100 CP
Olympus King Zeus Operator skin (HVT)
Your end goal is the Victory Sector, which only unlocks once you have completed Sectors A1 to A20.
It nets you the Olympus King Zeus skin, with a brilliant gold mask and matching accessories. This sector will also give you the Mortal's Bane M4 blueprint.
While you'll probably already have the weapon by the time you unlock the Victory Sector, you can still equip the blueprint to change the look of your gun, while slapping on your own attachments.
Learn more about the new DMZ mode, the best red dot optics to use, and the best muzzle attachments.
READ MORE: Warzone 2.0 circle explained: Multiple circles, splits, and merges