Anime fans, if you've been perusing social media like me and feeling really sad that you can't fly to Tokyo, Japan to visit the Tokyo Revengers Exhibition in person due to pandemic travel restrictions, fret not.
The official Tokyo Revengers YouTube channel is here to the rescue.
Takemichi Hanagaki's seiyuu Yuuki Shin and Majiro "Mikey" Sano's seiyuu Yuu Hayashi take a tour of the Tokyo Revengers Exhibition for the first time. Not only do they show us around, we also get to witness their reactions to the various displays.
Curating elements from the manga, anime, and live-action movie, the exhibition also includes original content, such as the larger-than-life golden Mikey statue in a reclining Buddha pose.
---
---
Top highlights of the Tokyo Revengers exhibition featuring Takemichi and Mikey's seiyuus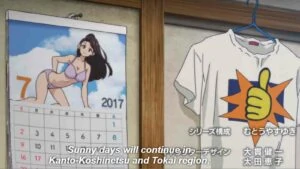 The very first exhibit is already a crowd-puller.
Recreating Takemichi's adult apartment from 2017, the organizers went right down to the detail, from his blue-skied wall calendar, to his racy magazines (you know what I'm referring to), to the empty potato chip bags strewn on the floor.
The character's messiness was on full display, and seeing it in real life really makes you feel just how defeated he felt as an adult.
Another iconic scene from the anime was also brought to life, featuring a 3D anime Mikey. In this corner, he rides on the backseat of the bicycle Takemichi peddled during their second meeting, with the front seat left open for fans to pose with him.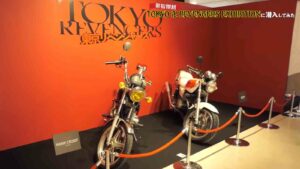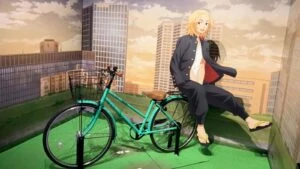 If that's not impressive enough, check out the motorcycles that were custom built for the live-action movie! Mikey's signature Hawk CB250T and Ken Ryuguji's Kawasaki Zephyr 400 were clean and polished, sparkling under the spotlight. I mean honestly, what would you give to ride on Mikey's… bike?
Besides these sick rides, the Tokyo Revenger's live-action movie costumes were also put on display, together with recreated uniforms of the various gangs from the manga.
What you won't get to see in this video tour are sections of the exhibition that showcase the plot beyond Tokyo Revengers season one, which was a very considerate move for anime fans who want to avoid spoilers.
Watch the full Tokyo Revengers Exhibition video tour here:
For more updates, follow Tokyo Revengers Exhibition on Twitter.
READ MORE: YOASOBI's Kaibutsu is the number one karaoke anime theme song of 2021