Updated on November 2, 12:17 p.m. GMT+8: Updated broadcast schedule and streaming platforms.
It's okay, Mob. You can put "savior of the world" on your resume.
Mob Psycho 100 Season 3 will air this fall and we'll finally see our favorite esper with a bowl cut going back to school. To hype things up, Warner Bros. Japan recently gave an exclusive preview of the season's opening sequence at Anime Expo.
It's been three years since we last saw Mob and the crew, so here's a recap of the story so far, and what you can expect in the new season of Mob Psycho 100.
Recap of Mob Psycho 100 Season 2
Season 2 ended with an all-out psychic battle between Shigeo "Mob" Kageyama and Toichiro Suzuki, the leader of Claw, a terrorist organization composed of espers. Mob at 100% was able to trade blows with Suzuki, but eventually accepted defeat when the leader's powers spiraled out of control.
As Suzuki self-destructed, Mob showed him kindness by accompanying him and containing the explosion in his own body. Mob managed to survive the blast and was escorted by Sho, Suzuki's son, to the Body Improvement Club room, their temporary resting place since all their houses were destroyed.
The next day, city folk discovered a massive piece of broccoli — nicknamed the Divine Tree — sprouting out of the rubble from the fight. The vegetable actually came from Mob, who had broccoli seeds in his pocket.
Taking Mob's words to heart, Suzuki accepted his wrongdoing and gets taken into custody by Joseph, an esper hired by the government. Before he left the scene, Suzuki apologized to Sho for the way he treated his mother. Sho reassured him by saying that she still thinks about him.
Mob and Reigen also moved into a new office space and welcomed Katsuya Serizawa, a former Claw member, as the third employee of Spirits and Such Consultation.
What's the story of Mob Psycho 100 Season 3?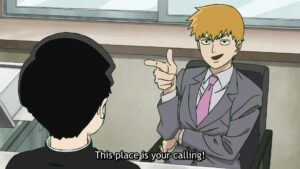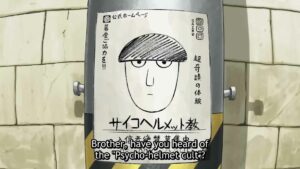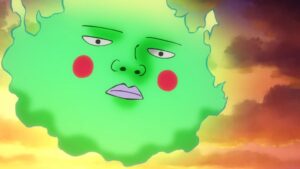 The Mob Psycho 100 Season 3 trailer reveals that the powerful esper is going through a journey of self-discovery.
Mob is now dealing with the pressure of finding a career path once he's done with school. Reigen tries to make him go full-time at the office by saying that it's his calling.
The middle-schooler unintentionally becomes the symbol of a new Psycho-helmet cult that praises the Divine Tree. With over 580,000 followers, the cult is looking to follow those with mystical powers.
While Suzuki is now locked up, a new threat is looming over the city, and it might be coming from Mob's friend circle.
In a portion of the trailer, Mob tells the spirit Ekubo to "stop trying to be bad", hinting that the two might butt heads in Season 3. Ekubo also mentions his "one and only command", which could be a sign of him having an ulterior motive.
---
---
VA Cast of Mob Psycho 100 Season 3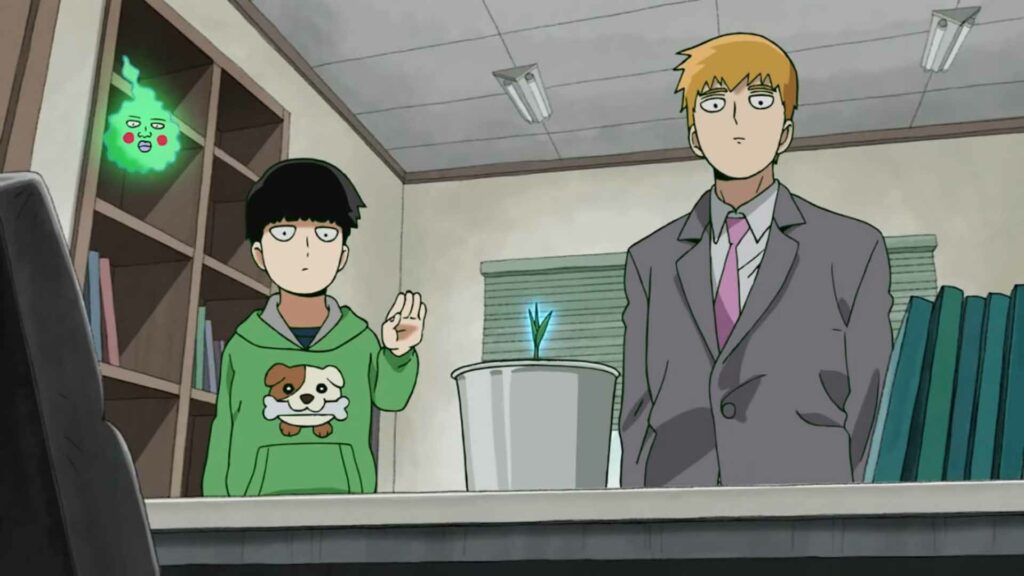 Here's the official VA cast of Mob Psycho 100 Season 3:
| | | |
| --- | --- | --- |
| CHARACTER | JAPANESE VA | ENGLISH VA |
| Shigeo "Mob" Kageyama | Setsuo Ito | Kyle McCarley |
| Arataka Reigen | Takahiro Sakurai | Christopher Niosi |
| Ekube | Akio Ootsuka | Michael Sorich |
| Ritsu Kageyama | Miyu Irino | Max Mittelman |
| Teruki Hanazawa | Yoshitsugu Matsuoka | Erik Kimerer |
| Musashi Gouda | Toshishiko Seki | Patrick Seitz |
| Tenga Onigawara | Yoshimasa Hosoya | Ray Chase |
| Katsuya Serizawa | Takanori Hoshino | Edward Bosco |
| Tsubomi Takane | Uki Satake | Ryan Bartley |
| Ichi Mezato | Ayumi Fujimura | Abby Trott |
| Tome Kurata | Atsumi Tanezaki | Cherami Leigh |
| Momozou Takenaka | TBA | TBA |
Release date of Mob Psycho 100 Season 3
Streaming platform Crunchyroll will host the premiere of the first two episodes at Crunchyroll Expo on August 5-7. The season started airing on October 6 and will release new episodes every Wednesday.
Where to watch
You can watch Mob Psycho 100 Season 3 on Netflix, Crunchyroll, and Hulu.
---
---
Follow ONE Esports on Facebook and Twitter for more anime news and stories.
READ MORE: JoJo Stone Ocean anime returns in September, Jolyne is still stuck in prison